On March 16, President Trump released his budget proposal for fiscal year 2018, introducing a 'historic' increase in the US military budget. A plan to strengthen the US military began taking shape. It is a move to fulfill Trump's campaign promise of a 'great rebuilding' of US armed forces and also reflects the new president's diplomatic and security concept.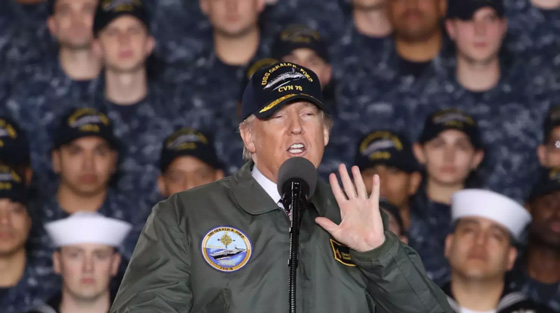 First, it represents a comprehensive revision of Obama administration's policy, moving away from 'reducing quantity and increasing quality' towards expanded military and increased military spending. When Obama was in office, the size of American armed forces decreased and military spending experienced 'automatic cuts'. Trump decided to do the opposite. He proposed to increase army manpower from 490,000 to 540,000, naval vessels from 270-plus now to 350 and warplanes of the air force from 1,100 to over 1,200. The size of the marine corps will also be expanded significantly. In his fiscal year 2017 budget amendment, Trump boosted military expenditure by $30 billion, and in the 2018 defense budget proposal, the Department of Defense got an additional $52 billion, up 8.9%. The DOD budget now totals $639 billion. An additional $2 billion defense expenditure is covered in budgets of other departments.
Second, the plan targets both immediate threats and major-power confrontation in the long run. Trump sees radical Islamic terrorism as the primary long-term security threat and finds it imperative to defeat terrorism. An additional $5.1 billion was budgeted for overseas contingency operations for fiscal year 2017, mainly to speed up strikes against the ISIS and support operations in Afghanistan. The 2018 budget proposal stresses the need to increase military spending to finance an accelerated defeat of ISIS and rebuild of the American military. The $24.9 billion base budget increase for FY 2017 was dedicated to increase combat readiness and procure more heavy-duty equipment such as F-35 and F/A-18 airplanes and Burke class destroyers. The FY2018 proposal explicitly stresses the need to rebuild American military's readiness posture and to ensure the world's strongest military is powerful enough to with future challenges. DOD's base budget will be increased to $574 billion, up about 10% over 2017. The proposal also seeks substantially increased investments in cyber security and nuclear capability. This reflects a long-term vision to reinvigorate America's military power for possible conflicts between major powers.
Third, the role of the military in America's external strategies. During the campaign, Trump emphasized on multiple occasions that there was no magic drug in foreign policy, that diplomacy must be backed by formidable strength and that everything starts with military power. He says America must maintain 'the strongest military the world has ever known'. The Trump administration has identified six priorities, including a foreign policy of seeking peace with power and rebuilding the American military. While substantially increasing military spending, the FY2018 budget proposal also cut budgets of 12 cabinet agencies, including a 29% cut for the State Department, and cancelled funding for 19 independent agencies. Mick Mulvaney, the White House budget director, described the proposal as a 'hard power budget'. All of these suggest that Trump will markedly increase the role of military in America's foreign strategies, which may well become more aggressive and adventurous.
Trump's plan to strengthen US military will undoubtedly have far-reaching influence on the strength of America's armed forces and their overseas operations. With substantial increases of size and spending, the US military will move from a posture of contraction into a new expansion cycle. It will also have more choices, resources and thus great facility in future overseas deployments and operations.
However, this plan to strengthen the US military also faces many constraints. Fiscal bottleneck is apparent. In Trump's proposal, new military spending was mainly taken from budgets of non-defense departments and the overall government budget actually decreased, indicating huge pressure from fiscal deficit and treasury-bond ceilings. As the president has also committed to substantial tax cuts and infrastructural construction, there are still major uncertainties with regard to the quantity and continuity of military spending. Furthermore, the Congress and Trump have different opinions. Senate Armed Services Committee Chairman McCain and other Republican hardliners found Trump's plan 'not ambitious enough' while Democrats and moderate Republicans oppose sharp cuts of non-military expenditures. If Trump makes no compromise, it will be rather difficult to secure 60 votes in favor of his budget proposal at the Senate. Additionally, the plan is sharply different from the Obama administration's approach and as such there must be major readjustments to military planning, institutions, staffing and R&D plan, which will take considerable time.
For China-US relations, Trump's strategy, enhanced military role in his foreign strategy in particular, may well mean tougher positions or even adventurous moves in the South China Sea and on DPRK nuclear issue, which will not only stimulate sensitive regional situations but also increase risks of an arms race or even confrontation with China. It was widely believed that the Obama administration did not invest substantively in its strategy to rebalance the Asia Pacific. And now Trump's moves to increase military spending and expand the US Navy may well lead to substantive increase of US inputs in the Asia Pacific, hence new variables for this region.