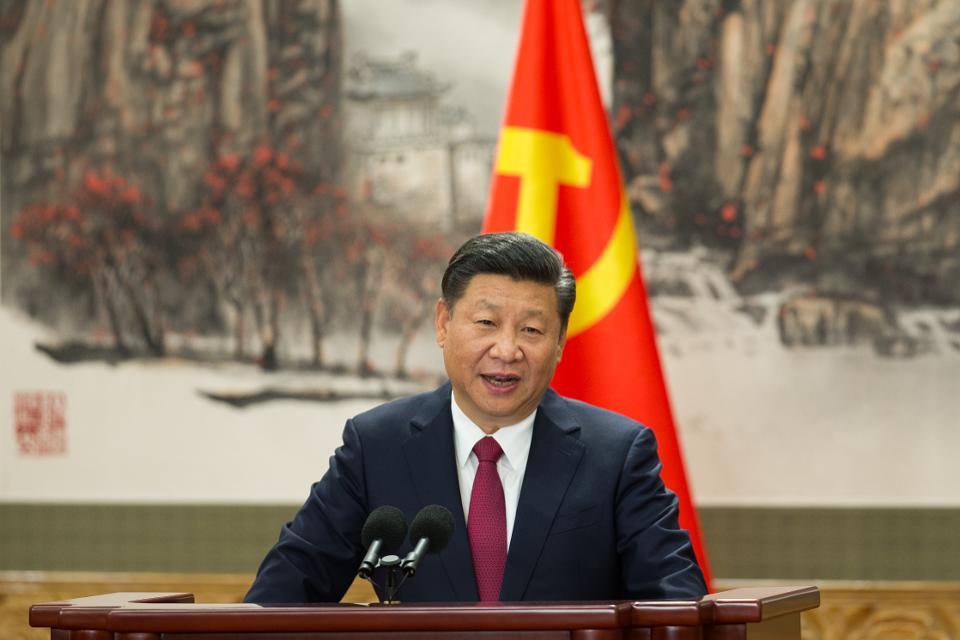 Chinese President Xi Jinping speaks at the podium during the unveiling of the Communist Party's new Politburo Standing Committee at the Great Hall of the People on October 25, 2017 in Beijing, China. (Lintao Zhang/Getty Images)
Discussion about Xi Jinping's report to the 19th CCP Congress is rife.
Yet both domestic and international media appear to have ignored what Xi said hasn't changed. These things, however, set the tone for the CCP's strategic thinking, as well as its plans for national development.
Xi stated that neither the fact that China "will remain in the primary stage of socialism for a long time" nor its "status as the world's largest developing country" have changed. Xi called these two facts "basic national conditions" and "basic realities" for decision-making.
Why is this important?
First, only with such awareness can the CCP lay a solid foundation for policies and their implementation. It provides an evaluation of China's national conditions and its relationship with the rest of the world.
The 8th CCP Congress in 1956 identified the gap between the people's increasing material and spiritual needs and backwards production as society's "primary contradiction". The task of national development was to solve this contradiction. However, just one year later, this judgment was renounced. Because of this, efforts to cultivate production capacities were seriously disrupted.
At the 3rd Plenum of the 11th CCP National Congress, Deng Xiaoping and his colleagues recognized that China was a populous nation with a weak economy, and set the pragmatic goal of building a moderately prosperous society. This judgment was correct and led the country to concentrate on economic development for the next forty years.
The recognition that China is still the world's largest developing country means that whatever moves China makes will be based on its need for a peaceful international environment. All those suspicious of China's increasing involvement in international affairs, and those who fear that a strong China will be a threat to the rest of the world, should realize that China wants to support economic globalization and a "community of shared destiny for humanity". It wants to play a greater role in global governance and is not seeking to change world order. Its domestic development requires peaceful development and win-win cooperation.
Xi's judgment of China's national conditions deserves attention and endorsement at home and abroad. Once such good sense gains traction among decision-makers at various levels, the country will be able to avoid detours and obstacles on its way ahead. Pompousness and excessive pride from great achievements can also lead to dangers. China has suffered severe economic losses thanks to misjudgments of national conditions. Xi's statement is a reality-check for those carried away by what the country has accomplished.