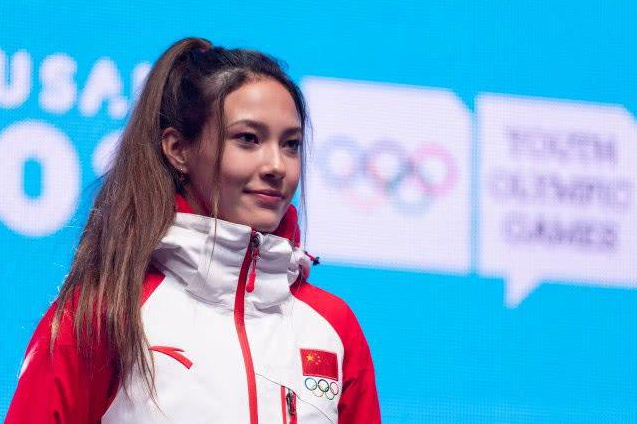 The 19-year-old American-born Chinese freestyle skier Eileen Gu won gold in the big air final at the ongoing Winter Olympic Games in Beijing, becoming an instant sensation among sports fans and peace lovers in China and around the world. This prompted me to think about the present and future of China-U.S. relations, and hope Gu's success may prove a benign interaction between China and the U.S. that can bring mutual benefits. I believe new generations in China and the U.S., like Gu, can be a rising force in changing the relationship.
First, Gu's success is the fruit of a convergence of Chinese and American education, which shows benign competition between China and the U.S. is conducive to a win-win scenario. Such an outcome would be out of the question in the absence of benign competition.
The first generation of Chinese students who went to the U.S. for overseas studies following the China's opening-up have already had children, and their second generation have been exposed to both American education and American culture as well as Chinese education and Chinese culture. Gu loves both American and Chinese cultures.
The number of similar children brought up in cross-culture families isn't small. Hundreds of thousands of people have returned to China after studying in the U.S., and there also are hundreds of thousands of Chinese students studying in the U.S., scattered in various sectors, The outstanding ones may end up becoming high achievers in their own generations. Last year, five of the six members of the U.S. team that won the International Mathematical Olympiad championship were Chinese- American.
This proves young people are helping each other grow while competing with and learning from each other. It no longer matters which country wins; what is most important is that both countries win — which means benign China-U.S. competition brings win-win outcomes to both parties, and a win-win scenario for China and the U.S. needs benign competition.
Second, in Eileen Gu we see the force and future that will change China-U.S. relations. Looking back on the past two years, there were more negative effects than positive ones on China-U.S. relations, with the two parties even reaching the brink of a cold war. Ties dropped to a nadir at the end of 2020, and hardly saw improvement in 2021, which was unprecedented since the end of the Cold War between the U.S. and Soviet Union.
The U.S. took the lead in boycotting the Beijing Winter Olympics, and instigated many allies and partners to follow suit. It's no exaggeration to say the China-U.S. relationship has been "heavily overcast." Gu's emergence showed people a silver lining, bringing into the limelight the positive aspect of China-U.S. relationship. The very talented Gu may find endless potential in the future in such areas as sports, fashion, science and finance. As nongovernmental ambassadors in China-U.S. relations, younger generations will surely have long-standing positive impacts on bilateral ties.
The 50th anniversary of Richard Nixon's China visit is only two weeks away. The "Chinaboys" of 50 years ago — American China hands who know China well — are getting old. They have witnessed the ups and downs of bilateral ties, but eventually they will fade from the stage of history. The new China experts, who were born from the 1960s to the 1980s, mostly favor a tougher approach to China. In China, experts in American studies born in the 1940s and 50s are all over 70. The nationalist "little pinks" born mostly in the 1990s are making loud noises on the internet.
So Gu's emergence is refreshing. The mainstream of China-U.S. relations may not necessarily be the hard-line American think tanks and Chinese "little pinks" but will be those like Eileen Gu who will mushroom in both peoples.
At the 2022 Beijing Winter Games, not only did Eileen Gu choose to represent team China but also a group of newly naturalized athletes, such as Beverly Zhu, who was born in 2002 in the U.S. and became a Chinese citizen in 2019. Judging from the way Gu responded to questions from a reporter, this generation doesn't care about Washington's political correctness. They do things with honesty and passion and face Western media with dignity, displaying impressive candor and straightforwardness. Such strength has obviously been underestimated by scholars of China-U.S. relations previously.
Third, Eileen Gu is only one of the many bright spots at the ongoing Beijing Winter Games. There are plenty of other China stories being told, as well. Together they demonstrate that so long as the Chinese concentrate on doing their own things well, the entire world will see it, and smears of China by those with ulterior motives will prove laughable.
At the opening of the Beijing Games, the Olympic hymn was sung by a chorus from mountainous Fuping, Hebei province, which indicates the force of modernization has reached every corner of China.
With the cellphone gifted to every participating athlete, the currency of any foreign country can be converted into yuan, and payments can be made in digital form. Catering services at the Olympic Village are provided by robots. Modern high technology is seamlessly integrated. Here, a community with a shared future for mankind is increasingly visible, tangible, no longer a slogan, but felt in the meticulous details of day-to-day lives, which is in itself the most vivid China story.