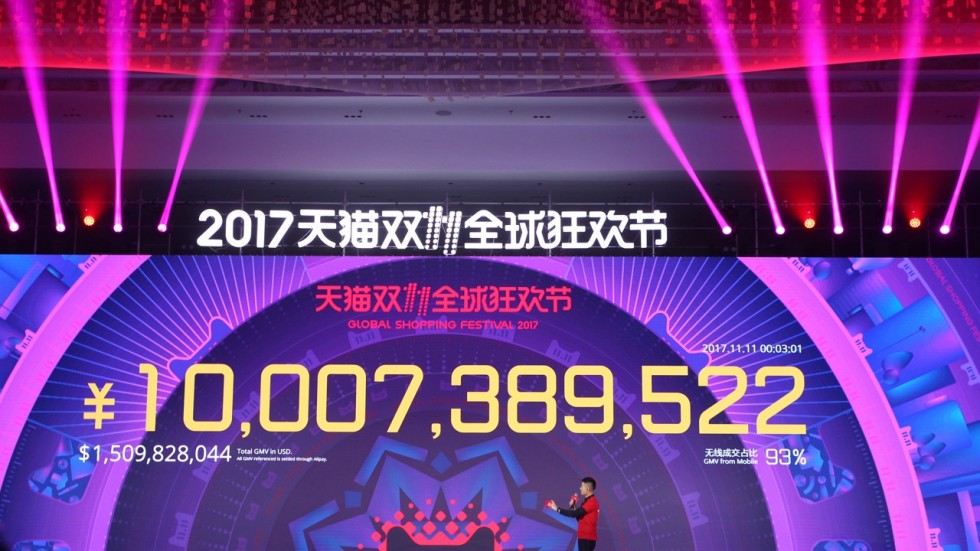 (Source: SCMP)
Alibaba, the Chinese e-commerce giant, said on November 11th that its Singles' Day sales extravaganza brought in $25.4 billion, smashing its own record from last year and cementing it as the world's biggest shopping event. The Singles' Day splurge dwarfs other retail spending and it was triple the $5.9bn spent by U.S. shoppers across Black Friday, Cyber Monday and Thanksgiving last year. The 24-hour shopping event is also 18 times the size of Amazon's Prime Day.
Singles' Day started as an obscure "anti-Valentine's" celebration for single people in China back in the 1990s, but it has since spawned into the world's biggest online shopping day after Jack Ma, the billionaire owner of shopping giant Alibaba, spotted an opportunity. Alibaba began launching "Double 11" deals in 2009 just as online shopping was starting to explode and trademarked the term "Singles' Day" by 2012. The reason why "Double 11" is known as "bare sticks holiday" in China is because of how it looks numerically (11.11). For the U.S., Black Friday and Cyber Monday are the prime shopping holidays which stretch the Thanksgiving week.
Based on World Bank statistics, GDP in China was 11.39 trillion dollars in 2016, merely 60 per cent of that of the U.S., which reported 18.56 trillion dollars. In contrast to the gap in economic size, why has the less-than-ten-year-old Double 11 grown into a phenomenon that laughs at its American counterparts? The reasons are manifold.
The primary reason is China's burgeoning e-commerce market. China is the world's largest e-commerce market, with a significant lead on other markets, including the U.S. ($450.81bn), UK ($110.07bn) and Japan ($95.33bn). Ecommerce sales in China are expected to pass $1.132 trillion in 2017, accounting for nearly half of worldwide retail ecommerce sales, according to eMarketer.
Alibaba's core business is built around the emerging online habits of China's e-commerce-mad middle class. According to a study by consulting firm McKinsey & Company, by 2022, over 550 million people in China will be considered middle class, defined as urban households that earn US$9,000 – US$34,000 a year. That figure is more than the aggregate population of the U.S. The middle class's continued expansion is powered by labor-market and policy initiatives, financial reforms and the rising role of private enterprise, that stimulates employment and income growth.
One preference that unifies China's middle-class consumers is their penchant for e-commerce. An A.T. Kearney study of consumers around the world found that connected consumers in China were more likely than any of their global peers to say they prefer to shop online. And Chinese consumers prefer conducting their e-commerce with franchise online retailers such as Alibaba and JD.com rather than department or specialty store websites. In this context, e-commerce, as a more important retail channel in China, is expected to account for 42 per cent of growth in private consumption.
The boom of "e-tail" (consumer-facing e-commerce) in China is also boosted by pertinent services and infrastructure like smartphones and online payment systems which are highly penetrated. China's mobile shopping is barreling ahead of the United States. China is still the world's largest smartphone market, accounting for about 30 percent of the global smartphone market. Nearly half of all China's e-commerce sales, totaling $505.7 billion, are made with mobile devices, versus roughly one-quarter in the U.S., according to eMarketer.
Additionally, the U.S. lags behind far China in terms of mobile payments. Even QR codes, which have largely flopped in the U.S., are used everywhere in China to buy goods. According to iResearch Consulting Group, which measures online audiences in China, the gross merchandise volume (GMV) of online payments in the country reached 57.7 trillion yuan in 2016, amounting to about 50 times the GMV of similar transactions in the United States, which is estimated by market research firm Forrester Research at US$112 billion. This huge gap is explained by China's relatively underdeveloped credit card system which has led to the "leapfrog development" of online payment.
These factors are then compounded by the shift of focus of national development strategy from export to domestic consumption. China's economy has been undergoing a structural transformation while its gross domestic product growth has cooled in recent years. The government hopes domestic consumption will offset the sluggish export and investment sectors. The report released by consulting firm BCG and AliResearch, the research arm of Alibaba, predicts that China's consumption market will grow 9 per cent annually to US$6.5 trillion by 2020, outpacing GDP growth which is expected to stabilize at around 6.5 per cent over the next five years.
Another element that's supporting China's consumer spending growth is its low level of household debt. China's household debt-to-GDP ratio of 40 percent is less than half the American household debt-to-GDP ratio which is 87 percent. This means that Chinese consumers will spend less on servicing their debt and also they'll be able to take out more debt.
Finally, from a cultural perspective, spending as much money as possible on Singles' Day is to some extent patriotic in China. It's of a collectivist spirit. Emphasizing community good over the individual dates back thousands of years in China. Chinese people want to make sure that the products they're buying have a level of acceptance. For this reason, e-commerce platforms, where customers get to see other people's purchasing behaviors and preferences, were predetermined to become exceptionally successful there. The most popular social media, WeChat, which is Facebook with a chunk of Amazon, boasts an online collection of up-and-coming fashion brands for men and women. The digital recommendations circulating around in the "Circle of Friends" (like the News Feed on Facebook) give a boost to the herd behavior witnessed during Chinese "Bachelors' Day".
With all the above, Double 11, a shopping spree brewed in the information age, outflanks the older Western equivalents. Against this backdrop, perhaps no company is more emblematic of urban China today than Alibaba, not just because the middle class are such zealous e-commerce customers, but because Alibaba's colossal size and its emergence from nothing are symbolic of the impermanent new China inhabited by its users.