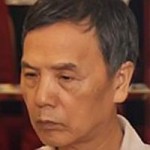 Wu Zurong
Research Fellow, China Foundation for Int'l Studies
Wu Zurong is a research fellow at the China Foundation for International Studies.
Aug 23, 2021

Reassuring verbal messages from high levels in the United States government regarding China are nice to hear but are little more than public relations. American credibility is so poor that few believe such statements are sincere. Actions speak louder than words, and they tell a different story.

Jul 16, 2021

Biden has yielded to pressure in a domestic political struggle and has refused to give up the tradition of flaunting U.S. superiority by subduing any power that may grow to challenge America's hegemonic position in the world.

Jun 07, 2021

It would be a blessing to the world if China were simply supported in its peaceful development. But the opposite is happening. For months, the Biden administration's approach has attempted to contain China's rise. Troubling consequences are emerging.

Apr 28, 2021

For the sake of the shared interests of the human family, the U.S. needs to join hands with China and other countries for global governance and deal with urgent challenges, including the suppression of the COVID-19 pandemic and a reinvigoration of the world economy.

Mar 24, 2021

Regrettably, Joe Biden, the new president of the United States, has failed to pick up on changes in global realities in which American values do not fit for many other countries. The U.S. should work on putting its own house in order and meanwhile mind its own business.

Feb 24, 2021

In the shadow of the most aggressively anti-China president in recent memory, there is much work to be done to repair the relationship between not just China-U.S. leaders, but between the citizens they've turned against each other in their respective countries.

Jan 29, 2021

The United States is at a turning point. It can heal the wounds inflicted by Donald Trump on China-U.S. relations if it's willing to reverse its containment strategy and return to civilized principles.

Nov 30, 2020

It is possible to move forward if a framework is agreed up for solving matters where competition is inevitable. The incoming Biden administration in the United States has an opportunity.

Oct 21, 2020

Regardless who becomes the next president of the United States, a friendly and cooperative China policy should be his only choice. Confrontation produces no winners.

Aug 15, 2020

The respective responses of China and the United States to the outbreak produced widely different outcomes. The mode of attack is ultimately tied to the expectations of ordinary people about their systems of government.