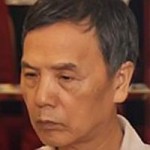 Wu Zurong
Research Fellow, China Foundation for Int'l Studies
Wu Zurong is a research fellow at the China Foundation for International Studies.
Jan 29, 2019

Britain should not be influenced by the US to confront China.

Jan 09, 2019

China's great moon landing shows it doesn't need US technology, but it could still use some.

Dec 18, 2018

Never stop exploring and expanding common interests, and never try to focus on just differences!

Nov 27, 2018

It is in its own best interests and that of the world for the US to remain in the INF treaty and make efforts to resolve its differences with Russia.

Oct 15, 2018

The US is unfairly targeting China.

Jul 26, 2018

In spite of Chinese patience, repeated American aggression has led both countries into a trade war neither can win.