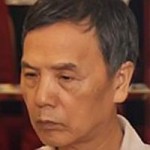 Wu Zurong
Research Fellow, China Foundation for Int'l Studies
Wu Zurong is a research fellow at the China Foundation for International Studies.
Jul 21, 2020

The U.S. strategy of military expansion is as misplaced as it is costly. It siphons resources from other areas of national concern that need to be addressed if the country is going to maintain its superpower status. Not everything boils down to a country's ability to make war.

Jun 27, 2020

There are many reasons to conclude that the downturn in relations between China and the United States is a temporary phenomenon.

Nov 20, 2019

A large-scale U.S. decoupling from China cannot succeed because the global landscape of trade is complex and unable to respond to sudden shock. Relations are destined to get better, despite temporary setbacks.

Oct 11, 2019

Facts are being distorted for political purposes at high levels in the American government. While relations are better today than they were before Nixon, the road ahead may be fraught.

Sep 03, 2019

President Trump's aggressive and unpredictable China policy is hurting rather than helping the United States and further harming the global economic situation. Trump's desire to establish his own legacy rather than serve the American people's best interests, and in so doing radically change the course of 47 years of China-U.S. relations, is a serious strategic mistake.

Aug 02, 2019

What does China stand for on trade and other global issues - a primer for the U.S. negotiating team in trade talks with the Chinese.

Jun 26, 2019

To make America great again—or "keep America great," as Trump's reelection slogan goes—in plain language means effectively strengt

May 29, 2019

US overreach in the ongoing trade talks has resulted in the failure to reach an agreement. Not only has the US bullied China on the bilateral trade deficit in commodities (based on President Trump's irrational economic views), but it has overlooked the real harms that tariffs will do to US firms and consumers.

May 08, 2019

American leadership helped build the multilateral world order after World War II, but now US unilateralism — spurred by domestic partisan divisions — is undermining the UN, the WTO, and accords on Iran and climate change. US allies' continued cooperation on a successor to the TPP, and China's proposed Belt and Road Initiative, show that the world will continue down a multilateral path, no matter if the US swerves off onto a unilateralist road.

Apr 03, 2019

Economic clout shifting to emerging economies, combined with great power peace, have begun to challenge the United States' alliance strategy: for many longtime allies, the military aspect of national interest no longer comes first.