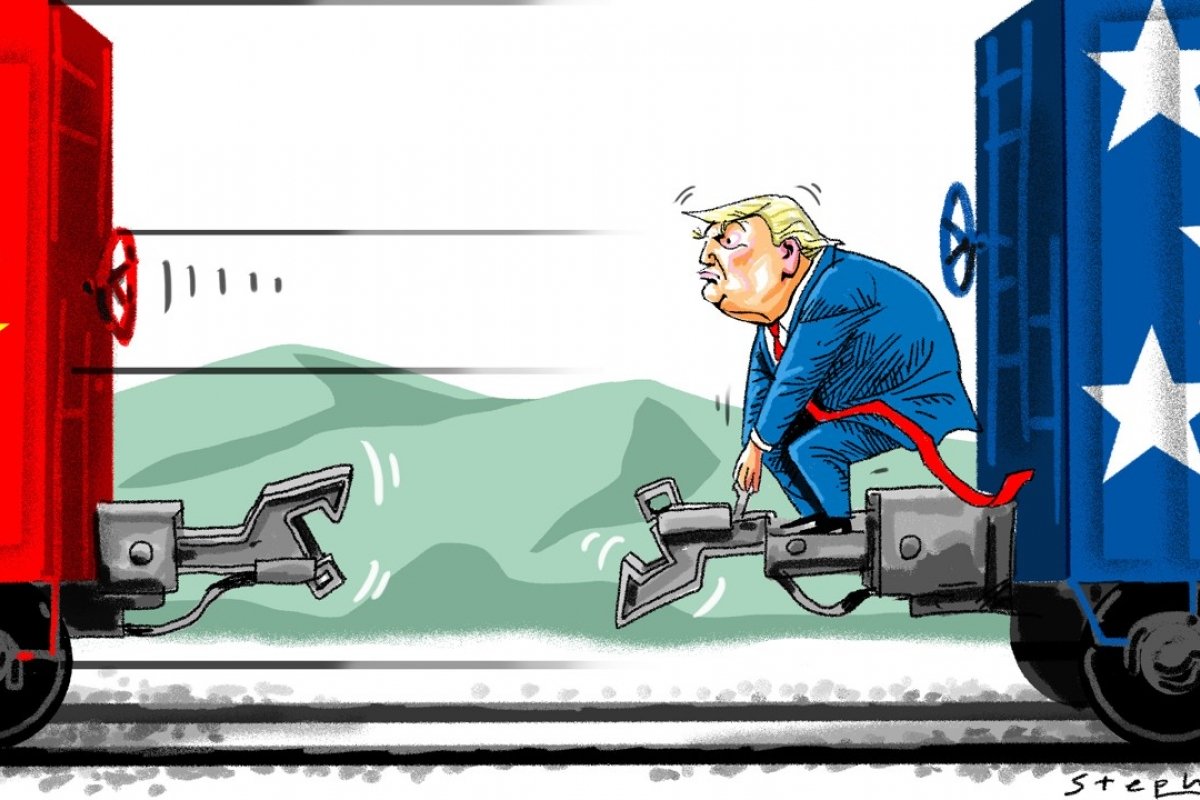 Illustration: Craig Stephens (South China Morning Post)
The so-called decoupling of the United States with China is considered by a number of American politicians and scholars to be a tactic to contain China based on a subjective assumption that U.S. economic power, financial strength and technological prowess will be permanent. That view is derived from Cold War-style big power competition whose goal is to keep the U.S. in the position of the world's sole superpower.
But reality tells another story: The suggested tactic is not only not feasible but is harmful to the U.S., to China and to the rest of the world, and powerful forces of resistance to decoupling have begun to show their inherent vitality.
First, the Chinese and American people want to deepen friendship and develop exchanges and cooperation. There is no force anywhere that can subdue this. Recent history demonstrates that the main trend in Sino-U.S. exchanges and cooperation is going from small to big, with only a few periods of stagnation or limited retrogression under special circumstances.
Ever since the American merchant ship "Empress of China" sailed to China in 1784, friendly exchanges and cooperation between the Chinese and American people have expanded step by step to today's unprecedented scale. Tens of thousands of Chinese who helped build the first transcontinental railway in the United States in the 1860s could hardly imagine that annual bilateral trade in goods and services in 2018 would exceed $700 billion or that two-way direct investment would approach $160 billion.
Against the background of the intense trade war, which has lasted more than a year, 192 American businesses nevertheless registered to attend the exhibitions of the Second China International Import Expo in early November — an 18 percent increase over last year. Their total exhibition area was about 47,500 square meters, the most of all participating countries, demonstrating that American businesses are highly optimistic about China's economic development and market potential and are ready to increase and deepen cooperation with China, rather than exiting the Chinese market.
Back in 1847, Rong Hong (1828-1912) and others went to the U.S. as the first group of Chinese students to study there. In the 170 years since, and especially in the last 40 years or so, the number of Chinese students studying in the U.S. has increased remarkably to more than 400,000 in 2018. Amid unwise calls for reducing Chinese students' learning opportunities in the U.S. — and the inappropriate use of visa restrictions by the U.S. government — most U.S. schools, public and private alike, have expressed a warm welcome and oppose restrictions. They received public support recently from Terry E. Branstad, the U.S. ambassador to China, who expressed his views in a signed article.
Some U.S. politicians take the one-sided view that U.S. schools are superior and that Chinese students have contributed little to the U.S. By contrast, American professors know that education benefits teachers and students alike.
Facing certain difficulties in current Sino-U.S. relations, the American people have maintained their enthusiasm for developing bilateral relations and devoting their efforts to deepening mutual understanding. Since early 2018 when relations began to suffer from the trade war, state governors and local officials from the U.S., accompanied by the heads of small and medium-sized businesses, have continued to visit China to promote business cooperation and mutual understanding. Former U.S. vice president Walter Mondale and many China hands with deep knowledge of the country confidently stated in the summer of 2019 that China is not an enemy. The establishment of the George H.W. Bush Foundation for U.S.-China Relations in 2017 shows that America's younger generation is ready to carry on the mission of the older generation to promote mutual understanding.
Many young Americans continue to be inspired by the spirit of the First American Volunteer Group in the 1940s — known as the Flying Tigers — a team of U.S. pilots led by Lieutenant General Claire Chennault who assisted the Chinese people in their defensive war against Japanese invaders.
Second, economic globalization is another powerful force resisting decoupling. Over the past few decades, China and the U.S. have built a community of vast common interest in the global village. As a result, any confrontation, whether in the form of a cold war, a hot war or a trade war, will produce no winners. The annals of Sino-U.S. relations bear out the truth that both countries gain from cooperation and lose from confrontation. The economies of the two countries have been so closely intertwined that their industrial, supply and value chains could not withstand a sudden breakup, though moderate gradual readjustments go on as a result of market forces all the time.
The giant force of industrial capital seeking maximum profit is not easily checked by U.S. administrative regulations. Cooperation with Chinese industries sometimes comes into being independent of U.S. politicians' will. The huge Chinese market is so inviting that American businesses are unwilling to be blocked by the politicians.
Many examples have emerged of American businesses expanding in China against the will of U.S. officials. In the areas of science and technology, including frontier branches such as space technology, quantum computing, quantum communication, artificial intelligence and 5G, the politicians have failed to grasp the law of development in the new era and have adopted a wrong approach. They cannot prevent scientists on both sides from learning from each other. Their approach to international exchange and cooperation will be proved foolish and counterproductive.
Third, China's friendly policy toward the U.S. is yet another powerful force resisting decoupling. China is devoted to developing all-around cooperative relations with the U.S. and will not take the initiative to harm American core interests. Its retaliations have been limited and carefully considered, and enacted only when the U.S. has first acted to damage China's interests.
In practice, China is opening its door wider to American businesses despite the U.S. government's inappropriate restrictions on Chinese investment in the U.S.
The Chinese military has maintained regular exchanges and cooperation with its U.S. counterpart, and China has continued to promote exchanges and cooperation with the U.S. on issues such as the denuclearization on the Korean Peninsula, peace and stability in Afghanistan and the Middle East, nuclear non-proliferation and global economic and financial stability. Despite groundless accusations against China by the U.S., China has done its best to counter fentanyl-related international crimes in recent years. The Narcotics Control Bureau of China's Public Security Ministry has engaged in close cooperation with the U.S. Department of Homeland Security in busting the drug trafficking network in China. And recently, nine people were sentenced by a Chinese court in Hebei province for fentanyl production and trafficking targeting customers in the United States.
It is crystal clear that any large-scale U.S. decoupling with China is ridiculous, and the tactic is doomed to failure. The resulting confrontational interactions between the two countries would only bring about further deterioration of relations.
But people the world over can rest assured that China's policy of friendship and cooperation toward the U.S. will not change and that relations are destined to get better, no matter what temporary setbacks or difficulties they might experience.