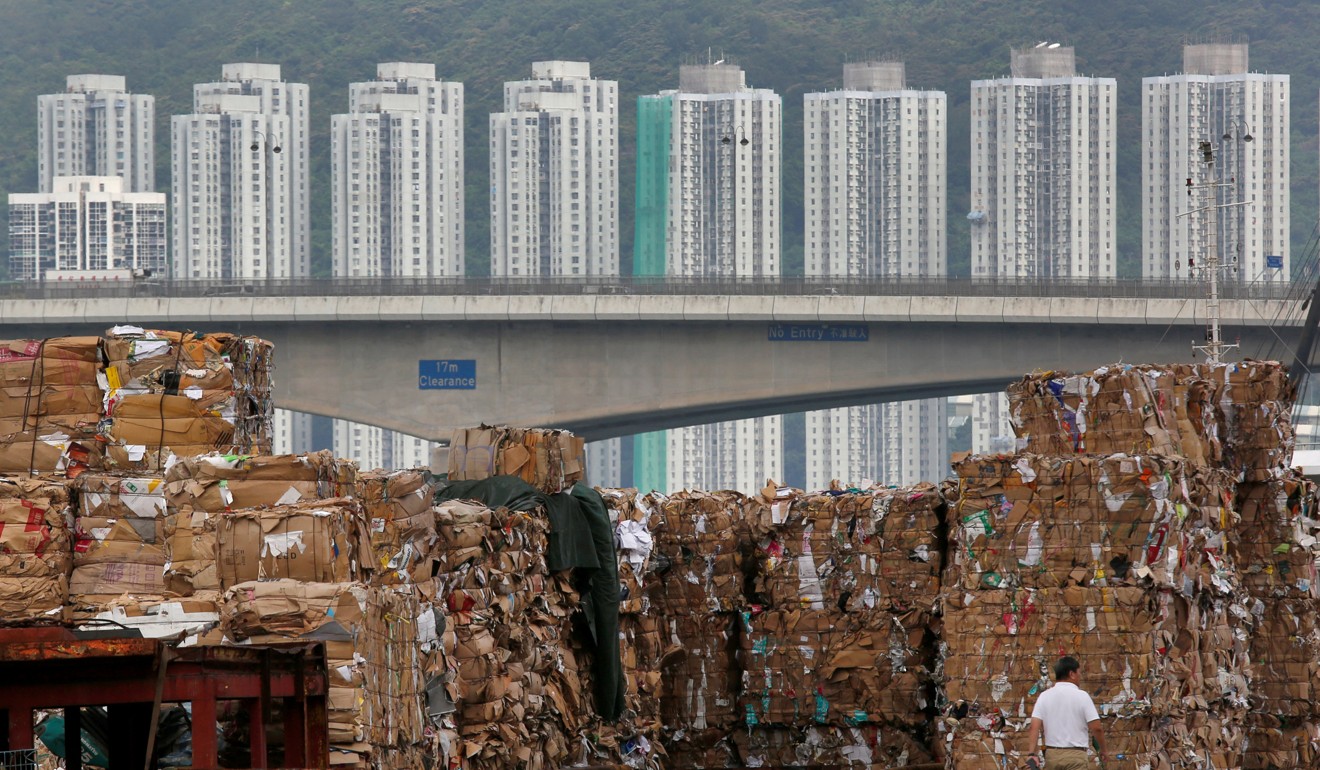 (Reuters)
China notified the World Trade Organization (WTO) on July 18, 2017 that it plans to ban the import of 24 varieties of solid waste, including types of plastic and unsorted paper. The import ban will enter into force by the end of 2017. This decision is threatening China's biggest customer, the United States: scrap and waste is the U.S.' sixth largest export to China. Now an annual $5.6 billion business is in danger of sinking.
China's WTO filing said that it had found large amounts of hazardous material (including plastic waste, toxic vanadium slag, and waste textile materials) mixed in with solid waste, leading to serious environmental pollution.
Along with the import ban, China is also encouraging more domestic recycling. The goal of the plan is to increase domestic solid waste collection from 2.46 billion tons in 2015 to 3.5 billion tons by 2020. China is now putting a great effort into the development of domestic reuse and recycling technologies.
During the 1980s, China relied on scrap and solid waste imports in order to make up for the shortage of petroleum resources. Reusing scrap is much cheaper, faster, and easier than developing petroleum resources or cutting down trees. The energy saved from recycling a ton of waste paper can cover six months' worth of energy usage in an average American household. Energy consumption can be reduced by up to 87 percent by reusing the solid waste to produce plastic products. China was enthusiastically importing scrap for this reason.
However, pollution, food hygiene issues, and environmental destruction have become serious issues due to the flood of petroleum products, the smuggling of garbage, and the lack of measures for waste disposal. In addition, low awareness of proper waste disposal on the part of some regions and companies has also exacerbated the situation.
China had to rely on scrap imports due to a significant energy shortage. However, the country's energy and resource policies are currently entering a new phase because of a rapid improvement in recycling technology, new energy development, and the rising environmental awareness of the public.
Last year, China imported 7.3 million tons of waste plastics, accounting for 56 percent of world imports, but this is now too much for China. The overflow in scrap supply was not the only trigger for China to tighten up its environmental protection policy. Recently, the high-level fine particulate matter (pm 2.5, an air pollutant that can cause serious health problems) in large cities and industrial wastewater issues made it a major priority for the Chinese government to deal with ongoing environmental problems. As a countermeasure, China is now promoting green energy more than ever before. Industrial policies are also changing.
China is the largest automobile market in the world, and the government is making a big push for the production of electric cars (the New Energy Vehicle policy.) Under this policy, China already accounts for 40 percent of the electric cars sold worldwide. The government has announced a plan to ban gas and diesel cars in the coming years. These new policies are born under the influence of environmental concerns.
The import ban is only one sign of the changing opinions of the Chinese public. Faced by public pressure, the government can no longer afford not to earnestly work on solving the environmental problems, food sanitation and safety issues. Based on this context, the import ban is not a sudden policy conversion.
Of course, China's decision to ban imports of scrap would damage the American economy, but could also lead to a positive impact on the environment. The current situation offers the U.S. an opportunity to realize that it can no longer rely on China to solve its waste and recycling problems. The U.S. will need to take action to seek alternative importers or strengthen its domestic recycling chains. Improved policies and strategies on domestic recycling could create a more effective recycling system and raise the domestic solid waste collection and reuse rate. Moreover, effective regulations could reduce waste disposal and raise public awareness to save resources. However, obviously, it is impossible for the U.S. to find an immediate solution to make up for the gap that China, which accounted for about 40 percent of the U.S. scrap exports, created. Where would the annual $5 billion worth of scrap go? If the U.S. does not come up with a solution, the leftover garbage would cause negative effects on the domestic environment. The U.S. must take countermeasures as soon as possible.
Were the U.S. to protest the decision or attempt a negotiation, it would only create further friction between both countries. Rather, considering its long-term development, the U.S. needs to improve its domestic recycling technology and formulate new energy and industrial policies that meet the country's needs.
Why is the U.S., the world's largest waste producer and exporter, not setting up a large-scale recycling market within its own country? While the U.S. does not need to rely on scrap recycling to make up energy supply as China did, the recycling industry is simply a huge commercial opportunity. The U.S. has been more interested in production than recycling or reusing, for a long time. Awareness, technology, and policies are not catching up with the global demand for environmentally-friendly industries and policies.
Under the Trump administration, the U.S. withdrew from the Paris Agreement. However, this gave China the chance to become the new global leader in negotiations and cooperation on environmental protection. The opportunity to play a leading role in another sphere of international diplomacy is attractive to China's leadership: another reason that China is further dedicating itself to environmental protection. By 2017, over 160 developing and developed states have ratified or acceded to the Paris Agreement, but no country has followed the withdrawal of the U.S. In contrast, in 2017, France announced its five-year plan to ban all petrol and diesel vehicles by 2040 as part of the agreement, following countries like India, UK, and Norway, which have already announced a variety of plans for promoting environmental protection.
The world trend is changing: policies that ignore environmental problems and only prioritize economic growth have become obsolete. The U.S. must catch up with this trend and review its own environmental and recycling policies. The scrap import ban is raising an alarm within the Trump administration. This decision by China could trigger a positive change in the U.S.' environmental protection policies. If that happens, the world would change.