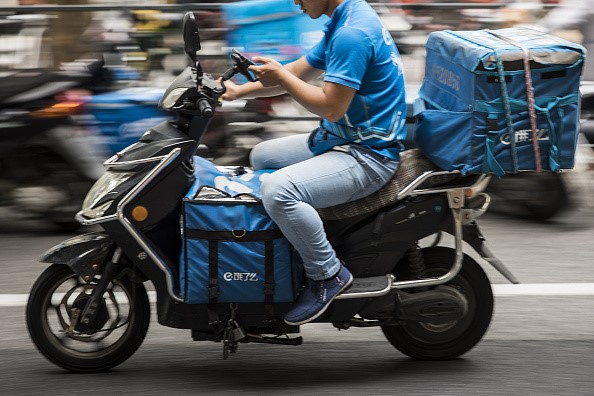 In 2017, the Green Volunteer League of Chongqing, an environmental NGO, filed a suit against China's three biggest food delivery companies—Meituan, Baidu, and Ele.me—for damaging the environment by generating excessive waste. Specifically, these three e-commerce platforms provided consumers with single-use chopsticks that consumed 6,700 trees every day as well as massive amounts of plastic containers, bags, and utensils. Today, over 400 million Chinese are regular users of food delivery. Since summer 2019, daily app use for Meituan was over 30 million orders, generating 100 million plastic containers every day – enough to carpet 360 football fields.
This lawsuit went viral on formal and social media platforms, raising public awareness of the environmental costs of food delivery. All three companies subsequently added a "no utensil" option onto their apps. This was a small bottom-up victory against China's sizeable and long unregulated food delivery-plastic waste problem. Encouragingly, in January 2020, China's Ministry of Ecology and Environment announced a stringent plastic waste reduction plan that could shake up the country's $65 billion food delivery industry (almost three times bigger than the industry in the United States).
Of the 8 million tons of global plastic waste that leak into the oceans annually, the Ocean Conservancy estimates that China contributes the most at 28 percent. China notably shook up the global plastic recycling trade with its 2018 National Sword Policy that banned foreign plastic waste imports. China took this action to deal with its own domestic explosion of single-use plastics. To significantly reduce the 2 million tons of packaging waste that the country's booming food delivery and e-commerce industries generate annually, the Chinese government needs to rapidly incentivize companies and consumers to adopt the 3Rs – reduce, reuse, and recycle – to completely rethink plastics.
The Hammer of Bans and Regulations
In 2008, the Chinese government issued the first national plastic bag ban. It required a small fee for plastic bags, leading to a two-thirds decrease in plastic bag usage at supermarkets and saving 1.4 million tons of plastics by 2016. However, the ban's enforcement waned, and today free plastic bags are still widely available. A better model for China is Washington, D.C., which in 2010 instituted a more successful flat fee ban, using the funds to clean up plastic waste in the Anacostia River and create educational programs. Over the decade, the well-sustained D.C. bag ban decreased plastic bags in the river by 75 percent.
At least 127 countries have adopted legislation regulating plastic bags. In the United States, catalyzed in great part by China closing its doors to U.S. plastic recyclables, hundreds of municipalities and several states have adopted bans and fines on single-use plastics. In 2019, San Francisco, the headquarters of UberEats and DoorDash, restricted the use of single-use plastic straws and cup lids and mandated restaurants and delivery companies to provide them only upon request.
China's provincial governments are also taking more aggressive action to ban plastics and encourage companies to innovate using alternative materials. The most ambitious initiatives have been in the island province of Hainan, which issued legislationthat restricts production and consumption of all single-use plastics by the end of 2020, which signals a serious intention to increase biodegradable materials to replace plastic.
While the U.S. Congress has some pending plastic waste reduction bills, on the eve of Chinese New Year in January 2020, China's Ministry of Ecology and Environment issued a detailed opinion with national bans and restrictions on the production, sale, and use of single-use plastics. The document lays out a comprehensive plan to gradually push many single-use plastics, particularly bags and microplastics, out of the market.
Food delivery companies will feel the heat from these new top-down bans, first with styrofoam packaging prohibited by the end of 2020. However, single-use utensils only need to hit a 30% drop by 2025 instead of becoming plastic-free. The MEE plan touts "biodegradable plastics" as a major alternative to plastics, but the government has not set clear requirements on what counts as "biodegradable". IHS Markit, a London-based data services provider, estimates the production of biodegradable alternatives in China will grow 15 percent annually between 2020 and 2022. As the producer of nearly 30 percent of the world's plastic products, China's plastic waste regulation could push global standards and spur global food delivery e-commerce companies into innovating new plastic-free solutions.
Choosing Alternative Tableware
Yikou (full name, Yi Kou Liang Shi) is a unique Chinese food delivery company that only packages food in ceramic tableware. After consumers finish their meals, Yikou collects utensils and containers from people's homes to wash for reuse. The company's innovative business model closes the loop on plastic in food delivery. However, the process of returning and cleaning tableware is not convenient for consumers or the deliverers. Other companies are hesitant to adopt this model due to the cost and fragility of reusable ceramic, in addition to high labor costs. "Companies should move to a more sustainable business model," said Greenpeace East Asia Beijing Office campaigner Wen Jing. "We can't passively face the growing plastic pollution but should focus on the front-end management to solve the problem from the source."
In the United States, a few startups have begun to creatively tackle this reusable container challenge. Ozzi, a Rhode Island-based company, distributes and recollects bright green "O2GO" reusable containers in machines placed around college campuses, businesses, and entertainment venues. Berkeley-based Vessel provides stainless steel cups and coffee mugs for users to check out via a phone app.
Building in Cradle-to-Grave Recyclability
Globally, only 9 percentof plastic is recycled, while the rest is incinerated, landfilled, or dumped. If China's government wants to increase the rate of plastic recycling in food delivery specifically, regulations will need to incentivize Chinese corporations to improve the quality of plastic containers and utensils. Currently, plastic producers are not required to incorporate recyclability into the design and production of plastic products, leading to poor-quality and unrecyclable plastic. If regulations require higher recycled content in packaging, it could drive a movement towards higher-quality plastic in the food industry. For example, China's 2018 "E-commerce Law" created national standards on delivery packaging materials to reduce waste, promote reusable materials, and encourage green packaging. Similar legislation could mandate using fully recyclable materials in the food industry.
In an effort to reduce the disposal of plastics, in 2017, the Chinese government selected 46 cities to run pilot projects for waste sorting, recycling, and safe disposal, aiming for an urban waste recycling rate of 35 percent by 2020. Better-functioning waste management infrastructure will mean plastics could find a second life in recycling rather than end up in landfills or incinerators.
It will be vital for the 14th Five-Year Plan to amplify the new plastic waste regulations, particularly on high plastic waste industries like food delivery. Food e-commerce innovation, stricter compliance, and green consumption habits will enable China to stem the tide of plastic flowing into the ocean.
In terms of single-use plastic regulations, Mao Da, director of China Zero Waste Alliance notes, "It is not a matter of methodology but a matter of political determination."