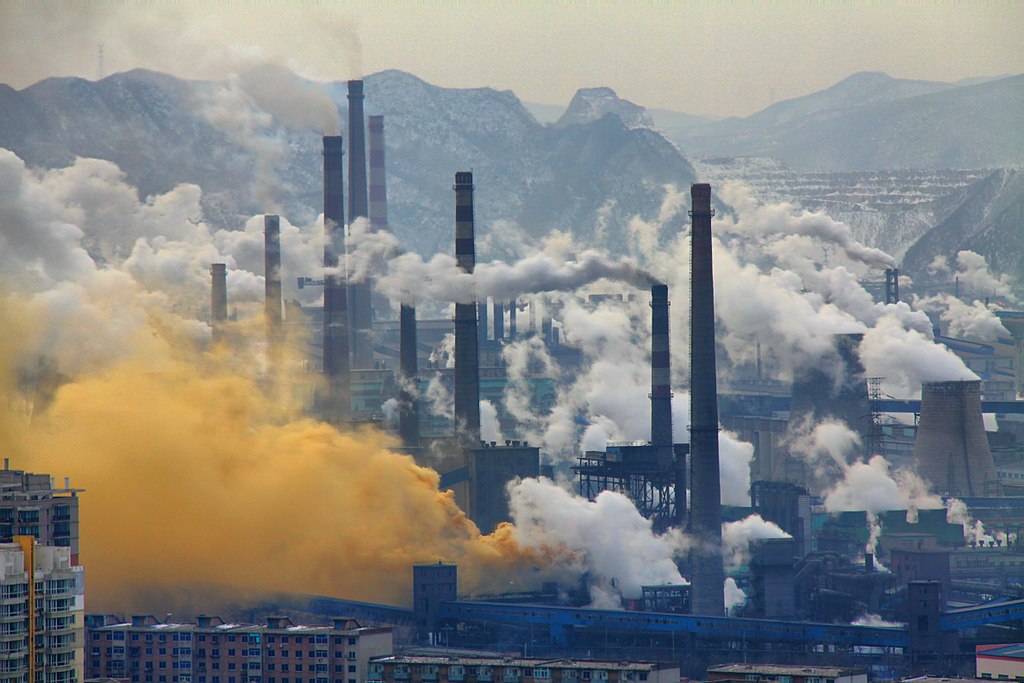 Steel factory in Benxi, Lioning Province, China
2018 is set to be the year with the highest level of global emissions on record. Despite the impending withdrawal from the Paris Agreement, last week the Trump Administration sent a delegation to COP24 in Poland, the UN climate change conference. The COP, or Conference of the Parties, is a series of annual global forums to push forward with the plan to reduce carbon dioxide emissions under the United Nations Framework Convention on Climate Change. According to the US Department of State, the United States is participating in the ongoing negotiations "in order to ensure a level playing field that benefits and protects U.S. interests."
Following President Trump's controversial move last year to withdraw from the climate change accord, the United States is set to become the only country in the world not party to the agreement. (Recently, the last two holdouts, Nicaragua and Syria signed on.) As history's largest carbon dioxide emitter, the US' decision to withdraw has been viewed as hypocritical and damning by many signatories. President Trump's announcement has been met with widespread concern and dismay among Democrats. The earliest possible U.S. withdrawal is November 2020, at the end of the current presidential term, making climate change a central campaign issue next election cycle.
Last year at COP23 Bonn, the US' deep internal divisions over climate change were first on full display for the world to see. In addition to the State Department delegation which espoused "America First" policies, among them more efficient coal-burning, hundreds of Americans disagreeing with the official decision descended on Bonn, Switzerland. Representatives of various American states, cities, and businesses along with NGO representatives and activists attended, led by California governor, Jerry Brown. This year, "We are still in" remains the official motto of the unofficial US delegation, headed by the US Climate Action Center, an alliance representing those still in support of the Paris Agreement.
However, despite the hundreds of voluntary emissions reduction commitments from the American "rebel" delegates, the United States is certainly not "in". Without U.S. involvement, there is a vacuum of leadership in the UN, which China has readily stepped in to fill. The Paris Agreement and international climate policy once offered a rare chance for multilateral unity between America and its rivals, including Russia, Iran and, most of all, China. Now, with a void left behind and an escalating trade war with China, in addition to rows over security concerns in the Pacific and cyber attacks, the rare opportunities for the US and China to cooperate constructively are all but gone. As President Trump and Premier Xi Jinping met on the sidelines of the G-20 recently, there were hardly any causes for comradery.
The US and China combined are responsible for nearly 40% of global carbon emissions. As the world's second-largest economy and largest emitter of carbon dioxide, China is in many ways a logical leader to fill the void left behind by the US. In recent years, China has appeared to pivot towards reducing coal consumption and support greener, cleaner energy. China's clean energy sector has indeed grown faster than any other nation. It has already assigned 60,000 troops to plant over 338 million square kilometers of new forest in order to counteract emissions and combat air pollution in its northeast industrial regions.
Nevertheless, there are major issues with trusting China to lead the direction of such an important global policy. This year, however, China's emissions are set to be the highest ever, nearly 5% above last year's figures. While it has pledged to reach peak emissions by 2030, it is still burning more coal than any other nation, with little sign of slowing down. Perhaps more worrying, through its state owned companies operating abroad, it is now exporting its coal technologies to other developing nations at lightning speed, particularly in Africa.
While not unique in facing criticism for climate hypocrisy, the stakes for China as a global leader in the UN Framework Convention on Climate Change, an unprecedentedly ambitious diplomatic endeavor, are extremely high. According to researchers and UN leaders, the time window for urgent, unprecedented action is small. A UN report last year found that there are roughly 10 years left to prevent irreversible catastrophic climate effects. With the United States faltering in its global responsibilities, China may be able to take the reins but it will likely be held responsible for the direction of the negotiations. Is it ready to hand the pressure and scrutiny?