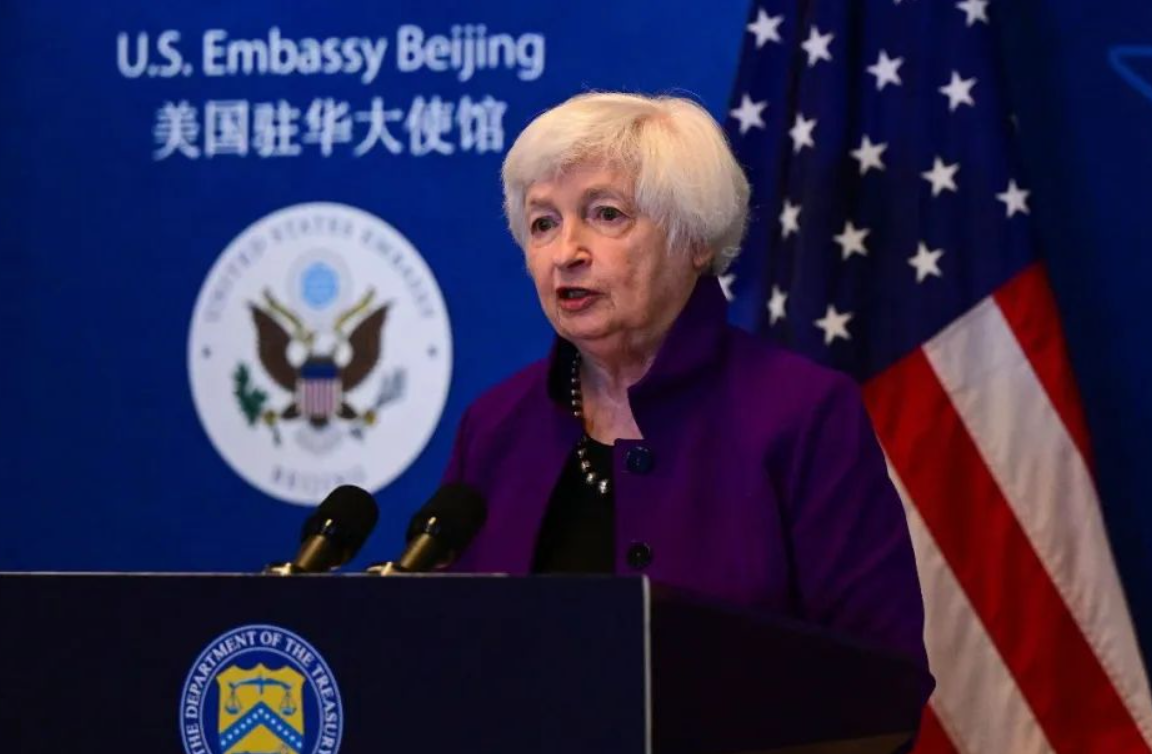 U.S. Treasury Secretary Janet Yellen's recent trip to Beijing has advanced the economic and trade "re-engagement" process between China and the United States. Although no concrete results were reached on issues such as tariffs and export controls, both sides showed a good-faith intent to enhance regular communication between their economic and trade teams. This is not only vital for China and the U.S. in dealing with their respective economic challenges but good for the stability of the global economy.
Yellen reiterated to senior Chinese officials that the U.S. has no intention of impeding China's modernization process and is not seeking to decouple from the Chinese economy. Rather, it was to "de-risk" and diversify. Meanwhile, the U.S. hopes to deepen cooperation with China in addressing global challenges such as debt and climate change.
The concept of de-risking is indeed more moderate than decoupling. It is an attempt by the Biden administration to appease the domestic business community and America's allies. The term "de-risking" was first used by European Commission President Ursula von der Leyen and other EU politicians, who explicitly stated that decoupling from China is neither feasible nor desirable.
What specific actions the U.S., Europe and other Western countries will take to distinguish de-risking from decoupling has become the focus of international public discourse. Professor Paul Gewirtz, director of the China Center at Yale Law School, argues that the concept of de-risking is ambiguous and lacks precise definition. His concern is that a de-risking policy toward China, based on national security risks, may be little different from decoupling, even though it sounds less harsh.
According to Financial Times commentator Gideon Rachman, the definition of risk is unclear, and Western governments are vague about whether their perceived risks refer to "political coercion" by China or the possibility of war. Under a de-risking strategy, Western countries may no longer allow domestic companies' exports to China and could roll out further restrictions on investment in China.
For multinational companies, there may not be much difference between de-risking and decoupling. Reuters interviews with executives of Western companies suggest that in response to growing geopolitical tensions between the West and China, most Western companies with a business presence in China are busy making contingency plans to spin off their China operations and divert their supply chains. Some Western companies are creating parallel supply chains, which means they may produce products for the Chinese market in China, and products for the U.S. market in places like Mexico.
However, Joerg Wuttke, president of the European Union Chamber of Commerce in China and global vice president of BASF Group, said the cost of establishing two separate supply chains for the U.S. and Chinese markets are too high for smaller companies to afford.
In addition, venture capitalists in the United States and other Western countries have become increasingly wary about investment in China. Data released by Standard & Poor's in February showed that U.S. private equity and venture capital firms invested $7.02 billion in China in 2022, down 76 percent from $28.92 billion in 2021, the lowest in nearly three years.
In response to the heightened confrontation between the U.S. and China, Sequoia Capital, a prominent Silicon Valley venture capital firm, has spun off its Chinese subsidiary as a separate company. And the Biden administration is expected to issue an executive order restricting investment in China. This approach is closely linked to the chip ban issued by the administration in October, with the stated goal of de-risking — or preventing China from using high technology in a way that allegedly harms U.S. national security interests.
The restrictions primarily focus on semiconductors, AI and quantum computing and may be further expanded going forward. The U.S. hopes Japan, Germany and other allies will act in lockstep and roll out their own investment restrictions against China.
While Yellen emphasized the need for a constructive and fair economic relationship between the U.S. and China, much of the Biden administration's approach has not been consistent with that statement. U.S. export controls on China have been heightened, dealing a heavy blow to Chinese civilian technology products and many private companies.
Not long ago, U.S. chip companies such as Nvidia — in order to meet the Biden administration's "chip ban" requirements — downgraded the technical performance of their products to obtain permission to export to China. Products included the A800 graphics processing unit (GPU) processor, which was designed for the Chinese market alone. However, the Biden administration intends to include such products in the export control umbrella, further depressing the business flow between U.S. chip companies and China. This trend indicates that the boundaries of the U.S. government's de-risking moves are uncertain, which confuses companies and increases their perceived risks in business engagements in China.
In another worrying trend is national security rhetoric, which seems increasingly to drive Washington's economic and trade policy decisions. In April, National Security Adviser Jake Sullivan said in a speech at the Brookings Institution that the Biden administration would develop and implement an international economic strategy based on the so-called New Washington Consensus.
Even though Sullivan stressed in his speech that U.S. policy toward China is about de-risking, not decoupling, there will be some selective decoupling, which will intensify, as it is hard to mitigate the effect of a generalized concept of national security. As the Biden administration deepens its policy coordination with Japan, South Korea, the European Union and other allies, its actions to suppress China will quickly extend to the multilateral realm, making other Western countries wary of economic engagement with China.
For instance, Japan will implement the newly revised Foreign Exchange and Foreign Trade Act this month to restrict the export of 23 types of chip manufacturing equipment and products to China. In June, the European Commission released its Economic Security Strategy document, which proposes stricter investment regulation and more export restrictions.
In short, while Secretary Yellen made positive statements during her visit, China will remain focused on the actions of the Biden administration. If decoupling and de-risking amount to a mere game of semantics, it will not only damage the strategic mutual trust between China and the U.S. but also inflame concerns and raise costs for the business community. In the long run, economic de-risking may plunge the two counties into greater peril of geopolitical conflict.
(Translated by Hua Xin)