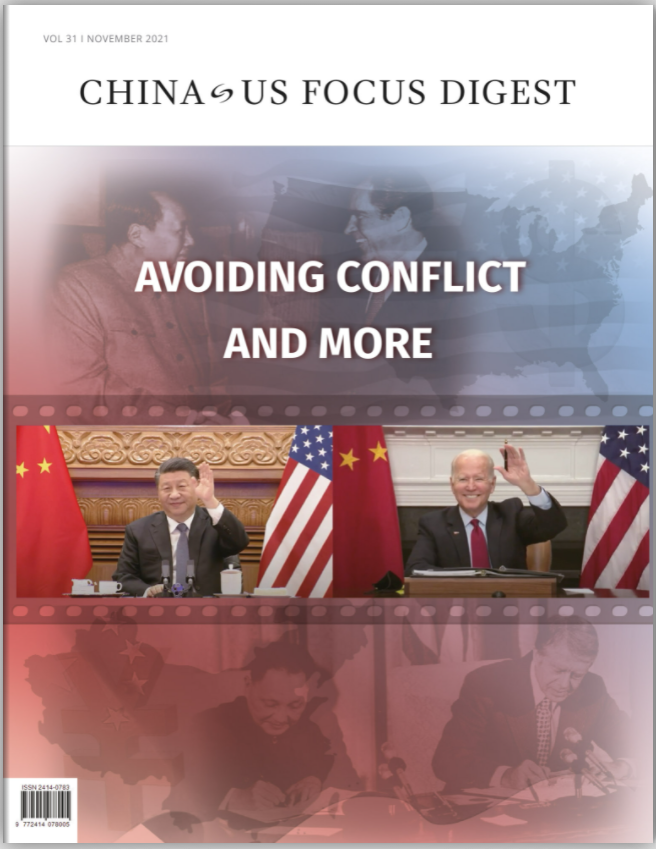 Click here to read the latest issue of China-US Focus Digest
The video summit between Chinese President Xi Jinping and U.S. President Joe Biden in mid-November was indeed a significant event. The leaders exchanged their positions on fundamental strategic issues covering key bilateral, regional and global issues, and it is widely anticipated in the Chinese media that bilateral relations, which have been at a half-century low, could return to the track of win-win cooperation. All positive words, however, need validation through follow-up action.
Of the many issues discussed at the summit, the Taiwan question was most sensitive. Biden affirmed American support for the one-China policy as laid out in the Taiwan Relations Act, along with the three China-U.S. Joint Communiques and Six Assurances. The basic principles are that there is only one China, that Taiwan is a part of China and that the government of the People's Republic of China is the only legitimate government of China. Any U.S. relations or exchanges with the island are unofficial.
Three days later, however, when the government of Lithuania announced approval of an official Taiwan representative office in its capital — a blunt broadside to the one-China principle — Washington immediately expressed firm support and delivered commercial credit of $600 million to substantively help. Two days after that, on Nov. 20, Joe Fernandez, the U.S. under-secretary of state, led the U.S. team attending the Second Economic Prosperity Partnership Dialogue (EPPD) with Taiwan. After the video summit, the U.S. State Department added Taiwan to the list of invitees to the Summit for Democracy scheduled for Dec. 9 and 10. The Biden administration ate their words all too soon.
During the virtual summit, Biden agreed with China's position of peaceful coexistence between the two countries. The first and foremost of the five principles of peaceful coexistence is mutual respect of each other's sovereignty. Taiwan is sovereign Chinese territory beyond any doubt. Unfortunately, Biden once again forgot too soon.
These two examples show that all positive verbal commitments or expressions by the Biden administration during the summit were only first steps. It's the follow-up actions that really matter.
This also holds true in China-U.S. trade and technology relations. The video summit encouraged business exchanges, and Biden expressed support for more cooperation in areas where both countries share an interest. However, we have also to see what actions will follow.
The latest developments are somewhat disappointing. On Nov. 11, or five days before the video summit, Biden signed the Secure Equipment Act of 2021 into law, tightening restrictions on Huawei and ZTE on grounds of national security. The next day, the White House rejected Intel's chip factory expansion plan in Chengdu, also on grounds of national security. Similarly, Katherine Tai, the U.S. trade representative, rejected Hynix of South Korea in its plan to expand its factory in Wuxi, Jiangsu province, warning of the "danger" of transferring high-end chip manufacturing technology to China — even though her proposal for U.S.-China "recoupling" on Oct. 4 was still fresh.
Jake Sullivan, the U.S. national security adviser has said that outbound investment should be sifted to prevent, among other things, high-tech flows into China. So far, Washington has no change in the 900 Chinese companies and institutions on its Entity List, leaving recoupling up in the air.
U.S. Treasury Secretary Janet Yellen has suggested calling off Trump-era tariffs on Chinese goods to help curb soaring inflation in the U.S. and ease Americans' business and family burdens. But no action has yet been taken.
The basic criteria for substantive improvement in China-U.S. relations should be the second red line given by Chinese Foreign Minister Wang Yi — strict prohibition of any policies and measures trying to stop China's development and dropping of all unilateral sanctions, technology restrictions and high tariffs on China. Apparently, none of these has yet come true. There has been no fundamental change in Washington trade policy with respect to China.
The reason lies in the political ecology within the U.S., where Democrats fear losing their slim majority in Congress. President Biden defines U.S.-China relations, including business relations as "competition" only, which conflicts with win-win cooperation, thus making actual trade and investment in technology more difficult. The Intel chip factory plan in Chengdu and the Hynix chip factory plan in Wuxi are both win-win for the U.S. and China. These could alleviate a chip supply shortage and address supply chain disruptions in the U.S., increase the sales and revenue of Intel and grow China's chip industry. However, this was killed because the U.S. needs to compete with and defeat China.
The American business community is not waiting for Washington. It is moving fast by itself. During the first 10 months of this year, China-U.S. two-way trade in goods hit a startling $609.94 billion, up 33.4 percent over a year ago. The growth rate was even higher than China's global trade growth of 31.9 percent. It was also higher than China's trade with the EU and ASEAN — both up 30.0 percent, and both having good trade relations with China. If China-U.S. bilateral trade maintains the January-October tempo in the last two months of the year, 2021 will see China-U.S. bilateral trade hit $743.5 billion, a net increase of more than $100 billion over the previous record of $633.5 billion in 2018, the year before Donald Trump's trade war.
A recent AmCham Shanghai member survey found that 77.9 percent of members were optimistic about China business for the next five years, returning to the ratio before the trade war. Goldman Sachs, Black Rock and other Wall Street Giants have been busy talking with the Chinese government about the Chinese bond market, leaving the U.S. Treasury Department aside. At the recent Fourth China International Import Expo in Shanghai, the U.S. again had the most businesses in attendance. Qualcomm exhibited 18 categories of mobile phones with its snapdragon chips, showing the vast Chinese market potential for American chip-makers.

GE, which already announced splitting into aero-technology, new energy technology, medical instruments and equipment and services, exhibited its world-leading advantages in all the three areas. GE has positioned China operations as key links in its global supply chain.
Tesla, with 100 percent ownership in its Shanghai factory, has 90 percent of its spare parts and components made in China and its new-energy vehicle sales to Europe prevailed over European automakers.
All these cases show that Chinese and American companies are supplementing each other in the global supply chain. If Washington fails to get rid of its outdated, Cold War mentality and persists in decoupling and containing China, a scenario of two parallel tracks looks most likely. The official track is a slow, difficult improvement in official trade relations. The private business track shows brisk bilateral trade and investment activity and will prevail over the first track in the end.
It is thus strongly urged that Washington turn its positive words at the video summit into solid action. China and the U.S. should both do their best to bring about a substantive improvement in trade relations in near future, thus making the video summit an everlasting success.