The G20 Hangzhou Summit adopted the landmark Global Trade Growth Strategy and its action plan, making free trade and investment a strong engine and, together with innovation and structural reforms, to bring the enervated global economy back to a path of strong, sustainable and balanced growth.
It is most encouraging that it was endorsed by all G20 member countries including both China and the US, which means that the world two largest economies and trading powers will work together in this direction. The fact sheet released by President Xi Jinping and President Barack Obama stated this explicitly.
The G20 has so far relied mostly on fiscal and monetary policy tools to support the economic growth. With G20 moving from a crisis-responding mechanism to a long-term governance platform, the fiscal and monetary policies are increasingly insufficient, with technology, Industry, trade and investment to play greater roles in the future.
In order to realize the global trade strategy, it is most urgent to boost world goods trade, which has been growing even more slowly (2.8%) than global GDP (3.1%) for the past 3 years, with no pick-up on the horizon. Before the financial crisis, trade growth was normally twice as fast as GDP. As the world largest two economies and trading powers, China and the US have crucial responsibilities and capacities.
 Uphold Multilateral Trade System and Globalization
In order to invigorate global trade, it is imperative to finish the ratification of the Bali Agreement on Trade Facilitation (TFA).  If fully realized, the TFA can reduce the global trade cost by 14.5%, generating approximately $1 trillion, or 1.3% of world GDP. So far, 89 WTO members, including China and the US, have ratified the agreement, but another 21 members must do so before the agreement can take effect. Both China and the US should work hard to promote the ratification until it meets the threshold.
China and the US should also work closely in EGA negotiation under WTO. Both countries made good contributions in the successful conclusion of ITA expansion at WTO MC10, Nairobi, in December, 2015, which covers US$ 1.3 trillion global trade. If EGA is clinched, the global trade on environmental goods, and thus the green development envisaged at the G20 Hangzhou Summit, will definitely get a strong boost.
Attacks on Free Trade Deals and China Not Constructive
During the presidential campaign this year, both GOP candidate Donald Trump and Democrat Hillary Clinton criticized trade deals repeatedly for taking away American jobs. Both of them have been against TPP. Donald Trump pushed to renegotiate NAFTA, and asserted that China had benefited tremendously from WTO accession at the expense of the US, declaring that China has been "stealing American jobs".
However, the US is neither a WTO loser, nor a NAFTA loser. According to the official data released by USDOC, total US goods exports to the world increased from $693.10 billion in 2002 to $1.5 trillion in 2015, 116.8% up over the 13 years. Its goods imports grew from $1,161.4 billion to $ 2,248.2 billion during this period, up 93.6%. Its exports grew faster than imports.
During the same period, its goods exports to Canada increased by 74.4%, while imports increased by 41.6%. Its goods exports to Mexico increased by 141.9%, while imports increased by 120.1%. The US export growth prevailed over import growth both with Canada and Mexico, and is certainly not a loser.
This time span exactly parallels China's accession to WTO and last year. US goods exports to China grew by 424.5%, while its imports from China grew by 286.0%. Again, the US export growth prevailed. During this period, the US exports to China grew 2.42 times as fast as its exports to the world, while its imports from China grew 2.0 times as fast as from the world. Apparently, China's accession to WTO has benefited both the US and China.
The assertion of China taking away American Jobs due to trade imbalance is also questionable.
If we review the trajectory of US goods deficits with China and manufacturing employment over the recent years, no fundamental linkage between trade deficits and job losses could be ascertained.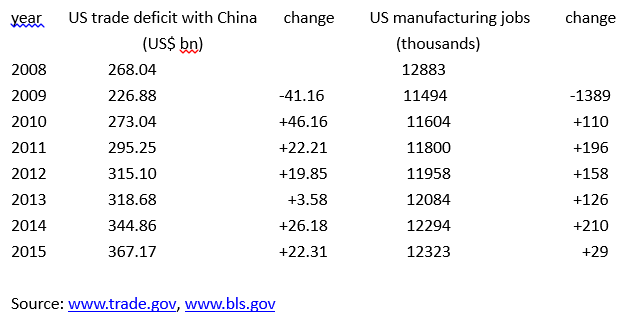 This trajectory shows just the opposite. 2009 was the only year that saw both drastic declines in the US trade deficit with China and in manufacturing employment. In all other years during this period, the US trade deficit with China increased each year, accompanied with manufacturing employment increases, with no exception. Apparently, the job changes have a direct linkage with the economic cycles.
The lack of linkage between trade deals and employment has also been proved by the US global trade deficit changes. During 2013-2015, the US global goods trade deficit expanded from $ 689.47 bn in 2013, to $ 735.19 bn in 2014, and $ 745.66 bn in 2015. During the period, there was no decline of manufacturing employment.
China and the US should both fight protectionism and support trade growth 
An effective fight against protectionism is essential for realizing global trade growth goals. This year's joint monitoring by WTO, OECD and UNCTAD on June 18 shows that over the 12 months to mid-May, G20 member countries adopted 228 trade restrictive measures, although G20 leaders have repeatedly pledged not to adopt any new such measures. Global Trade Alert, a UK report, said in July that world trade had stopped growing for 15 months since January 2015, the first time since 1989. A key reason was mounting trade protectionism. Among G20 countries, the US is by far the largest source of trade restrictive measures, having adopted 636 such measures since 2008, and over 90 measures in 2015 alone, or a new measure every four days. Those measures, while hurting international trade, also raise the cost of downstream manufacturing and consumption at home, and thus will hurt the US own economy in the end. It is highly anticipated that the Obama Administration will make a serious review of its trade restrictive measures over recent years and slash them drastically in compliance with WTO rules.
China, on its part, should also take decisive measures to further open up, and prepare a short negative list as soon as possible, thus offering more market access across the board and a leveled field for competition among SOEs, private and foreign businesses.
China and the US made considerable progress in bilateral investment treaty negotiations before the G20 Hangzhou Summit, and both forwarded ratification of the Paris Accord to the UN during the Summit, contributing 38% of the needed ratification of the accord out of the total 55% threshold. Those encouraging developments show that the sound collaboration between the two nations could serve as a strong engine in revitalizing global trade, and thus help bring the global economy back to a path of strong, sustainable and balanced growth.