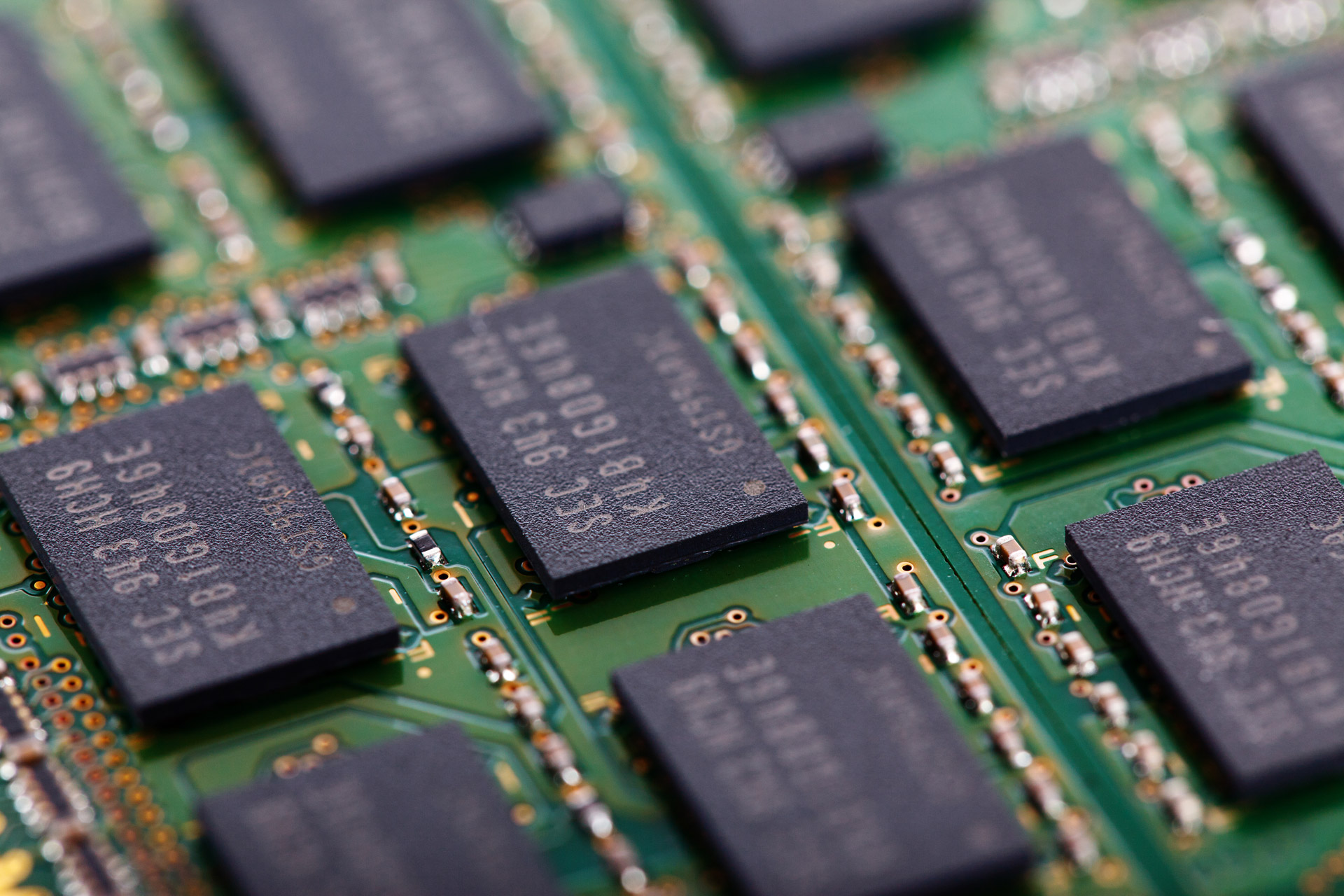 Chinese antitrust regulators from the State Administration for Market Regulation (SAMR) are investigating foreign memory-chip making giants from South Korea and the United States amidst allegations of price fixing. Officials from SAMR have visited the Chinese offices of South Korean firms Hynix and Samsung and the American company Micron in recent weeks.
While the reason for these visits has not been explicitly stated, industry experts have noted that the price of memory chips— used in electronics such as smartphones, computers and big data centers— has risen drastically recently.
Some analysts have speculated that China is attempting to use the investigation to negotiate a technology transfer to Chinese firms, and others have called it a response to the U.S.' move on ZTE. Both accusations seem unlikely.
Price-Fixing or Market Conditions?
The investigation was prompted by complaints from Chinese mobile phone makers, who have said that the rising cost of the dynamic random-access memory (DRAM) chips they use in their products has reduced their profitability.
In 2017, about 94 billion DRAM chips were shipped, indicating a rapidly growing market for the components. That year, Hynix, Micron, and Samsung produced 96% of global memory chips, essentially functioning as an oligopoly. As smart devices, cloud computing and cloud storage have become more popular, a corresponding growth in chip consumption has occurred. Smartphone makers such as Apple have increased DRAM content on their high end devices, while companies like Google and Amazon have spurred the demand for cloud computing. Meanwhile, supply of the memory chips has expanded at a lower rate, so in recent years, chip producers have seen higher earnings paired with tighter inventories.
The three companies are complying with the investigation by China's newly-established regulatory body, but relevant officials have denied the allegations. Moon Sung-wook, a senior Korean official, has stated that there is no price-fixing and attributes rising prices to surging demand. He requested fair treatment for the two South Korean companies that are a focus in the investigation. An investigation of this nature is the first for the SAMR, and follows a class-action lawsuit filed in California that accuses the same companies of purposefully keeping prices high.
A Legitimate Investigation, Not a Retaliation
Some analysts have speculated that China is attempting to use the investigation to negotiate a technology transfer to Chinese chip-making firms, although that seems to be an unlikely outcome of a pricing investigation. According to China's Anti-Monopoly Law (AML), the punishments for price fixing are the confiscation of illegal gains and financial penalties. The AML states that the determination of whether a firm is engaging in illegal market activity is based on factors such as the "relevant market involved," "difficulty of other business operators entering into the relevant market," and "other factors that can prove whether the agreement will substantially exclude or restrict competition."
Investigations into price fixing have resulted in hefty penalties for companies in the past. Chinese regulators fined a GM joint venture in China $29 million and a Medtronic unit $17.2 million in 2016 for price fixing violations. Regulators have also fined shipping companies from Korea, Japan, and Europe for similar infractions.
Others have speculated that the Chinese government could have launched the investigation as a countermeasure to the technology ban the U.S. imposed on ZTE. This also seems unlikely. The issue — the rising price of memory chips — appears legitimate. Furthermore, the investigation was a response to complaints of rising costs by local firms.
Possibility of Collusion
The government may consider several companies guilty of collusion under the following circumstances: if prices are fixed, the production of goods is restricted, technology updates are limited, or transactions are boycotted by colluding firms. A company may fix prices or carry out any of the other measures to obtain greater profits. However, profits would only increase if costs can also be minimized at that level of production and if the scale of production is optimized. Evidence of explicit collusion would need to be found using inter-company communications and financial information. This may be difficult to achieve.
To complicate matters, demand for DRAM chips is more inelastic than demand for other types of memory chips, as device manufacturers require a minimum level of DRAM to meet performance requirements. This means that there are few close substitutes for these chips. Supply has also remained constrained as firms have invested more in improving the chips' technology rather than expanding production. The combination of these two factors would certainly drive up the price of DRAM chips even in the absence of oligopolistic collusion.
The antitrust investigation comes at a time when Chinese technology producers, including ZTE, are already in the news for issues with the United States. ZTE recently reached an agreement with the U.S. government to pay a fine of $1 billion and hire a compliance team chosen by the U.S. in order to waive the ban. President Trump has also stated that the U.S. will impose tariffs on goods imported from China, many of which come from technology companies. Despite the contentious U.S.-China tech rivalry, this Chinese price fixing investigation appears to be unrelated.
Collusion among global chip makers will be difficult for Chinese regulators to prove, but the investigation does send a signal to international suppliers that China is watching them and is poised to protect its consumers and producers.