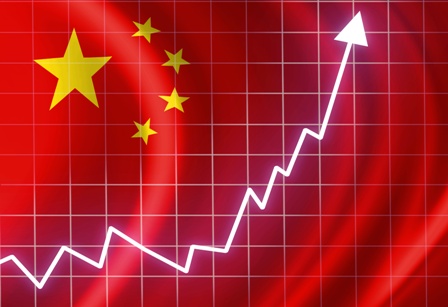 China's National Bureau of Statistics released a report on July 16 on Q2 economic performance that showed 3.2 percent GDP growth year-on-year, a dramatic rebound from the 6.8 percent decline registered in Q1, thus narrowing the H1 fall to 1.6 percent from a year ago.
China's sharp V-shaped economic upturn serves as a bright lighthouse in a world of economic darkness in which most of the leading economies continue to struggle with the worst recession since the Great Depression of the 1930s. Nicolas Lardy, senior fellow at the Peterson Institute of International Economy, regards it as an important and positive contribution to the world economy.
Solid recovery
The firm recovery in Q2 was broad-based, covering industrial production, consumption, capital investment and trade.
The added value of industrial production fell by 8.4 percent year-on-year during Q1, but grew by 3.9 percent, 4.4 percent and 4.8 percent in April, May and June in succession, narrowing the fall of the first half to only 1.3 percent. Automotive output witnessed a sharp jump of 13.4 percent year-on-year in June, compared with a two-digit fall in Q1. The high-tech sector led the growth, as added value jumped by 9.86 percent during Q2, after falling 3.8 percent in Q1. Electronics production was up 12.6 percent year-on-year, with 3D, IC products, AI watches, semiconductor apparatus and industrial robots up by more than 30 percent.
Retail sales, although less robust, also saw a steady pickup. After falling by 19.0 percent in Q1 due to extensive lockdowns across the country after the outbreak of COVID-19, it fell by 7.5 percent, 2.8 percent and 1.8 percent during April, May and June in succession, very close to the level at the end of Q2 a year ago, narrowing the fall of the first half to 11.4 percent.
Capital investment fell by 16.1 percent during Q1 and turned positive in both May and June, ending H1 with a year-on-year fall of only 3.1 percent.
Contrary to what most observers had estimated, China's trade in goods contributed positively to GDP growth during Q2. After a poor start for the year with a 6.4 percent year-on-year decline during Q1, it fell by only 0.2 percent during Q2 and even grew by 5.1 percent in June, with exports up 4.3 percent and imports up 6.2 percent. During the quarter, exports outperformed imports considerably, narrowing the year-on-year fall from 11.4 percent in Q1 to 3.0 percent in the first half. Imports, on the other hand, widened from 0.7 percent in Q1 to 3.3 percent in H1, largely due to the sharp fall of world energy and commodity prices. As a result, net exports contributed positively to GDP growth during Q2.
Demand essential
As China's economic activity as of the end of June has nearly returned to normal and the COVID-19 virus is under control, the GDP growth will further accelerate during Q3. There is a good chance that GDP growth will be high enough to mitigate the 1.6 percent year-on-year decline registered during H1 and lift GDP growth for Q1 to Q3 this year to the positive area over the same period last year.
Nonetheless, the growth engines are far from balanced. The above-mentioned factors driving H1 GDP are mostly on the supply side. The demand side, or final consumption, has been relatively weak. Over the past few years of the new normal, final consumption has contributed 50 to 60 percent of GDP growth. If the current demand side weakness continues, the sustainability of the current economic rebound will be called to question.
Total retail sales for H1 were 11.4 percent lower than a year ago. The basic reason lies in the drop in personal income and the widespread lockdowns. Per capita disposal personal income was 15,666 yuan ($2,230) in the first half, 2.4 percent up year-on-year in nominal terms but 1.3 percent down in real term. Per capita personal consumption spending was 9,718 yuan, a nominal 5.9 percent drop and a real 9.3 percent drop from a year ago. Personal spending on clothing was down 16.4 percent; transportation and telecommunication spending was down 10.7 percent. Spending on education, leisure and recreation was off 35.7 percent.
Despite the gradual job increases over recent months, the total urban jobless rate in June was still 0.6 percent higher than it was in June 2019, with rural workers' jobless rate 0.7 percent higher. Total employment in self-owned businesses was 3.0 percent lower in June that it was in January. Around 8.74 million college graduates will enter the labor market this year, adding pressure on the jobs situation.
In this context, more fiscal and monetary resources should be deployed to increase household incomes and job creation, and to support small and micro businesses. Demand side improvement should be the focus of government economic work for Q3 and H2 this year. Only with by balancing supply and demand growth can China's economic recovery be sustainable.
With economic and social life back to normal, the current upturn in personal income and consumption, as well as job creation, will undoubtedly gain momentum in the second half. It is thus anticipated that final consumption will contribute a larger share to GDP growth in both Q3 and H2.
Further improvements on the supply side are also likely. Investment in manufacturing saw an 11.7 percent drop during H1. However, the situation is changing fast. The high-tech manufacturing investment growth rate year-on-year was 2.7 percent during the first five months, but 5.8 percent for H1. In the single month of June, the growth rate was lifted by 3.1 percentage points. It was even more striking in the case of high-tech service investment, which saw an aggregate growth rate of only 0.5 percent for the first five months but 7.2 percent for H1. The massive new infrastructure investment in 5G, AI, industrial internet and IT will shore up GDP growth for the remainder of the year and for 2021.
A new, critical challenge is the serious flooding in large areas of China's southern provinces such as haven't been seen in a century. These have already caused major cities along the Yangtze River to go to high alert. They have affected more than 30 million people brought huge losses. In 1998, a severe flood reduced GDP growth that year by 0.2 percentage points. The flooding in 2020 is even larger and more damaging and will probably hurt GDP growth in 2020.
On balance, we have every reason to anticipate an acceleration of growth in Q3 and Q4, with the whole year GDP growth rate higher than the 1.0 percent estimated by the IMF in late June.
Contribution to world
According to the latest IMF estimate, 2020 will plunge the world into the most serious recession in nearly a century, with world GDP falling by 4.9 percent. In most countries, the recession generally hit bottom in Q2 and a gradual recovery is already in the pipeline. As China accounts for 16 percent of world GDP, every 1 percent GDP growth in China will contribute 0.16 percentage points to world GDP growth, or mitigate 0.16 percentage its fall.
During the economic recovery, China will provide growing markets for the products and services of other countries, and for international investors. China's accelerating imports, which was apparent in June, looks most likely to continue during the whole second half and wind up the year with a few percentage points increase over 2019.
MOFCOM data also shows that total China FDI inflows during Q2 had a strong rebound from Q1, increasing 8.4 percent year-on-year, compared with a 10.8 percent drop in Q1, resulting in a slight fall of 1.3 percent for H1. Contrary to the loud noise over de-coupling with China, actual investment from the U.S. increased by 6.0 percent.
China's economic resurgence is a part of the world economic recovery, and a positive contributor. Concerted efforts by all countries will be essential to tide over the current recession and bring the world economy back onto a track of strong, sustainable and balanced growth.