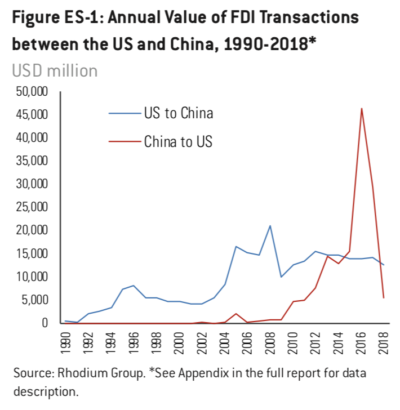 The Trump administration's approach to the US-China trade relationship advances a significant drop off in Chinese foreign direct investment (FDI) in the US. Combined with increased regulatory scrutiny and Beijing's tightened limits on overseas spending, Chinese FDI in the US declined by nearly 90% since 2016, according to Rhodium Group, an economic research firm. In contrast, and since 2016, US FDI in China remained steady. However, the reasons for declined investment are not limited to Trump's unorthodox diplomatic measures. During a period of global economic slowdown, China looks inward to boost the domestic economy and reevaluate its long-term position in the world, as Washington puts 'America First.'
The China of the 21st century, alongside Russia, will expand its Belt and Road Initiative to strengthen Eurasian economic integration. Beijing will innovate next-generation technologies and expand its influence through infrastructure development and investment in nearby regions of interest. While we all prefer peaceful coexistence, Chinese plans to lead the world in artificial intelligence by 2030, and Made in China 2025 will challenge US hegemony and trigger smaller economic and political points of contention. Trade wars, decreases in financial and academic exchanges, and ideological criticisms are symptoms of the inevitable clashes between Chinese and US interests. The recent decline in Chinese financing in the US is another small step away from a US-dominated global order that China confronts as the primary Eurasian power.
Further, while the Committee on Foreign Investment in the United States (CFIUS) creates obstacles for Chinese investors eyeing US markets, the adversarial political environment, propped up by hawkish circles of both Democrats and Republicans, discourages open exchange. The drying up of Chinese financing is a result of a more significant and inevitable divergence of two different visions for global development and geopolitical strategy, rather than a Trump-centric phenomenon. The conflict, whether centered on Huawei, intellectual property, or tariffs, is about retaining national security goals for the US and about sustainable economic and political growth for China. The issue of declining FDI is a minor indicator of an intersection of competing interests within a changing US-China relationship of global scale. Nonetheless, both states are implementing measures to protect national interests as we steadily approach a bipolar world.
Washington's more stringent investment screening processes obstruct Chinese FDI. However, a recent report from the Institute of International Finance found that total Chinese debt surpassed 300% of GDP during Q1 of 2019 because of an effort by the government to encourage increased lending at home with hopes of increasing economic growth. The attempt to pull Chinese investment home means less cash for the US agriculture, auto, and energy industries in states like Michigan, South Carolina, Missouri, and Texas. Manhattan real estate and Silicon Valley tech startups, used to Chinese investment, also received less since 2016. Concerning commercial real estate, a May report by Cushman & Wakefield found that Chinese property acquisitions totaled $2.3 billion in 2018 with $3.1 billion in property sales. Chinese purchases of residential real estate also declined by 56 percent to $13.4 billion. The expanded powers of the CFIUS, along with tense diplomatic negotiations, contribute to a decline in investment. While Beijing hopes to draw investors back to mainland China, certain strategic attempted acquisitions of US firms by Chinese companies faced blocks by the CFIUS over national security concerns. Notable blocked transactions include Broadcom's attempt to acquire Qualcomm, Alibaba obtaining MoneyGram, and deals involving Lattice Semiconductor. Back in June, the Commerce Department also blacklisted four Chinese supercomputer and microchip makers and one institute of technology. The Treasury Department is also assessing connections in the financial sector, most notably the China-US Industrial Cooperation Partnership set up between Goldman Sachs and the China Investment Corporation.
Trump's 'America First' agenda and tariff initiatives also pull US production from the Chinese mainland. Recently, Apple decided to test its AirPods production in Vietnam to explore avenues for reducing reliance on China. President Trump also threatened to slap tariffs on Apple's Mac Pros if production moves from Texas to China. Nintendo, GoPro, and Hasbro are all reconsidering factories in China, looking to Vietnam, the United States, Mexico, and India instead.
In targeting elite Chinese firms and institutions and encouraging US companies to shift production and supply chains, Washington hopes to thwart a Chinese sprint to military-related technology dominance. Intellectual property and tech concerns sway the opinions of policy and intelligence centers in DC. A looming 'red scare' creates an environment hostile to Chinese FDI and bolsters Beijing's calls to reinvigorate economic growth with domestic investment. The fear of Chinese infiltration of key technologies leads to increased scrutiny of academics and intellectuals traveling to the US for work or study.
Steven K. Bannon, President Trump's former chief strategist, revived the Cold War-era Committee on the Present Danger with a shift from the nonexistent Soviet Union to Xi Jinping's China. Senator Ted Cruz of Texas and former Speaker of the House Newt Gingrich are prominent Republican names who view Beijing as one of the most significant foreign threats to the United States. However, during the first set of Democratic primary debates in June, John Delaney, Amy Klobuchar, Julián Castro, and Tim Ryan all declared China as the top US national security threat. Joe Biden, Kamala Harris, and Elizabeth Warren all offer nuanced approaches for how to 'get tough' on China by shielding trade secrets, protecting US workers, and competing with Beijing's state-centric economic system. Often, their solutions are more formulated and less provocative than but somewhat similar to President Trump's methods. National security concerns over Huawei bring Democrats and Republicans together against a common Chinese threat. Therefore, in many ways, President Trump's concern and robust approach to China is not very controversial at all. The same executive rhetoric, which may contribute to significant declines in Chinese FDI in the US, even emanate from the intelligence community. Federal Bureau of Investigation (FBI) Director Christopher Wray recently stated, "No country poses a broader, more severe intelligence collection threat than China. [It] has pioneered a societal approach to stealing innovation in any way it can from a wide array of businesses, universities, and organizations." Wray's words bolster the Trump administration's policies to restrict visas for Chinese graduate students in sensitive research fields and biomedical laboratories located in American universities. To prevent loss of sensitive technology, FBI officials and National Security Council officials even monitor Ivy League campuses and advise administrators on the risks associated with Chinese students researching sensitive military technologies. To prevent comprised situations, the US canceled the visas of nearly 30 Chinese professors and academics suspected of having ties with the Chinese government. Wray went on to state that China is stealing "its way up the tech ladder." Interestingly, Beijing responded that "if China is fighting a war, it is a just war to defend its legitimate rights and interests." Therefore, Beijing did not deny or adjust the FBI's allegations, indicating that disagreements between the two superpowers are continuing to solidify.