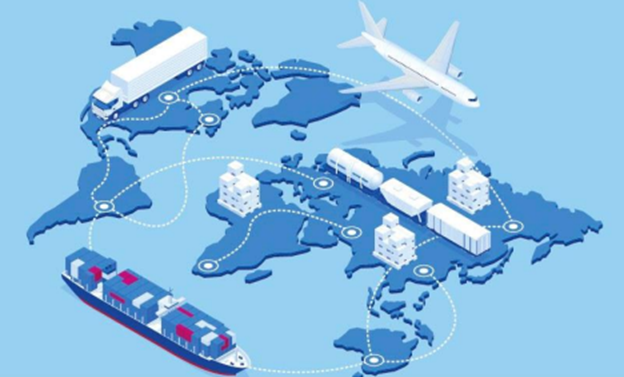 Tensions between the world's two largest economic powers and the ongoing pandemic that took a turn for the worse with the new Covid-19 variant, Omicron, is concerning governments and multinational corporations, further complicating what was already a strained global supply chain. For most governments and companies alike, there is not much that can be done aside from enhancing their guarding strategies, such as restricting border access and encouraging vaccines. Omicron and the global pandemic also led to workers quitting their jobs at unprecedented rates in November, while job openings stayed close to the highest-ever levels, signaling that the U.S. labor market remained tight last year. Alternatively, it also indicates that the U.S. economy is fairly healthy in that people left jobs but found employment in other sectors. On January 4th, The U.S. Labor Department reported that there were 10.6 million job openings at the end of November, 2021, and December saw that number jump to 12 million. More importantly, several industries are being critically impacted by staff shortages, namely: retail, leisure and hospitality, professional and business services, and healthcare and social assistance.
A critical byproduct of Covid-19, coupled with Delta and now Omicron, is the impact on rising inflationary pressures. The U.S. Federal Reserve Bank has finally acknowledged it will no longer be transitory given their recent announcement that there could be as many as three rate hikes in 2022, and the new variant further exacerbates the economic ecosystem impacting oil prices, among other factors. A survey of 35 economists and analysts forecast Brent crude would average $73.57 a barrel in 2022, about 2% lower than the $75.33 consensus in November.
Even though the Biden administration has tried to strike a hopeful tone, China remains more conservative with the Omicron variant. Clamping down on any localized surge of infections and outbreaks, China's "Zero-Tolerance" policy means some ports are overloaded and understaffed. Due to the recent outbreak around the globe, China is expected to double down on its "Zero-Tolerance" policy that in the past has included mass lockdowns of entire cities, forced quarantines, as well as strict checks at the ports. This includes monitoring ships and cargo to prevent cases from coming into the country. Although a tactic for reducing transmission of the virus, the policy imposes negative implications for trade between the U.S. and China. The government of China has shown no indication that it'll be relaxed anytime soon.
On the global supply chain front, if Omicron throws a wrench in the worldwide supply chain recovery works, how would the U.S. react to achieve supply chain recovery? The Biden administration worked out a deal with the Port of Los Angeles to move operations to a full 24-hour work cycle. The administration also released oil reserves from the Strategic Petroleum Reserve in a globally coordinated effort. Altogether, measures serve to ease supply chain constraints and elevated oil prices. Since then, oil prices have come down, and wait times at the ports are down as much as 30% before the holiday season. However, the positive impact is not adequate. This year, sales over the 2021 holiday season grew at the fastest pace in 17 years and increased by 8.5 percent since 2020 worldwide. Additionally, holiday sales were up 10.7 percent from the 2019 holiday season, causing the transport industry to brace for another roller-coaster year of supply-chain disruptions. The spending measure, which tracked consumer spending from Nov. 1 to Dec. 24, found that clothing (47 percent) and jewelry (32 percent) saw the largest increases. There is a high chance those gifts to family and friends will be delivered after the holiday season.
Currently, America holds a trucker driver shortage of around 48,000, and some sources indicate a shortage of 80,000. The driver shortage affects the entire economy, as over 68% of all freight is moved on U.S. highways in the pre-pandemic period. The trucking industry woes continue to paint an increasingly bleak picture for the supply chain.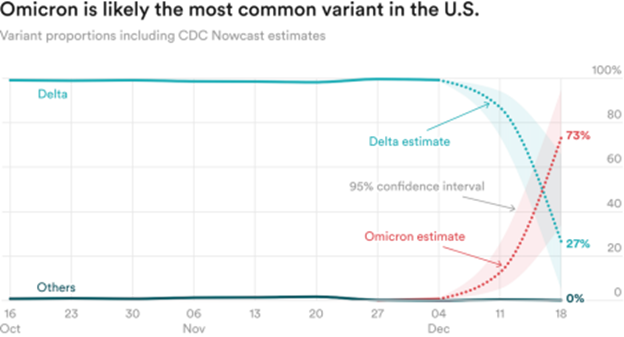 Source: STAT
When will Omicron Cases Peak in the U.S.?
Based on several models we have analyzed, there is a high degree of probability that Omicron cases in the U.S. should peak by the end January. However, the broader implications are that it is just a matter of time when, not if, new variants arrive in the U.S. and the global community. For example, if new variants arise roughly twice per year, for example, then we could expect to see multiple outbreaks each year, including in the summer. If such variants occur less frequently, then outbreaks might occur annually or even less frequently. The severity of these outbreaks will depend on the specific characteristics of those new variants and whether prior infections, vaccination and new drugs can keep people at a lower risk of severe disease.
China +1 Model for Corporations
One of the lessons learned from the pandemic as it pertains to global supply chains is that global firms have learned that they can't place all of their eggs in one basket. Thus, there is a global supply chain shift from China to Southeast Asian countries, namely Vietnam, to counter China's dominant position in the global supply chain, and such supply shift has been halted. Vietnam lacks the infrastructure and power to contain the new variant. As of December 27th, Vietnam reported its first Omicron variant infection. A person arriving in Hanoi from the UK has been confirmed as Vietnam's first Covid-19 case with the Omicron variant. The person arrived nine days earlier at Hanoi's Noi Bai airport and has been quarantined. Given that the Omicron variant is 4.2 times more contagious in the early stages than the Delta variant, it is critically important for those supply chain shift beneficiaries to guard their populated areas strictly through vaccinations and testing.
Companies Need to be Adaptable
Morgan Stanley's CEO James Gorman's previous tough statements in September 2021 pressuring employees to return back to the office resulted in backlash and ultimately embarrassment when he had to backtrack and admit he took the wrong approach. Additionally, decisions made by NYU, Cornell, Princeton, and other universities to switch classes to fully remote learning once again demonstrate that companies and institutions do not drive the pandemic. On the contrary, it is the pandemic that drives the behavior of institutions and global supply chains, and thus companies and governments must calibrate a more flexible and adaptable framework for the transfer of people, capital, and manufacturing ecosystems.
On the whole, all evidence indicates that there are still too many unknowns regarding the latest Omicron variant. However, there is one thing for sure: the current global supply chain is not adequately equipped to face these unprecedented challenges.
Furthermore, our assessment of when China will open its borders will largely be dictated by how well Chinese authorities manage Covid-19 cases both prior to and throughout the upcoming Winter Olympics. Should Beijing complete the Winter Olympics with a relatively small number of cases, we believe that the Chinese government will then move towards a phased approach to opening China's border to other countries.
Lastly, as the world becomes used to another Covid-19 variant and begins to treat it like the norm, purchasing behavior will shift back to physical service-based rather than goods-based online, though this will likely not happen until the summer of 2022. The psychological impact on purchasing behavior will also likely compel consumers to shift back to online purchasing and postpone recreational travel, at least until mid-2022.