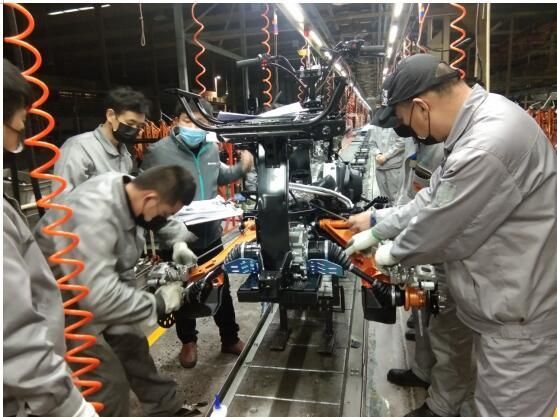 A major "black swan" event for the Chinese and world economies has come in the form of a novel coronavirus, dubbed Covid-19 by the World Health Organization. It poses a serious threat, but the epidemic should be temporary, thanks in large measure to the Chinese government's focus on prevention and control. In the long-term the outbreak will not alter the fundamentals of the Chinese economy. But action is needed to reduce the risks.
A key difference this time compared with the SARS onslaught in 2003 is China's importance to the rest of the world. Its position has changed. China contributed 4 percent of global GDP in 2003, but today the scale of the Chinese economy is approaching 100 trillion yuan ($14.3 trillion), accounting for 16.3 percent of the world economy.
China has become the most important trading partner of more than 120 countries, and has the world's fastest-growing export market. It now accounts for 12 percent of global trade, and has been the world's second-largest import market for 11 consecutive years, receiving more than 10 percent of global exports.
Considering the sheer size of the Chinese economy and the country's crucial position in global supply chains, the influence of the epidemic should not be underestimated.
The Covid-19 outbreak has triggered urgent responses worldwide. As of Feb. 11, 128 countries and regions have announced entry restrictions for Chinese citizens and people who have recently traveled to China. Since the outbreak was designated a public health emergency of international concern by the WHO, restrictions on certain classes of people at overseas ports of entry, as well as goods and containers from China, are all subject to strict quarantine. Some companies have been asked to postpone customs clearance, which is another type of import control.
Considering the epidemic's influence on population mobility, logistics and demand for imports, Goldman Sachs predicts, on the optimistic side, that 0.15 to 0.3 percentage points will be cut from global growth in Q1. Pessimistically, Q2 growth could drop by 0.2 to 0.4 percentage points.
China is a major hub in the supply chains of manufacturers around the globe. The epidemic will trigger negative domino effects. Factory closures, postponements and suspensions will all affect output, dealing a direct blow to global production and orders — and even, to some extent, disrupting the order of global supply chains.
In Wuhan, Hubei province, the epicenter of the epidemic, for example, factory shutdowns will bring a cascade of effects on the global economy. In recent years, Wuhan has developed into a center of such high-tech industries as optical electronics and semiconductors, and it's home to China's most advanced chip-making base. It is also an automaking center, with many domestic and foreign manufacturers, including Nissan, Honda, General Motors, Peugeot and Citroen having production lines there. If the factories can't resume production, the shock to many countries and regions will be serious.
Over time, China has been embedded deeply in the extensive supply chains of the "Asian factory" and is able to smoothly assemble components and raw materials from all over the world and deliver finished products to customers everywhere.
Asia is more dependent on China for intermediate products than European and American countries, and is more vulnerable to negative impacts. Currently, some automakers from South Korea, Japan and India have begun planning for production suspensions or are looking for new suppliers. Because the coronavirus epidemic has cut off the parts supply from China, Hyundai Motor Co. has halted production in South Korea.
According to a Strategy Analytics report, 70 percent of the world's smartphones are made in China. The epidemic could bring a drop of more than 30-percent in smart phone production in China in Q1. Apple's reliance on Chinese supply chains will also face a test: Its Q1 iPhone shipments are expected to drop by 5 to10 percent.
The epidemic represents another blow on the heels of the China-U.S. trade war, which has lasted over a year and has had a conspicuous impact on China's export sector. Chinese exports to the U.S. dropped 13 percent year-on-year, while imports dropped 21 percent. Those drops were the biggest since statistics became available in 1984. The coronavirus epidemic will inevitably worsen the overall situation.
Therefore, proper judgments must be made about the direct and indirect influences of the epidemic. Production should be resumed as soon as possible, even as epidemic prevention and control continue to improve. Strategic preparations and contingency plans must also be made quickly.
Anticipatory management is an anchor of stability when it comes crisis prevention. While ensuring transparency, the national mobilization should be further strengthened to mitigate the shock of the epidemic. The government should properly expand its spending and implement such measures as tax exemptions, direct subsidies, interest subsidies and postponements of social security fees during the epidemic.
Enterprises' tax burdens should be further reduced. Direct subsidies or tax rebates should be given to businesses involved with public welfare and people's livelihoods to protect small and medium-sized companies from broken capital chains or defaults on debts because of short-term incidents.
Policy banks should also play an active role by coming up with special funds to support the fight the coronavirus. The China Development Bank and Export-Import Bank have expressed their intent to issue special bonds to support emergency fundraising for epidemic prevention and control. Policy banks should be encouraged to make similar moves.
Defending supply chains is the most important task. Efforts must be made to resume normal production in an orderly step-by-step manner. In addition, raising production capacity, ensuring the safety of alternative resources, setting up inventory buffers and stabilizing foreign-invested projects in China to guarantee supply chain security in a comprehensive manner are all essential.
The risks of broken supply chains must be avoided as much as possible. At the same time, since the new epidemic is major, trade organizations and legal intermediaries should help companies whose exported goods are refused or whose orders are revoked protect their legal rights.
The coronavirus has no nationality or national boundary. The epidemic is a challenge for humanity as a whole, and the international community must join hands to prevent negative economic impacts. Despite the momentum of global protectionism, global cooperation is the best option for all nations — especially in light of the size of the Chinese economy, its massive market and the spillover of its growth momentum.
In addition to enhancing global cooperation with the WHO in fighting the epidemic, China also needs to increase its global macroeconomic policy coordination with other countries and such international institutions as the IMF and World Bank so that the world is prepared for potential future risks.