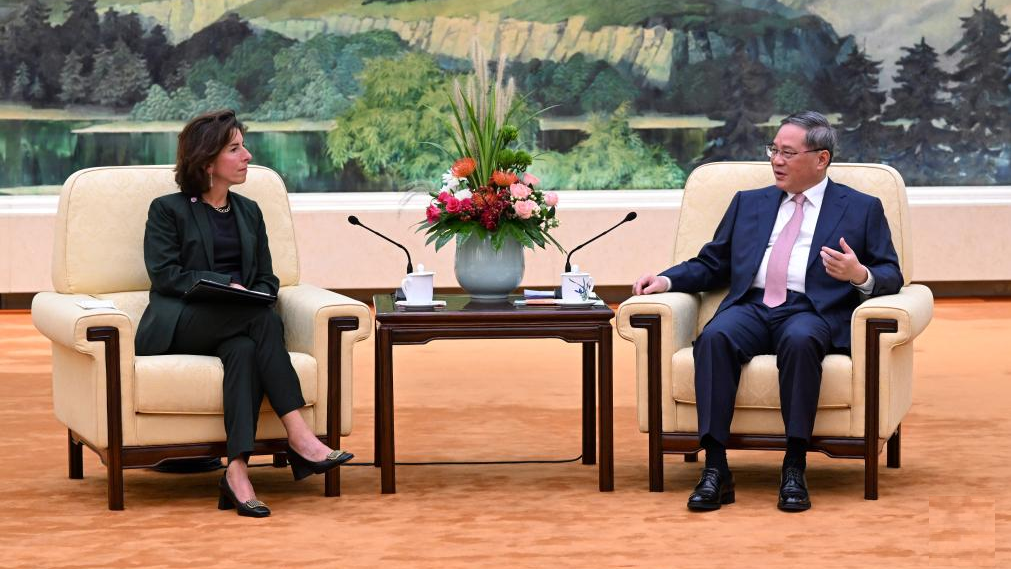 On the afternoon of August 29, 2023, Premier Li Qiang of the State Council met with U.S. Secretary of Commerce Gina M. Raimondo at the Great Hall of the People.
China and the United States have new hope of checking the deterioration of their bilateral relations, stemming from the four-day China trip by U.S. Secretary of Commerce Gina Raimondo.
Chinese Premier Li Qiang met with Raimondo in Beijing, calling on both sides to enhance mutually beneficial cooperation. During the lengthy, productive talks between the Chinese Ministry of Commerce, headed by Minister Wang Wentao, and the U.S. delegation led by Raimondo, both sides decided to launch institutional dialogues on key issues in bilateral trade and investment, including an annual meeting between the two ministers, a working group on special commercial issues and another one on export control information, with biannual meetings at vice minister, or director-general levels.
New window opens
Raimondo's China trip resembled those of of her colleagues Antony Blinken, Yanet Yellen and John Kerry: The two sides had candid, constructive talks, with a view toward managing differences and avoiding conflicts. However, her trip moved things a decisive step forward, focusing on substantive, tangible trade issues with dialogue including not only government officials but also business leaders. It shows that China and the U.S., in handling their matters of concern, have moved to a new substantive period on trade and technology, thus stabilizing the ballast stone of the overall relationship.
Raimondo described her four-day China trip as "very successful and productive," and held that the massive and consequential economic relationship is good for the world, good for China and good for America. She also said that Washington wants American companies to invest and grow in the Chinese market, and conveyed President Joe Biden's message of no de-coupling.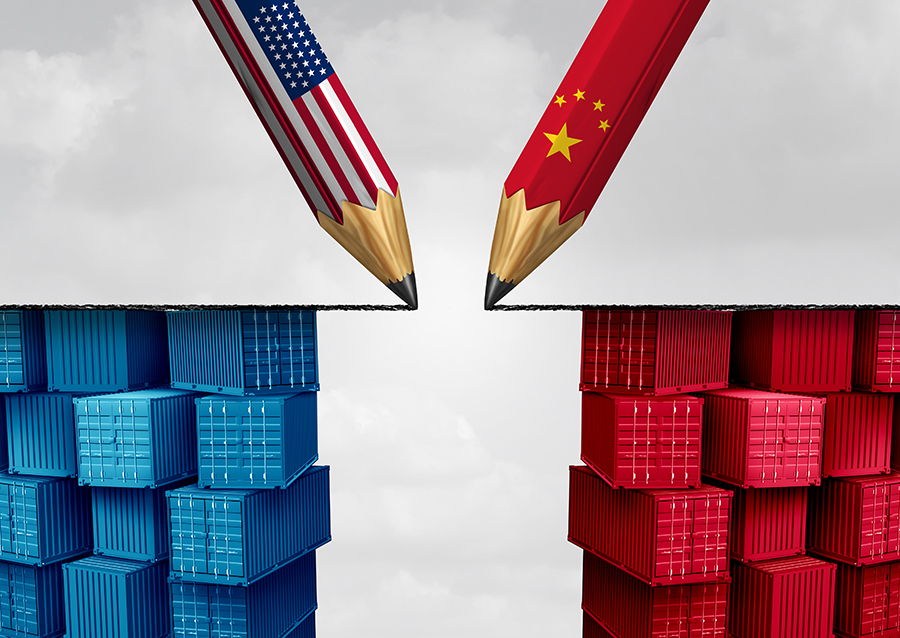 Free fall warning
The launch of a substantive dialogue mechanism is not only constructive but urgent. Two-way trade between the world's two largest economies has been in free fall since September 2022, in the aftermath of the sans-China trade policy of the Biden administration. The CHIPS and Science Act prohibits world leading chip companies from investing in China for 10 years if they want to qualify for U.S. assistance. Its Inflation Reduction Act also bans investors in electric vehicles from using minerals from China. Washington's resilient chip supply chain policy, the Chip 4 alliance and Indo-Pacific Economic Framework all exclude China.
In October, the U.S. Department of Commerce announced a sweeping ban on China of chips and manufacturing equipment 14 nanometers and higher, and has brought the Netherlands and Japan to an agreement prohibiting the delivery of extreme ultraviolet and deep ultraviolet lithography machines to China. Compared with Donald Trump's unilateral tariffs on Chinese goods, these Biden policies— the so-called "small yard and high fence" — have hit China-U.S. trade much harder.
The sweeping unilateral tariffs on Chinese goods imposed by Trump in 2018-19 depressed bilateral trade only temporarily in 2019 — off 14.5 percent. The two-way trade volume picked up in 2020 and continued into 2021, surpassing the pre-tariff highs of 2021 by19.3 percent. However, the new "high fence" imposed by Biden since late 2021 has had a severe adverse effect that has been felt since Q3 of 2022. It has caused a much sharper fall in bilateral trade, especially in Chinese exports to the U.S. which saw 16.9 percent drop from September to December and 18.6 percent from January to July 2023.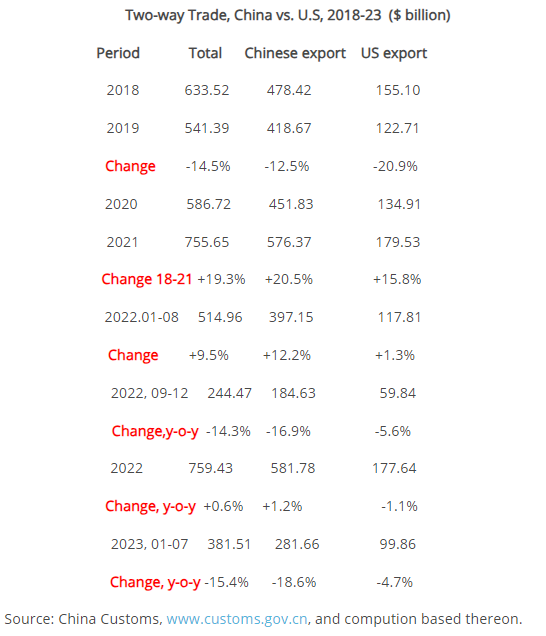 According to official U.S. trade data, China retreated to a position of America's third-largest trading partner in 2021, outstripped by Canada and Mexico, but it remained the largest source of imports. In 2022, China was outstripped by the European Union and retreated to a position of America's second-largest import source. During the first half of this year, China fell to the fourth largest source of U.S. imports, behind Mexico, Canada and the EU. The U.S. Bureau of Economic Analysis indicated that U.S. trade with China in the period fell by 19.7 percent to $275.6 billion, while its trade increased with Mexico (3.1 percent), Germany (14.1 percent), the Netherlands (10.5 percent) and the United Kingdom (6.5 percent). Clear symptom of a supply chain shift away from China to North America and across the Atlantic has cropped up.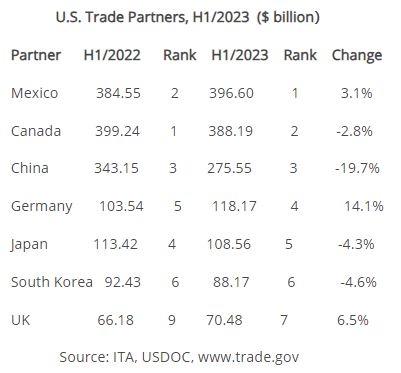 The symptom is especially convincing in the chips and high-tech sector, where Washington's high fence is in place. According to USBEA data, America's advanced technology products (ATP) exports worldwide increased by 7.8 percent during H1 2023, but fell by 9.6 percent in exports to China. Its exports to EU increased by an astonishing 31.3 percent, and remained stable in North America — up 0.3 percent. Its ATP imports during the same period shed $4.52 billion worldwide, but shed $18.97 billion from China, and increased by $9.59 billion from EU.
An AmCham member survey in April 2023 showed that 87 percent of the members surveyed felt pessimistic about business in China, primarily because of the tensions in U.S.-China bilateral relations. Some 14 percent had already started their business shifting and another 9 percent were planning to shift.
The above-mentioned free fall in China-U.S. bilateral trade has sounded strong warnings to both governments that imminent measures must be taken to check the trend and make every effort for an upturn.
Business calls for dialogue
The decline in China-U.S. bilateral trade is only one side of the coin, caused by political factors. The other side, supported by businesses and market forces, keeps trade going and prevents it from falling more.
Trump's sweeping tariffs on Chinese goods failed to prevent goods from entering American markets because the markets need them, and the tariff burden fell on American importers and, ultimately, on American end users and families. The "high fence" policy of the Biden administration has similarly met with strong obstacles in the marketplace and among American businesses. Intel, Qualcomm and Nvidia, through their strong lobbying presence in Washington, have pleaded for no further restrictions on chips. Because China accounts for one-third of global chip sales, the high fence against China will cost America its world dominance in chip technology.
Pat Gelsinger, CEO of Intel, once said that if sales to China are banned, there would be no need to build chip factories in Ohio. Intel recently announced a major investment project to build a chip innovation center in Shenzhen. Tim Cook, CEO of Apple, told Chinese leaders that Apple will remain in China. A Financial Times article by Patrick McGee — titled "How Apple tied its fortunes to China" — said that Apple has no other choice but to keep most of its manufacturing operations in China. China seems the only solution.
Ironically, during the first seven months of 2023, total FDI into China fell 4.0 percent year-on-year, while FDI from the U.S. increased by 25.8 percent. What's behind this phenomenon? China and U.S. businesses have fit into the whole global supply chain and are closely interconnected and complementary. Any political fence will ultimately accomplish nothing.
Another market fundamental appears in the unsustainable U.S. supply chain shifts over the past year or so. The supply chain within North America and across the Atlantic have been enhanced considerably at the cost of the trans-Pacific area, which is the most important part of America's global supply chain. During the first half of this year, U.S. trade fell sharply not only with the Chinese mainland but also considerably with the island of Taiwan (off 8.3 percent). The story is similar with Japan (off 4.3 percent), South Korea (off 4.6 percent), India (off 7.8 percent) and Vietnam (off 17.6 percent), largely because China is a key nexus in the trans-Pacific supply chain.
The China-U.S. business complement and global supply chain forces have undoubtedly helped bring the two governments to the table, as marked by Secretary Raimondo's China trip and the constructive deliverables arising therefrom.
Quick action needed
The joint working groups on business and export controls should get underway as soon as possible. The focus is concrete troubleshooting, one by one, not general dialogue. The subjects should cover a large part of the current tariffs, export bans on chips and manufacturing equipment, the entity list and the stability of the China-U.S. supply chain.
First, the export ban should be a high priority on the agenda. Secretary Raimondo has said that the export ban is based on national security and not up for discussion. Nonetheless, the application of national security is also subject to relevant WTO rules. China has already filed an objection to the U.S. export ban on chips through the WTO dispute settlement mechanism. Thus, both sides should discuss the details of the ban, as well as ways to change it, at least partially. Meanwhile, national security concerns should be discussed and identified case by case to avoid across-the-board application.
Continuous joint efforts are needed to stabilize political relations between the two countries. If Washington continues to see China as its main adversary and largest geopolitical challenge, U.S. national security considerations will continue to be amplifies and applied to a wide spectrum of business activities. It is thus recommended that both sides lose no time in increasing direct flights and personnel exchanges — both national and sub-national — to enhance mutual understanding. People-to-people exchanges can help scale down the current tensions and encourage more cooperation.
Second, the joint working groups should deliver more concrete results facilitating business in each other's market. China and the United States should discuss the details of industrial policy, market access and fair competition. China is open to considering the reasonable demands and complaints of U.S. businesses and to resolving typical cases quickly. Meanwhile, the review process should cover both China and America equally and should be strictly based on WTO rules.
Third, both sides should explore new areas of trade growth and investment cooperation, especially (but not only) in digital technology, artificial intelligence, new energy and commercial services, working out fresh projects as an early harvest. Sector cooperation should be discussed between industry associations on both sides, especially in the semiconductor sector, for a resilient China-U.S. supply chain.
Over the past 40 years or more since diplomatic ties were established in 1979, China and the United States have had numerous dialogues, talks, negotiations and consultations on trade. During that time, we have had any number of difficulties, differences, disputes and arguments. Despite all those, both governments, in general, managed to clinch certain positive results and keep bilateral trade going. It is sincerely hoped that, through the joint efforts of both sides, the trajectory of China-U.S. trade will bottom out by the end of this or the first half of 2024 and pick up again to hit a new high in 2025. A strong business relationship will again serve as a ballast stone supporting a stable overall China-U.S. relationship and benefiting our two peoples and the people of the world at large.