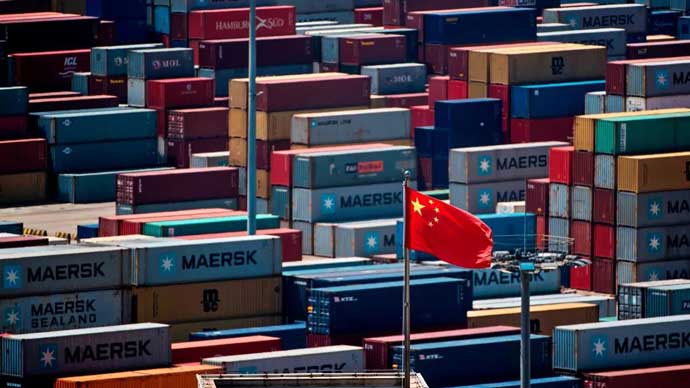 The bilateral trade and economic relationship has played an irreplaceable role in stabilizing and advancing Sino-U.S. relations over the decades, and served as the stabilizing ballast. This is the consensus of both Chinese and American scholars.
Over the past two years, however, the U.S. has launched a trade war against China and repeatedly increased tariffs, which has had a serious negative impact on the overall relationship and has led some scholars to conclude that the bilateral trade relationship has turned from being a form ballast to a stumbling block.
But labeling the trade relationship a stumbling block is too rash. The trade war emerged in the midst of an overall deterioration of China-U.S. relations. The trade relationship itself is not to blame. On the contrary, it has brought enormous benefits to both sides and will continue to do so in the future.
Full decoupling of the Chinese and American economies is not a realistic option. In the makeup of relations, the trade and economic relationship is the most fundamental and enduring factor, which relates to the present and future development of the two economies and to groups and individuals in both societies. Shared trade interests are more enduring and deeper than any other.
In his first campaign, Donald Trump saw widespread dissatisfaction with the status quo in American society, and he used China as a scapegoat for America's problems, claiming that the U.S. had lost 5 million jobs to China and saying that was the cause of the shrinking of the American middle class, the collapse of Rust Belt cities and the increasing difficulties of white blue-collar workers.
After he became president, Trump released his National Security Strategy and National Defense Strategy, which affirmed the return of great power politics and explicitly tagged China as the most significant threat to U.S. national security.
It was in the midst of substantial changes in U.S. policy toward China that Trump launched his trade war with China — and that is only one manifestation of the deterioration of China-U.S. relations.
Trump has been alleging that China has taken advantage of the United States, which is untrue. The role of trade in China's economic development is obvious, but the United States has also benefited greatly from it. China's high-quality, affordable products have enriched choices for American consumers and lowered their cost of living.
For example, in 2015, trade with China saved an average of $850 for every American household. The trade relationship has also held down inflation in the United States, providing great latitude for the U.S. to pursue expansionary macroeconomic policies. It has also created a large number of jobs in the United States. Craig Allen, president of the U.S.-China Business Council, recently estimated that China-U.S. trade and investment created roughly 2.4 million American jobs — 1 million in exports, 1 million in imports and 400,000 in Chinese companies in the United States.
Recently Trump has repeatedly threatened to decouple from China. Even when Trade Representative Robert Lighthizer told Congress that China-U.S. economic decoupling is not a viable option, Trump stepped forward to correct him, saying that he has a policy option that would mean "complete decoupling." What he didn't say was that this is easier said than done.
First, the market attracts companies. China is expected to continue to contribute one-third of the world's economic growth in the next decade. It is a country of 1.4 billion people, with a middle class that has reached 400 million and continues to expand.
The McKinsey Global Institute estimates that by 2035, the total Chinese consumer market will be larger than the combined total of Europe and the United States. What smart entrepreneur would give up such a market? U.S. automakers such as GM and Ford are selling more vehicles in China than in their home markets, and they have bluntly rejected Trump's call to return to the United States to build factories.
Decoupling is, after all, a market practice, and it's up to the companies to decide. Craig Allen recently expressed optimism that U.S. companies would be happy to grow their business and increase their investment in China. Tesla's recent success in bucking that trend by opening a wholly owned electric car factory in Shanghai is a vivid example.
Second, a capable workforce creates wealth. Another important advantage China has is a well-rounded, well-qualified workforce, honed over the past four decades. That is not something that can be done overnight. Back in the Obama years, the U.S. wanted to move some of the industrial chain, including electronics, from China back to America, but Apple Inc. did not agree because of its dependence on Chinese labor. What could not be done in the past cannot be done easily now.
Third, a China-U.S. decoupling would destroy the global economy. After decades of globalization, China has become deeply integrated into the world economy. The two major economies, China and the U.S., are already tied together by complex supply chains. Rushing to eliminate dependence on China may end up not only hurting both countries but also doing serious harm to global industrial and supply chains.
The international community is deeply concerned. Singapore Prime Minister Lee Hsien Loong's article "The Endangered Asian Century" in the Foreign Affairs magazine, and remarks by German Chancellor Angela Merkel and a number of other European officials have made it clear that they don't want to pick sides between China and the U.S. They simply will not follow the U.S. blindly if it insists on decoupling from China.
The U.S. now seems to be poised to launch full-scale competition with China. Even so, the bilateral trade relationship has remained at a high level, exceeding $630 billion in 2018 under the threat of a trade war. In 2019 it was substantially lower than in 2018, under pressure from rounds of U.S. tariff hikes on Chinese products. But it still managed to top $540 billion. This is still an extra-large volume, which illustrates the resilience of the bilateral trade.
The yearlong negotiations between the two countries' business teams have become a special link of dialogue even amid all-out U.S. pressure on China. The conclusion of the phase one trade deal demonstrates the desire of both sides to put the bilateral trade relationship back on track.
China has kept its promises and implemented the agreement in earnest, with bilateral trade reaching $39.7 billion in April and China regaining its position as the largest trading partner of the United States. This fact is also fully recognized by the American business community and senior officials.
At present, the common interests in business are more evident than in other areas. If the two economies are to recover and grow, and if their citizens are to find jobs and improve their lives, the two countries must continue to adjust their trade and economic relationship, which will have a lasting influence on future bilateral relations.
In the aftermath of the COVID-19 epidemic, there may be partial adjustments to the industrial chain, as it's understandable that the industrial chain will be shortened for reasons of national security. But this is not the same as mass decoupling. It's normal for companies to come and go.
China will continue to eliminate interference, earnestly implement the phase one agreement and strive to maintain overall cooperation in business with the United States.