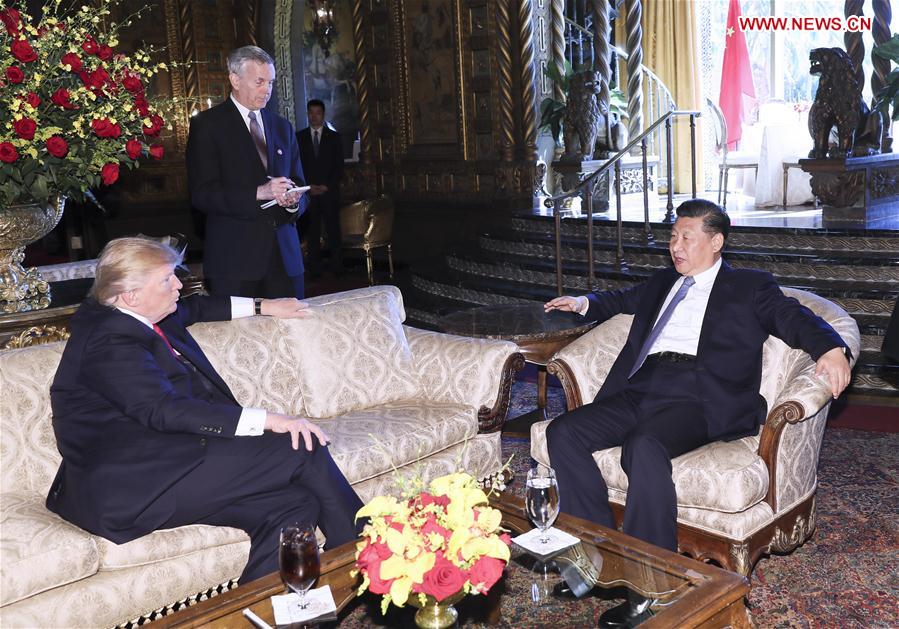 Global expectations were moderately hopeful for the recent dinner meeting between China's President Xi Jinping and American President Donald Trump in Argentina—and they were moderately rewarded with a temporary freeze in the escalating tariff war between the two sides. While their agreement offers some momentary respite, the deeper structural problems in the relationship remain.
Even in the economic domain of Sino-American relations, the Buenos Aires agreement only buys three months of time. That is, Trump agreed not to proceed with his threatened increase of tariffs from 10-25% on $200 billion of goods on January 1—in exchange for China's stepped-up purchases of American goods and a mutual agreement to enter into a 90-day period of further negotiations over the underlying issue of the structure of China's economy.
President Trump and his hardline advisors seek to fundamentally alter the state-driven mercantilist industrial policies of the Chinese economy—while forcing China to cease its policies of forced technology transfer, intellectual property theft, industrial cyber theft, non-tariff barriers, and restrictions on foreign investment. This is what the next three months of bilateral negotiations will be about—and it is highly unlikely that China will be willing to bend on any of these US demands. To do so would fundamentally undermine Xi Jinping's growth model and his political power base, at a time when the Chinese economy is exhibiting declining growth rates and a host of other problems. If there is no deal on these issues at the end of 90 days, the punitive US tariffs will proceed (with Chinese retaliation). This, in turn, could send shockwaves through the global economy and lock the Sino-American relationship into a new Cold War.
Trump and his team are not incorrect that these underlying structural dimensions of China's economy are the real problem, but his "ask" is far too great for Xi Jinping and China to bear. While there are proponents within the Chinese bureaucracy, including perhaps Xi's chief economic strategist Liu He, who advocate comprehensive reforms aimed at substantially reducing China's mercantilist economic state while dramatically opening China's still predominantly closed domestic economy and undertaking wide-ranging reforms of the financial and other sectors, these advocates remain in a distinct minority in Beijing. One theory that circulates among China watchers is that these reformers are secretly in favor of the external pressure exerted by Trump.
Arrayed against them are a variety of large industrial interest groups, party and state bureaucracies, certain provinces, and Xi Jinping himself—all of which have rebuilt China's state-dominant economy over the past six years and see this as the best economic model for China. Together they have systematically undermined and not implemented the sweeping package of progressive reforms Xi himself announced at the November 2013 Third Plenum.
While this coalition of actors are opposed to the transformational reforms Trump is demanding, they have flirted with some open and reformist directions in recent months. Xi's speech to the July Boao Forum illustrated a number of areas where he said China was willing to move: stepping up "supply side structural reform"; improving market access; raising the caps for foreign investment in banking, insurance, and securities; strengthening IPR protection; and further opening the manufacturing sector to foreign presence. Yet, in the time since Xi made these promises, we have only seen very minimal progress in allowing increased foreign participation in services and the financial sector.
The coming 90 days of negotiation will be high-stakes diplomatic brinksmanship. This observer is quite pessimistic that substantive progress can be made and agreement reached because what Trump is asking for so fundamentally undermines the ways that China's economy operates and Xi Jinping's own power base and vision for China's future. The other reason these negotiations are likely to fail is because of the political culture of China's Communist Party—which is in part built on the basis of resisting Western pressure. This is hardwired into the CCP's DNA. With such a predisposition, it is difficult to imagine Xi and his team buckling under Trump's pressure tactics. Quite to the contrary, there will be powerful domestic pressures to dig in their heels to resist the American hegemon. Moreover, this proclivity is buttressed by a strong sense of hubris in China's leadership circles—who are convinced that America is in terminal decline while China's rise to global preeminence is inevitable.
In addition to these inhibiting factors to striking a grand economic bargain between the two sides, when one examines many other sectors of the US-China relationship there is further ground for pessimism. Strategic competition between the two in the Indo-Pacific region is intensifying, Congress is increasingly concerned about China's "influence operations" inside America, and military rivalry is increasing. This is all a toxic mix and does not bode well for the future of US-China relations.