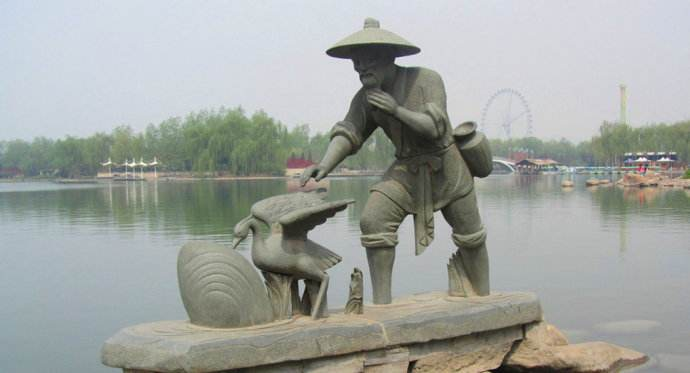 A traditional Chinese parable that can be traced back to China's Warring States period (5th to 3rd BC) teaches us an important business lesson which is still very relevant today, in the midst of a stormy protectionist trade war. In a parable from the book Intrigues of the Warring States (Zhan Guo Ce), an oyster opens its shell to sun itself. Just then, a Snipe begins to peck at the flesh inside the shell. The Clam closes its shell on the beak of the Snipe so that it cannot get away. The Snipe says to the Clam: it is not raining today, nor will it rain tomorrow, you shall die. The Clam replies: you shall not escape my grip today, nor shall you escape it tomorrow, therefore, it is you who will die of hunger. Neither the Snipe nor the Clam will yield, until a fisherman comes by and snatches them both into his net.
This self-explanatory parable, known to all in China, teaches us that when two parties are engaged in a battle that neither can win, a third party will most likely take advantage. As leading economists agree, a trade war, in the long term, will negatively impact the global economy. Under such circumstances, each of the biggest global traders — the U.S. and China — has the most to risk, while countries not directly involved in the trade war are presented with an opportunity.
In the unfolding U.S.-China trade war, Israel has remained strategically neutral, creating opportunities for itself and its business interests with both parties. For example, Israel, a WTO member, chose not to join as a third party the disputes recently debated by the two superpowers at the World Trade Organization (WTO) dispute settlement mechanism. These disputes include China's complaint about U.S. tariffs on steel and aluminum products, and the U.S.' complaint about China's measures concerning the protection of intellectual property rights. Other WTO members, like the EU and Japan, among others, chose to join the latter consultations. Israel's neutrality has contributed to maintaining, and even expanding, opportunities for Israeli companies.
The U.S. has historically been Israel's major trading partner, with an established free trade agreement in force since 1985. The Trump administration's policies calling for trade protectionism and a limitation on foreign direct investment (FDI) and outward direct investment (ODI) were not targeted at the Israeli economy, which is simply not significant enough to jeopardize U.S. economic interests. The close Trump-Netanyahu relationship further contributes to strong bilateral ties, sending a positive signal to the business community. For example, on May 2018, U.S. Intel Corporation announced that it would further invest $5 billion in expanding its manufacturing and development operations in Israel. It seems safe to presume that under other circumstances, the decision of a leading U.S. corporation to invest outside the U.S. in high-end manufacturing operations would have received a tweet of criticism from the White House. After all, only last December the Trump administration led a major cut on corporate tax providing U.S. corporations a huge incentive to invest domestically in order to create more jobs. Israel-U.S. relations however are on the rise, and the business community is certainly taking advantage of these close relations.
Economic relations between China and Israel are also booming. During 2017, Israeli trade with China (Israel's third largest trading partner) maintained steady growth. According to the Israeli Export Institute, Israeli exports to China in 2017 totaled $3.2 billion, despite declining exports to other Asian targets (it is important to note for comparison that Israel's exports to the U.S. are still 3.5 times bigger than its exports to China). Both the Israeli and Chinese administrations are sending clear and steady positive signals supporting mutual trade and investment. In March 2017, China and Israel announced the China-Israel Comprehensive Innovative Partnership commemorating 25 years since the establishment of full diplomatic relations. This announcement is complemented by government-to-government and business-to-business engagements, including through bi-annual investment summits, held alternately in Israel and China. These summits are sponsored by both governments and are attended by high-ranking government officials and thousands of participants from the business community.
Another indicator of warm relations between China and Israel is the fact that there was a 41% rise in the number of Chinese tourists to Israel in 2017, reaching a record high of 113,000 visitors. Moreover, in June 2018, China and Israel concluded another round of free trade agreement negotiations to build a framework to enhance trade and development. Finally, under the framework of the Belt and Road Initiative, many Chinese projects and investments are located in Israel. Chinese SOEs are active players in infrastructure projects in Israel, including extensions to Israel's major ports, the Tel Aviv light rail transit system and pumped storage electricity projects.
As I noted with my colleague Dr. Marcia Harpaz, since the outbreak of the global financial crisis about a decade ago, China and Israel have been steadily strengthening their economic relations with innovation as a central theme of development. Israel's economy enjoys a strong global perception of high-quality innovation. The steady flow of Chinese investment to Israel has continued in 2018 without any serious impediment. This is contrary to the situation regarding investment relations between China and the U.S., which have seen obstacles to investment flows on both sides. Israeli businesses have strategically begun to pivot towards their Chinese counterparts, fishing for more business opportunities.
In an era of trade protectionism and negative sentiment towards globalization, Israel is continuing its liberal approach of further opening its economy to global multinationals, trade and investment. Thus, although Israel is only a small player in the global economic field, especially when compared to China or the U.S., it can fish for business opportunities on a relatively large scale. Should Israel be able to continue this approach, the business community will certainly make use of these advantages, further strengthening the Israeli economy against a backdrop of global uncertainties.