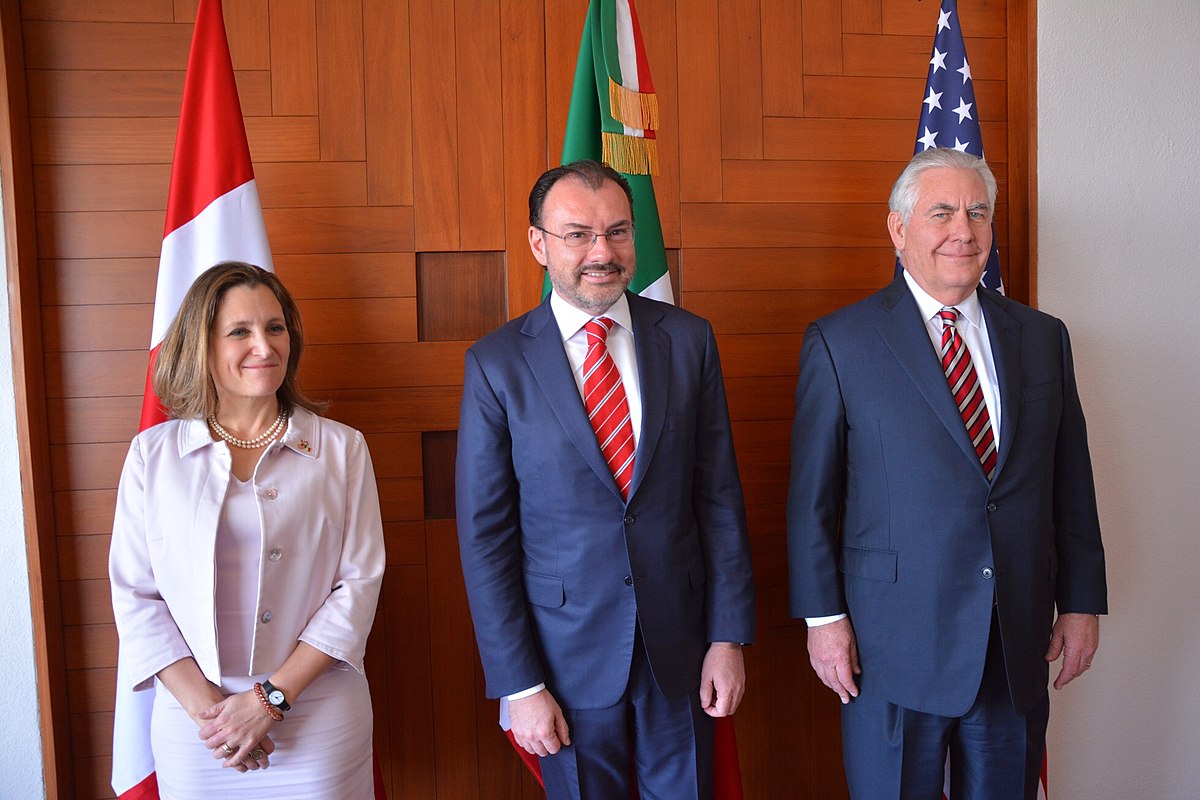 U.S. Secretary of State Rex Tillerson poses for a photo with Canadian Foreign Minister Chrystia Freeland and Mexican Foreign Minister Luis Videgaray Caso before their joint press conference in Mexico City, Mexico.
The conclusion of the updated NAFTA on September 30, known as the United States-Mexico-Canada Agreement (USMCA), revealed a few hidden surprises when the text was released. Among the most unexpected was Article 32.10, the "non-market" clause demanded by the United States. This article severely limits the ability of Canada and Mexico — and technically the United States — to enter into a free trade agreement with a "non-market" economy. It does so by requiring any Party intending to enter into such an agreement to inform the other Parties of its intentions to begin negotiations and, if requested, to provide as much information as possible regarding their objectives. Furthermore, no later than 30 days before signature of the new agreement, the contracting Party shall provide the other Parties with its full text so that they may assess its impact on the USMCA. Most important, entry by any Party into a free trade agreement with a non-market economy allows the other two Parties to terminate the USMCA.
In plain English this means that the U.S. has a de facto veto over any free trade agreement entered into by Canada and China or Mexico and China. Assuming Canada and China launched formal negotiations and arrived at a final text, the U.S. would have the right to review all terms of the agreement and object to any provision. That would put Canada in the position of having to negotiate with the U.S. and China at the same time and in effect gives the U.S. a seat at the Canada-China negotiating table. This is all the more egregious considering that Canada and the U.S. have some directly competing interests in the China market. Assuming Canada decided to proceed with an agreement despite U.S. objections, it would be expelled from the USMCA. Given the economic stake that Canada has in maintaining good economic relations with the U.S., the destination for 75% of its exports, the inevitable outcome would be the abandonment of the trade agreement with China.
How can we say with certainty that the non-market clause is directed exclusively at China? Article 32.10 allows the definition of non-market economy to be determined unilaterally by any of the Parties. Should that Party determine, on the date of the signature of the USMCA, that a given country falls into the category of non-market economy this becomes definitive — unless there is an existing free trade agreement with one of the other Parties. This is the "get out of jail" card for Vietnam because both Canada and Mexico have an agreement with Vietnam through the Comprehensive and Progressive Trans-Pacific Partnership (CPTPP). No such arrangement exists for China, which has already been labelled a non-market economy by the U.S. Department of Commerce. China is certain to still be on this list when the USMCA is signed next year, assuming it is passed by the U.S. Congress and the legislatures of Canada and Mexico. Non-market economy status can be determined in various ways, including by the WTO, but in this case the sole arbiter is, in effect, the U.S. Department of Commerce. It is clear that there is only one target of Article 32.10 — China.
This was made abundantly plain by U.S. officials after the conclusion of the USMCA, with National Economic Council Director Larry Kudlow proclaiming that North America was now a united front in dealing with China. Meanwhile in Canada, the non-market clause has provoked significant negative comment (here, here, and here). There was no consultation with stakeholders and the provision was sprung on Canadians by surprise. The negative reaction led Prime Minister Trudeau to state that Canada still intends to pursue close trade ties with China — despite the non-market clause. The Chinese Embassy in Ottawa, for its part, has denounced Article 32.10 as a "hegemonic action" by the U.S.
Defenders of the measure in Canada have argued that greater transparency regarding trade with China and the need to address U.S. concerns about Canada or Mexico serving as a back-door for dumped Chinese products reaching the U.S. were sufficient justification for Article 32.10. Chinese steel coming into North America is cited as a concrete example. However, there are many far less draconian methods to deal with trade diversion. Curtailing a partner's ability to negotiate freely with third countries is using a sledgehammer to kill a fly.
The Trudeau government has tried to downplay the significance of the non-market clause by arguing that any Party can withdraw from the USMCA with six months' notice and therefore the non-market clause is no more limiting than any other USMCA provision. This is disingenuous. Article 32.10 is an unparalleled intrusion on sovereignty, a feature not found in any other trade agreement.
Given this, it is an open question how the Trudeau government thinks it can move forward to pursue closer trade ties with China. Some experts have pointed to the explicit language in the non-market clause referring specifically to a "free trade agreement." Could Canada negotiate something less than an FTA with China? This would require an agreement skirting trade in goods, or perhaps a sectoral trading arrangement. However, unless a trade agreement covered substantially all trade in goods, it would not be WTO compliant. If it is WTO compliant, it would be a FTA by another name. Under these circumstances it would be difficult to avoid triggering 32.10. Of course, this presupposes that China would agree to negotiate with Canada under these circumstances.
This will almost certainly not be the last trade agreement with the U.S. containing such a clause, assuming that the negotiating partners can be strong-armed like Canada and Mexico. U.S. Commerce Secretary Wilbur Ross has been open about wanting what he describes as the USMCA "poison pill" to be replicated in future negotiations with partners such as Japan and the EU. The insertion of a chapter on currency manipulation in the USMCA is a further measure in the same direction. While the EU and Japan may be less willing to surrender sovereignty to the U.S. than Canada and Mexico, because they share many of the U.S.' concerns over China's economic policies they may nonetheless reach a similar accommodation. It is worth remembering that the flip side of the U.S. pushing a non-market clause on its trading partners is China's insistence that any bilateral agreements it signs must contain a commitment to accord China market economy status. This was the case with New Zealand, Switzerland, Australia and Singapore (the latter two countries also having bilateral FTAs with the U.S.)
This begs the question of whether China is a market economy. Since China joined the WTO in 2001 it has pursued a policy of opening up, and parts of the Chinese economy can clearly be said to operate on principles similar to those of other WTO members. However the continued dominant role of heavily-subsidized State Owned Enterprises (SOEs) has led to overcapacity problems, and consequent accusations of dumping on overseas markets, one of the characteristics of a non-market economy. Yet China has continued to insist on its commitment to both further opening up and the multilateral trading system.
Is there a way out of this box for China and Canada? Much will depend on the extent to which China is prepared to accept the full disciplines of a market economy – operating on essentially the same economic principles as other WTO members. And that will depend more on what happens in U.S.-China relations than in any negotiations that may take place between China and Canada.