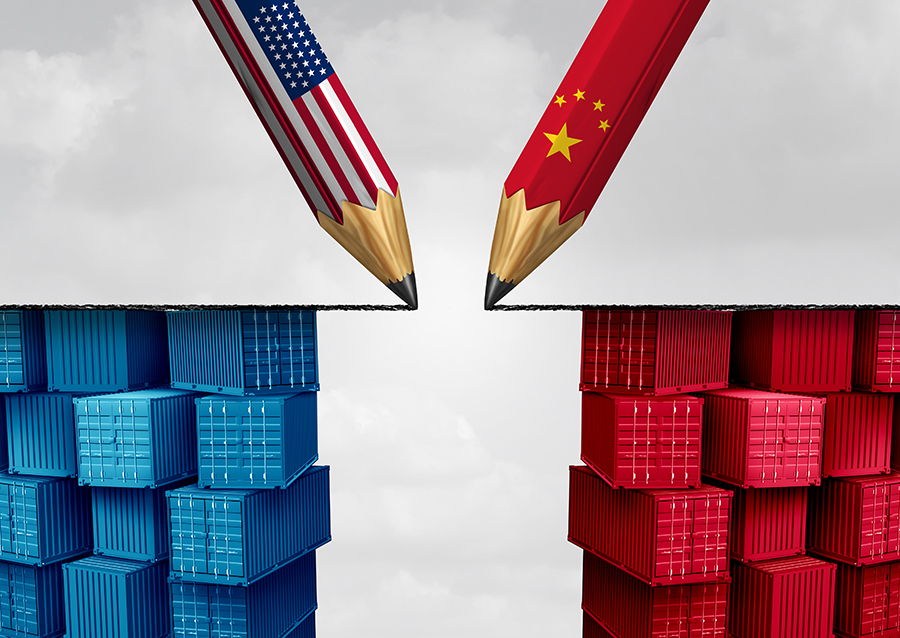 As U.S. President Donald Trump and China's Vice Premier Liu He signed the Phase One trade deal on January 15, many, myself included, were hopeful that a truce in the protracted trade war had been reached. Given the political exigencies on both sides, it seemed as though a period of calm could be sustained at least into early 2021.
At first sight, the outbreak of the global pandemic caused by COVID-19 did not seem to imperil the deal. For sure, immediate doubts were raised that China could not meet its obligations, especially commitments to purchase an additional $200 billion in U.S. exports by the end of 2021, an aspect of the deal that President Trump was especially proud of.
As COVID-19 put a dampener on Chinese consumption and spread globally with similar effects, it seemed as if pragmatic flexibility could be achieved on both sides. Indeed, phone conversations among the negotiators of the Phase One deal conveyed positive relations and progress. Most recently, Chinese Vice Premier Liu He, U.S. Trade Representative Robert Lighthizer, and Treasury Secretary Steven Mnuchin agreed in early May to push forward with the deal and meet regularly.
Now, however, both the rhetoric and actions of the Trump administration suggest that the globe's most important economic relationship is in deep trouble. Is a US-China trade war 2.0 on the horizon?
The Cross-Pacific Blame-Game
The rhetoric across the Pacific has been on a clear downward path. Both sides have engaged in blame games about the origins of the coronavirus. More recently, Beijing seems to be heeding calls to lower the temperature, but the rhetoric on the American side continues to escalate. In one of his strongest comments yet on the US-China relationship, Trump said in an interview with Fox News on May 14 that "we could cut off the whole relationship."
White House trade adviser Peter Navarro doubled down on the comment and suggested on May 17 that Beijing had sent airline passengers to spread the infection worldwide. He also has argued that China should pay for its role in mishandling the initial outbreak of the virus.
With the upcoming presidential election in the United States, the pandemic has offered the Trump administration an opportunistic chance to opt for China-bashing instead of focusing on handling the virus at home. But the Trump administration has also been moving beyond rhetoric and taken actions that have been in the cards for some time and not acted upon due to their political and economic risks.
A Cold Tech War
The most significant of these actions has been a ramping up of the technology war, namely the administration's moves to block Huawei Technologies Co. from employing global chip suppliers. The U.S. Commerce Department announced that it will tighten sanctions on Huawei to deny it access to semiconductors produced with the help of American software and technology.
Within several days, the largest contract chip manufacturer in the world, Taiwan Semiconductor Manufacturing Company (TSMC), announced that it would no longer accept orders from Huawei, the company's no. 2 customer. TSMC also announced a new $12 billion chip plant in Arizona. U.S. Secretary of State Mike Pompeo hailed this move as bolstering "U.S. national security at a time when China is trying to dominate cutting-edge tech and control critical industries."
These events mean that it will be increasingly difficult for Huawei to obtain chips that in any way employ American technology, including manufacturing equipment and crucial design software. Given this existential threat to China's technology flagship, Beijing is unlikely to stand by idly.
China's Ministry of Commerce hinted at countermeasures, including putting U.S. companies such as Apple, Boeing, Qualcomm, and Cisco on an "unreliable entity list" that could block them from the Chinese market. Huawei, the target of American sanctions, noted that these restrictions could destabilize the whole global technology supply chain.
Ever since Trump became president, he has handled the economic decoupling of the United States from China as an on-again, off-again proposition. The constant back and forth of the trade conflict and its anti-climactic ending in the Phase One trade deal illustrates his fickle attitude towards the matter.
However, with the ramping up of the technology war during these difficult times for the global economy, the stakes have increased exponentially. If China decides to retaliate against the U.S.' moves to target Huawei – which are truly damaging to the company's survival – then "the risk of a 'super' cold war is mounting," noted Jefferies Equity Research analysts.
Word or Action
For now, it is still not clear whether the confrontation will be mainly rhetorical or continue to evolve into more concrete actions. But it is clear that Washington has been rapidly expanding its areas of confrontation, including technology, finance, and geopolitical issues. Perhaps when the high stakes become truly apparent (such as a large decline in U.S. stock prices) President Trump will pull back the reigns of his anarchic administration.
He did so before in February when he said, "I want our companies to be allowed to do business. I mean, things are put on my desk that have nothing to do with national security, including with chipmakers and various others. So we're going to give it up, and what will happen? They'll make those chips in a different country or they'll make them in China or someplace else."
At this point in the political calendar – and with the pandemic profoundly impacting the American economy – it is unlikely Trump would want to alienate China. The two giants are bound to each other by a deep co-dependency in their economic relationship; they have a mutual interest in combating both the virus and the global economic downturn.
Nonetheless, we must prepare for a full-fledged economic war in which the United States sanctions Chinese companies and China bars American companies from its market, all of which leads to further escalation, such as more tit-for-tat tariffs. Such a turn of events would truly mark a tragedy and make the policy mistakes of the early 1930s seem almost innocent.