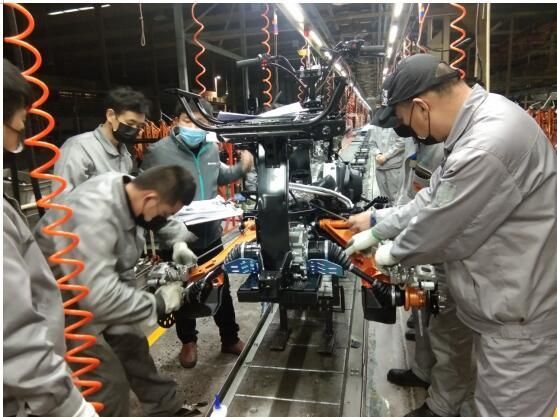 (Caught off guard by unprecedented difficulties, most enterprises in China have rolled out active precaution measures while resuming production on Feb 10 amid the national fight against the novel coronavirus outbreak.)
The sudden outbreak of the novel coronavirus, COVID-19, caught China totally unprepared just before the Chinese Lunar New Year holiday. By Feb. 15, total confirmed cases had hit 68,500, more than 10 times the cases of SARS (5,723) in 2003, with Hubei province, the epicenter, accounting for 56,244, or 82.1 percent of the nation's total. Wuhan, the provincial capital, accounted for 70.2 percent of the provincial total. The World Health Organization announced on Jan. 30 that the epidemic was of international concern, as cases cropped up around the world.
China's quick national mobilization and severe measures to combat the disease domestically, including a travel ban into and out of Wuhan and extensive air, rail, road and freight passenger travel restrictions. Residential areas in many cities were quarantined, with all residents required to stay at home as much as possible. Business operations were suspended, and schools postponed classes.
All those moves have seriously affected the economy. The catering, travel and retail sectors, among others, have been hit hard. Traditional Spring Festival travel within China, which hit 4 billion trips in 2019, saw a decline of more than 80 percent. Catering business revenue, which saw a turnover of 730 billion yuan ($105 billion) during last year's Spring Festival period, has dropped to minimal.
Industrial production has also been hit hard. For instance, automotive output in January this year was down 33.5 percent from December, and 24.6 percent down from a year ago. Undoubtedly, February's drop will be even sharper.
As of Feb. 12, only 59 of 183 assembly plants in China had resumed operations and 17 percent of the total will not resume by Feb. 23. The tourist industry, which contributed an added value of 15.9 billion yuan ($2.3 billion) per day in 2019, has been in free fall.
Interruptions in Chinese supply chains is spreading to other countries. Nissan (Japan) and Hyundai (South Korea) have both suspended operations at their home assembly plants because of a lack of parts from China. Germany had worldwide automotive sales of 15.90 million units worth 430 billion euros in 2019, with 5.2 million units, or 150 billion euros, playing in the China market. Germany has closed more than 300 auto and parts plants in China. Each day of work suspension represents a profit loss of 60 million euros.
Supply chain interruptions further aggravate the world trade flows. Russia's TASS News Agency reported recently that world exports are losing $200 billion per week, larger than the aftermath of China-U.S. trade war.
A drastic slowdown in China's oil consumption has also dragged world oil prices down by 16 percent since the start of the year. OPEC is preparing to advance its meeting to review a possible extension of oil quota cuts.
Pessimism widespread
Pessimistic views on economic prospects for 2020 in China and around the world have flowed in abundance over recent weeks. Jude Blanchette, China Research Director of CSIS estimated that if the coronavirus epidemic lasts for half a month, China will lose 2.7 percent of its GDP, or $380 billion, resulting in a 0.2 percentage point fall in 2020 GDP growth. The Oxford Institute has estimated that China's Q1 GDP growth will shed 0.4 percentage points and the whole year's growth rate will be around 5.6 percent. Goldman Sachs puts China's 2020 GDP growth at 5.5 percent, but if the epidemic lasts more than 3 months, GDP growth will fall to 5 percent or even lower.
Ben May of Oxford held that the current coronavirus outbreak in China is more serious than SARS in 2003, and since China's share of world trade has increased from 5.3 percent in 2003 to the current 12.8 percent, world GDP growth will shrink by 0.2 percentage points to 2.3 percent in 2020, the lowest since the 2008 global financial crisis.
Roland Rajah of the Australia International Policy Institute estimates a 0.3 percentage point fall in 2020 global GDP growth if China's GDP growth slows to 4.5 percent.
However, both Jerome Powell, chairman of U.S. Federal Reserve, and Gerry Rice, an IMF spokesman, said it was too early to give an estimate, with the latter saying the impact will only be temporary. The World Bank issued a statement on Feb. 3, saying that the Chinese government has all the policy room it needs to manage epidemic's impact on the country's economy.
SARS not comparable
There are also experts who hold optimistic views, based on China's experience with SARS in 2003. The outbreak of SARS drove China's GDP growth down by 2 percentage points in Q2 2003 — to 9.2 percent. After the end of SARS, the economy rebounded strongly from Q3. As a result, the whole year of 2003 saw GDP growth of 10.1 percent, higher than 2002's 9.1 percent.
The momentum continued into 2004 and 2005 with GDP growth hitting 10.1 percent and 11.4 percent, respectively. SARS lasted for six months. From its peak to its disappearance was three months. The current epidemic has followed a similar timeline. Hence, the optimists are confident that China will repeat its 2003 performance.
However, a simple empirical comparison is questionable. The economic impact of the coronavirus far exceeds that of SARS 17 years ago, starting with size and depth. SARS in 2003 had only 5,723 cases, less than one-tenth of the current COVID-19, which hit 68,500 as of Feb. 15 and is still increasing by more than 1,000 cases per day. During the outbreak of SARS, there were no stringent restrictions on people's travel, shopping or catering. Nor were there factory or school closures. The epidemic was mostly focused in Guangzhou and Beijing, with other provinces little affected, except for inspections to arriving visitors from other provinces.
Second, the post-SARS economic rebound depended more on investment and real estate development, which is no longer so effective today. Total capital formation pulled China's GDP growth by only 2.0 percentage points in 2019. Real estate development, with property bubbles, is no longer encouraged.
Third, the trade rebound played a good role in the post-SARS rebound, with the whole year's growth rate hitting 37.1 percent, the highest in a decade, due to the advantages of World Trade Organization accession and China's comparative advantages in cheap labor, which no longer exist today. On the contrary, China faces a sober world trade environment entangled by unilateralism and protectionism.
Fourth, the business cost-benefit balance today is much less favorable than it was in 2003. Before the outbreak of COVID-19, China's industrial profits had declined by 3.3 percent from the previous year. With the cost of labor, rent, utilities and bank interest rising and operations suspended, a vast number of SMEs and micro businesses have been left on the brink of closure. A recent survey by Tsinghua University on 995 SMEs found that 85.0 percent of them cannot survive for even three months.
As a result, actual economic adversity will be complicated. The economic rebound and whole year performance will depend to a large extent on the length and depth of the current epidemic and on correct government policies and innovative business pathways. A simple, linear empirical analysis is not the whole answer. China needs to be prepared for the worst-case scenario.
Cautious confidence
A silver lining in the clouds is already apparent. As of this writing, the number of new cases daily had fallen for three consecutive days. Nationally, there were 15,152 on Feb. 12, with 5,090 on Feb. 13 and 2,641 on Feb. 14. There were 2,009 cases on Feb. 15. Data from Hubei province also shows a steady fall from 14,840 on Feb. 12 to 1,843 on Feb. 15. The non-Hubei data is especially encouraging, with a daily drop in new cases for 12 days in a row, from 890 on Feb. 3 all the way down to 165 on Feb. 15. A few provinces reported zero new cases.
Barring a second peak, the whole epidemic will soon be under control. Meanwhile, resumption of production and services has been expanding across the country. Under these circumstances, we are likely to see economic activity return to normal in late March and pick up during Q2 and Q3.
In that case, the negative impact of COVID-19 on the Chinese economy for all of 2020 will be limited. What is required is a correct policy mix from the government and new pathways for businesses, especially:
First, active fiscal and financial support for various SMEs and micro businesses to secure their survival and development. Such policies and measures can be found extensively from both the central and various local governments.
Second, finding innovative new drivers for development. During the epidemic, we have seen remarkable activity in the production, logistics and delivery of protective medical suits, masks and medical treatment devices — and especially the amazing speed at which Huoshenshan and Leishenshan hospitals were built — just 10 days, something never before seen in world history.
Also, the supplies of daily necessities for hundreds of millions of residents have been well secured. All those are a part of economic growth. What is more, the national campaign combating the epidemic has accelerated the growth of artificial intelligence, the internet of things, robots, online shopping, remote diagnosis, intelligent driving and the intelligent management of cities, communities and companies. This will become an amazing driving force that advances China's technology, industry and services for 2020 and beyond.
Third, continuous international cooperation. The temporary disease in China has not and will not change China's nexus position in the global supply chain. It has been a top priority for China to avoid interruption and delays in the flow of international trade. The international business community has already awarded a credit in this regard. Expressing the sentiment of many British businesses in China, the chairman of the British Chamber of Commerce in China, St. John Moore, said: We are here to stay. We are not leaving."
A famous British economist once found that the economic impact of disease is hard to quantify. In some cases, the post-disease period could see much stronger growth if the government has the correct policy. The most recent case is Brazil. The massive outbreak of the Zika virus in 2016 was a deadly blow to the Brazilian economy, which had already experienced negative growth of -3.5 percent in 2015. After the epidemic, the Brazilian economy sat at -3.3 percent in 2016, slightly better that the previous year and then picked up in 2017 and 2018, with 1.1 percent growth in each of those years.
If China has the right policies and pathways, and if it works successfully with the international community, there is a high chance that its economic growth will stay within its trend line over the medium term. If we put 2020, 2021 and 2022 together and look back three years later, we will most probably see an overall growth rate over the three years that differs little from what it would have been with no COVID-19.