On September 22, Chinese President Xi Jinping arrived in Seattle and began a state visit to the U.S. that will culminate in a summit meeting between U.S. President Barack Obama and Mr. Xi in the White House. Mr. Xi came at a critical moment, especially as recently there have been signs of emerging strategic rivalry in U.S.-China relations.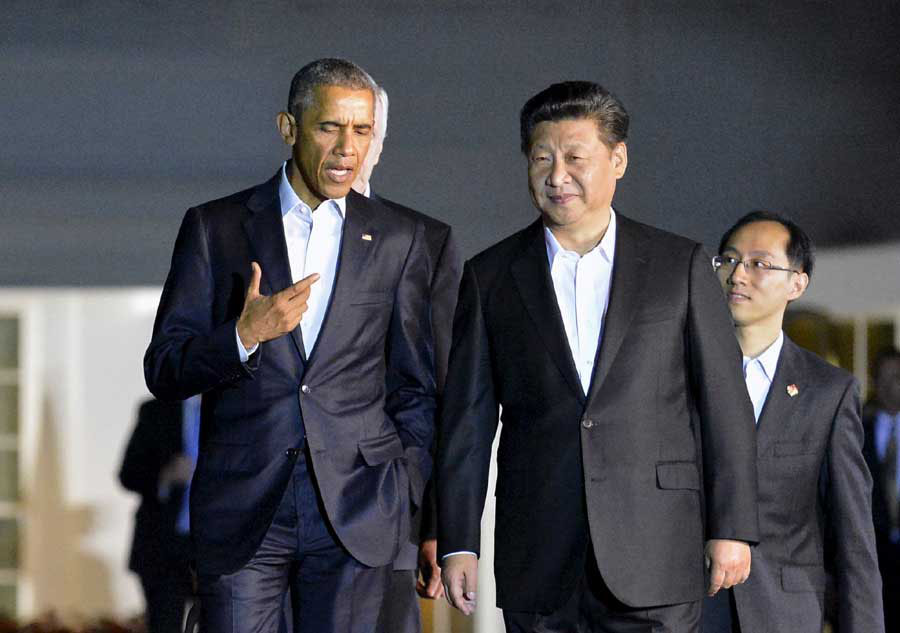 For a bilateral relationship that is becoming increasingly more complex and interdependent, issue areas such as cyber, maritime, nuclear, space, military to military relations, and people to people exchange–what can be defined as "strategic domain issues"–are among the most consequential ones.
In a major project run jointly by The National Bureau of Asian Research and the Institute for China-U.S. People to People Exchange at Peking University, leading Chinese and U.S. scholars are studying these strategic domain issues. Based on the joint study our team has done, we believe it is of crucial importance for the leaders of our two countries to face squarely these strategic domain issues, which are among the most sensitive and thorny issues in U.S.-China relations. Below we recommend initial steps toward bilateral progress in each of these strategic-domain areas.
China and the U.S. are highly interdependent in cyberspace, notwithstanding cyberespionage concerns. Our two countries have shared interests in countering cybercrimes and cyberterrorism. These areas can become the first steppingstones toward building mutual trust and expanding cooperation in the cyber domain. The two countries should also seek common ground on cyberattacks, Internet governance, and cyber infrastructure. Essential to this will be a return to a dialogue mechanism to reach agreement on how to protect key information infrastructure and establish a code of conduct in cyberspace.
Maritime security is the strategic domain that China and the U.S. have perhaps the greatest potential for cooperation and mutual benefits—though also great potential for conflict. Put simply, the South China Sea is not and should not be the whole picture of U.S.-China relations. The two sides should clarify their strategic intentions and avoid misunderstanding or misperception. Both sides have shared interests and responsibilities in ensuring freedom of navigation as well as maintaining regional peace and stability. We should put in place crisis prevention and management mechanisms and other confidence-building measures (CBMs). The U.S. and China should sign the air-to-air annex to the U.S.-China Memorandum of Understanding (MOU) On the Rules of Behavior for the Safety of Air and Maritime Encounters signed last November. The two coast guards should expand cooperation in law-enforcement missions, and the two navies in humanitarian assistance and disaster relief.
Nuclear weapons are a critical dimension in U.S.-China strategic relations. On the basis of changing understandings of a credible Chinese second-strike capability, the two sides should begin a nuclear strategic stability dialogue. The two presidents should reaffirm their commitment to denuclearization, particularly as North Korea has restarted its nuclear facilities and is posed for a missile launch. They should impress upon Pyongyang that a nuclear North Korea will never be accepted by the international community, take measures to actively head off the looming crisis, and try to break the impasse by resuming the Six Party Talks.
Space is a strategic domain characterized by high risk of strategic competition with relatively fewer common interests. In order to control strategic risks, China and the U.S. should actively seek to expand cooperation. For instance, the two sides should consider establishing a periodic notification mechanism and regularly exchange information regarding space debris. The two sides should also consider promoting CBMs in the space domain, such as reciprocal commitment to not to disrupt or destroy the other side's space assets.
A mature and stable U.S.-China military-to-military relationship is crucial for fostering a new model of relations between the two countries. The two militaries should consider bilateral or multilateral military cooperation in non-traditional security arenas. For instance, the two sides might begin with exchanges on peace-keeping operations. The two militaries should deepen their cooperation in maintaining regional security and stability, including in Afghanistan.
People-to-people exchange has become one of the solid pillars of U.S.-China relations. Using people-to-people exchange as a strategic mechanism will help to reverse negative trends and address the trust deficit in the bilateral relationship. The two sides should invest in more opportunities for student exchange and language learning, ensuring these future leaders are equipped with the skills to collaborate with each other.
When the two presidents meet for a summit in Washington, D.C. on September 25, it is imperative that they engage in a real conversation on these strategic-domain issues. Fully addressing those areas head-on will help mitigate the signs of budding strategic rivalry between China and the U.S., chart the roadmap for the new type of great-power relationship between the two, and anchor U.S.-China relations on a more stable and durable basis in the years and decades to come.