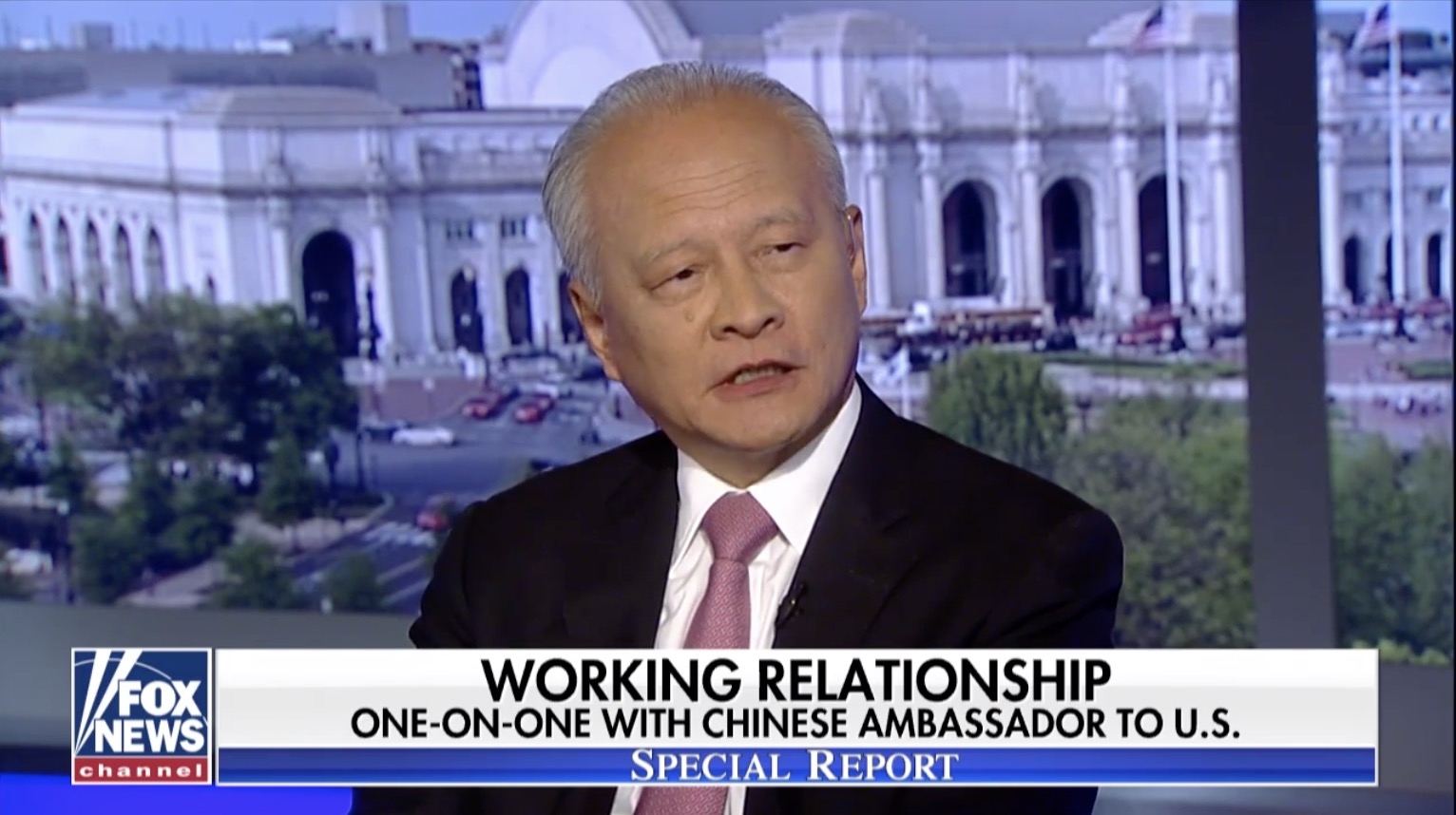 Click here to view the interview
On May 21, 2019, Chinese Ambassador to the United States Cui Tiankai had an interview with the Fox News's Bret Baier Special Report. The full transcript is as follows. Source: The Chinese Embassy website.
Bret Baier: Mr. Ambassador, thank you so much. I want to start where John left off about American security experts insisting that if western countries use Huawei equipment, that they are risking essentially handing over the keys that China is going to spy on everything that flows through their 5G systems. What's your response to that?
Ambassador Cui: I think these accusations are without any foundation and evidence. And it's rather ironic that people who are making these accusations are exactly the group of people having such job descriptions.
Bret Baier: You know, is it true or not true that Huawei has received funding from China's National Security Commission and the People's Liberation Army and a branch of China's state intelligence network?
Ambassador Cui: Everybody knows Huawei is a privately owned company. It is just a normal Chinese private company. So all these actions taken against Huawei are politically motivated. These accusations are groundless, as I said. And we are very worried such actions will really undermine people's confidence in the normal function of the market, will disrupt normal flows of trade and investment, and will weaken people's belief in all the values that people used to preach like fairness, openness, competition, entrepreneurship, rule of law, and so on and so forth.
Bret Baier: I want to move on from Huawei and talk about trade in just a second. But when it comes to intellectual property, the concerns about China's activities are not only in the business space, but also in the military space. Here's the FBI director Christopher Wray recently testify about that, "More than ever, the adversaries target our nation's assets, our research and development, our technology. And no country poses a broader, more severe intelligence collection threat than China." Your response to that?
Ambassador Cui: I wonder how people could have such short memories. Perhaps they still remember what happened with the revelation of Edward Snowden just a few years ago.
Bret Baier: You're talking about the US.
Ambassador Cui: Yes.
Bret Baier: But your answer to the charge that China is actively trying to get both military and business property?
Ambassador Cui: The problem is that they never show any real evidence. They just make these accusations.
Bret Baier: Let's talk about the trade fight, the Washington Post wrote, China prepares for a long trade fight today. Where do you see the prospects? Obviously, all of these are tied together. But where do you see the prospects tonight, for the negotiations between China and the U.S.?
Ambassador Cui: I think we have kept in mind, first, a good trade deal between our two countries would serve the interests of both countries. Number two, a good deal has to be made on the basis of mutual respect and mutual benefits. And number three, China remains ready to continue our talks with our American colleagues to reach a conclusion. Our door is still open.
Bret Baier: New York Times wrote about the recent talks that, they failed, it's clear because Mr. Xi misjudged Mr. trump's eagerness for a deal and how far he could push the American negotiators, according to more than a dozen people. A key issue was the United States demand that the agreement bind China to setting some of the changes in domestic law. For President Xi, such a move could be seen at home as a sign of caving in. We talk a lot about the political pressure here in the U.S., but is there political pressure on your President Xi? From elements inside your country, if he gives too much of a deal, that's not a good thing.
Ambassador Cui: I think all governments have to take the interests of its people very seriously. So maybe for the U.S. government it's "America First", but for the Chinese government we'll always have to defend the national interests of China and interests of the Chinese people.
But if we review the process of trade talks between us over the last year or so, it's quite clear that it is the U.S. side, that more than once, changed the mind overnight and broke the tentative deal already reached. We are still committed to whatever we agree to do. But it is the U.S. side that changes mind so often.
Bret Baier: If you look at the trade deficit, you have 539.5 billion dollars in two-way trade of goods. It's about three quarters of the total trade with China, but there's a 378.7 billion dollar trade deficit in goods and services and that's the widest ever. Does China believe that should be dealt with from US perspective?
Ambassador Cui: Well, this trade deficit has a lot of structural reasons behind it. It's not just a simple game of numbers, but still we are ready to address the imbalance in trade. We are ready to take actions to buy more American products and services and we are ready to do more in this regards.
Bret Baier: You're optimistic tonight?
Ambassador Cui: Well, if both sides have the political will that is required, then we can be optimistic.
Bret Baier: Here is the former Vice President Biden recently and President Trump,"China is going to eat our lunch. Come on, man, they can't figure out how they're gonna deal with the corruption that exists within the system. I mean, you know, they're not bad folks, but guess what? They're not acompetition for us." "China is a massive competitor for us. They want to take over the world."
So which is it? Are you a massive competitor who wants to take over the world or you're not a competitor at all?
Ambassador Cui: First of all, we don't want to have anything to do with American domestic politics. And honestly, it's almost impossible for us to make sense of it, still less to take part in it. Number two, the goal for China is always clear. We want to meet the growing aspiration of our 1.4 billion people for a better life. That is our only goal. We have no interest, no intention to seek global dominance or to compete with anybody else for global dominance.
Bret Baier: But you are active around the world in a lot of different spaces that people didn't think you were going to be active in.
Ambassador Cui: You see, over the last few decades or so, there is a growing expectation by the international community for China to play a bigger role in international affairs and to take up more responsibilities. We are just making our efforts to meet such expectation.
Bret Baier: There are some in Washington who believe that China is trying to wait out the Trump administration for whatever next administration comes in.
Ambassador Cui: We don't have such illusions. And also we don't want to have anything to do with the domestic politics here.
Bret Baier: Your politics obviously are a different issue and you do get a lot of foreign pressure on the issue of human rights. More importantly and urgently other foreign community is pointing to the Uyghurs and the muslim minority. Most people in these camps, roughly a million, it's estimated, have never been charged with crimes and have no legal avenues to challenge their detentions. Often, their only crime is being muslim. Chinese officials maintain that what they call a vocational training centers do not infringe on Uyghurs' human rights. That's from the Council on Foreign Relations report. Are there more than a million muslims being held?
Ambassador Cui: I think if people really respect facts, then you could see how human rights situation in China has improved dramatically over the years. Of course, we're still trying to do better, but the improvement is historic. What we have achieved is really historic. I had a visit to Xinjiang just about two or three weeks ago.
Bret Baier: Where these camps are?
Ambassador Cui: There's no camps. I visited some of the training centers. They are real training centers. They are not camps. They have open gates. There's no armed guards. People could go home over weekend. But the real threat to Xinjiang, the real challenge in Xinjiang is the mounting terrorist attacks in previous years. That means thousands of such incidences and thousands of innocent people were killed or injured. So the biggest challenge for us is to stop such terrorist activities. And we are doing our best to protect the life, safety and human rights of the people there, people of all ethnic groups.
Bret Baier: So you discount the foreign pressure on this sweeping confinement.
Ambassador Cui: You see these training centers, vocational and educational training center, they are for people who might have minor offenses, but still they are not real criminals. We want to train them for job skills, for official language and they could become law abiding citizens. That's the whole purpose of these training centers.
Bret Baier: Last thing, it has been tense, especially in the South China Sea. 2015 there was a pledge at the White House, from your General-Secretary that China would not militarize the man-made islands there. A lot of people in the military say you violated that pledge by fortifying the islands with missiles and jamming equipment in the past years. Why? How do you respond to that? And do you see that as provocative?
Ambassador Cui: The situation in South China Sea is actually the territorial disputes between China and some of our neighbors. And over the last few years, there is good progress between us and some of the claimant countries. We are working together to maintain stability there, we are working together for a Code of Conduct. So things are moving in the right direction. The situation is cooling down. And the only source of instability for the region is intensifying American military activities, the so-called freedom of navigation operation in the region. This is the only source of instability in South China Sea.
Bret Biaer: And the very last thing that the North Korea's. We've seen sanctions and evasions of sanctions. As North Korea seems to be getting more aggressive with its rhetoric and its action, (like)testing missiles. At the same time, there was a piece in the Washington Times about Chinese companies participating in a trade fair in Pyongyang just recently. Is China doing everything it can on the North Korea front to de-escalate that situation?
Ambassador Cui: We support the meetings between President Trump and Chairman Kim. And we will do whatever we can to help them to move further, to move forward. And we're still committed to and ready to implement all the UN Security Council resolutions on the Korean Peninsula. We are implementing these resolutions in a very effective way, and will continue to do that. But at the same time, we believe a peaceful solution, a political solution is the only way out, is the only way that will help us to achieve the goal of denuclearization.
Bret Baier: Is it separate with the trade negotiation? Or do you see it as tied? Somehow, if it's not going well on the trade side.
Ambassador Cui: I think these are two different issues. They are of a different nature. But of course we have to keep in mind the big picture. If the overall relations between us is cooperative, is going in the right direction, there will be much better mutual confidence and that will help us on all the issues.
Bret Baier: Mr. Ambassador, we appreciate you taking some tough questions tonight and support to hear the Chinese side.
Ambassador Cui: Thank you.
Bret Baier: Thank you very much.