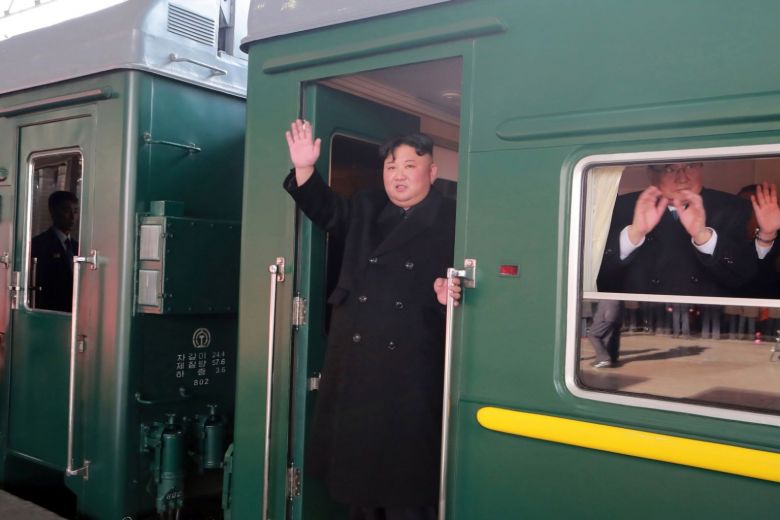 North Korean leader Kim Jong Un waving as he boards a train in Pyongyang that is bound for Hanoi, on Feb 23, 2019.PHOTO: EPA-EFE
The failed summit for US-North Korea talks was competently hosted by Vietnam. Yet despite the choreographed receptions, staged pageantry and gala visuals, the hordes of hotel-bound journalists and hide-bound politicians left Hanoi without much to show for it.
On the other hand, Kim Jong Un's secretive train journey from North Korea to Vietnam via a clunky old train turned out to be a telling part of the story, one of those rare instances where the journey was arguably more important than the destination. Not for the beleaguered US President Trump, who dashed across the globe from Washington to Hanoi only to fly home empty-handed, nor for Kim Jong Un, who endured a long, slow ride in the desperate hope of getting sanctions lifted, but for China. By taking draconian security measures to clear travel across its vast rail network, and, in effect, handing Kim a VIP rail pass, Beijing became watchman and gatekeeper for six days of to-and-fro travel.
Expediting passage boosted the host country's prestige in a way that went beyond the masterful command of rail switches and deployment of armed security. The real power play was not so much to smooth Kim Jong Un's way to Vietnam but showcase China in a scenic detour that drove home its size, power and prosperity.
As Kim's train chugged across a domain stretching from the sub-Siberian north to the steamy tropical south, crossing a thickly populated zone rich in history and bulging with economic resources, Kim had only to look out the window to realize that China is a viable alternative to the US when it comes to brokering political survival.
North Korea's media did not report on the train journey at first, and China, for reasons of security, protocol and information control, kept things under wraps. Beijing stifled what little flow of news there was by thwarting journalists and blocking social media coverage. The US press, meanwhile, when not preoccupied with Trump, was preoccupied with Vietnam, and themselves, and not thinking about China.
When reports on Kim's train journey broke belatedly in North Korea, the coverage jumped from his departure in Pyongyang to his arrival in Vietnam. China, which took three days to traverse and sits firmly between North Korea and Vietnam, was conspicuous by its absence in official reports. Likewise, Kim's return to Pyongyang was staged by state TV as a triumphant return of the cherished hero, bearing greetings from afar. His abortive summit was successfully recast as a successful visit to Vietnam. Again, China was not in the picture or part of the narrative, nor did it need to be.
State video of Kim Jong Un's February 23, 2019 departure from Pyongyong showed the leader walking a red-carpet gauntlet of bowing officials, bayonet-bearing troops, a goose-stepping major domo, clapping bureaucrats and fervent admirers with pink pom-poms. His return was almost an identical show of unconditional love, the same goose-stepping major domo, same sycophantic officials but the returning hero looked tired, though there was a nice moment when he broke rank and hugged some kids among his well-wishers.
To history buffs, the 35-year old Kim's armored train ride bore profound historical echoes, significantly recapitulating the itinerary of his grandfather Kim Il Sung, who traversed China in 1958 to meet Ho Chi Minh in Hanoi. It also invited comparison to his father, Kim Jong Il, whose fear of flying was so great he went almost everywhere by rail, replete with high-end dining, lobster tanks, a fine wine collection and entertainers known as "lady conductors."
The official media blackout imposed on the Kim's train as it barreled both ways across China made for a train-spotter's delight. From the northern border at Dandong to the southern border at Dong Dang, crowd-sourced amateur reportage revealed the itinerary in real time. There were sightings at the Yalu River Bridge and Jinzhou, and an unexpected turn at Tianjin instead of Beijing. One video clip showed Kim's green train crawling along as one of China's high-speed trains whizzed past it in a blur of white; a telling contrast of where North Korea stands in respect to China on the development scale. Social media buzzed (until silenced through censorship) with jokes about "Little Fatty" and there were telling complaints about road closures in Wuhan, Zhengzhou and Changsha.
After being spotted in Yongzhou and Guilin, the train stopped in Nanning, where an intrepid cameraman for Tokyo Broadcasting System got a long angle on the guarded platform, apparently from a neighboring building. The footage, at once remarkable and utterly banal, shows Kim taking a cigarette break, even though he is known to smoke on board. Was this news? It was, in a way. When a controversial tyrant with access to rockets and nuclear bombs cuts through a country under the cloak of secrecy, no detail is too small to parse for meaning.
Kim was seen striking a match to light his cigarette, but he did not litter, as an imperious dictator or even a casual smoker might. He took pains to hold on to the extinguished match and he tipped his ashes into a crystal ashtray, where he also discarded the butt.
Kim Yo Jong, the photogenic sister to the rotund leader, can be seen following her brother like a humble servant, carrying the heavy glass ashtray, but she may have been directing him, too, coaxing the spoiled supreme leader to be on his best behavior. The restrained smoking etiquette stands in stark contrast to state videos that show the all-powerful Kim dangling cigarettes in the most unlikely places, ranging from nursery schools to missile launch-pads.
But the Nanning train station is Chinese territory, and although Kim had no expectation of being spotted by a Japanese cameraman, his behavior does show an unusual degree of respect for his Chinese hosts and handlers.
The lay of the land alone suggests that the hermit kingdom cannot be effectively brought into the international order without having China on board. The latest train journey may also have served to remind the scion of the Kim dynasty that, despite China having once gone to war for his grandfather, a war in which Mao Zedong lost his son, North Korea has not always shown the respect that China reckons is due.
China, playing fastidious host, hastily erected a barricade at Nanning Station to make sure the autocratic wall of privacy was not breached on the return trip.
Despite the black-out, tidbits from the secretive train journey across China are known to us, thanks to old-fashioned journalistic sleuthing and defiant citizen journalism. Their work highlighted that China was extra nice to Kim and that Kim was extra nice to China, and that was the real political realignment going on, not deliberations in Hanoi.
Mutual diplomacy can be said to have shifted into high gear when a tyrant whose abuses are well-documented is so deferential to his hosts that he is loath to let ash inadvertently drop from his burning cigarette onto the ground.