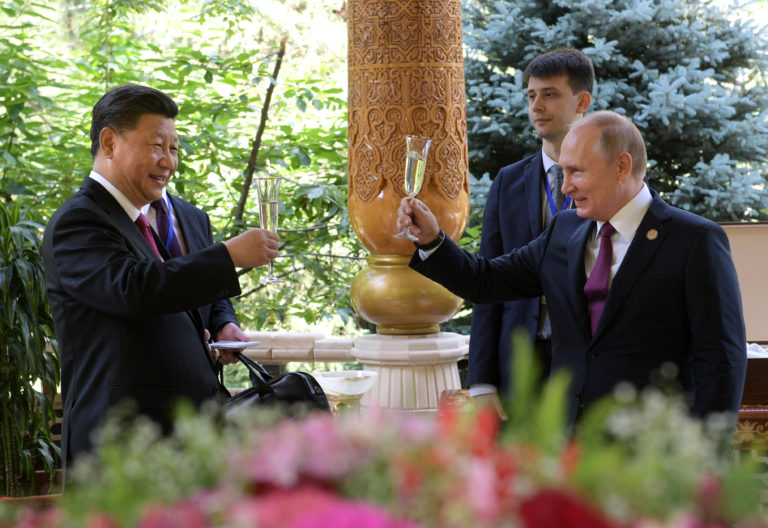 China-Russia relations see new changes every year, and 2019 was no exception. It was characterized by three major events:
First, President Xi Jinping visited Russia in June. To enhance the bilateral comprehensive strategic partnership of coordination, Xi and President Vladimir Putin signed a joint statement on strengthening global strategic stability. The statement presents the shared concerns of both countries and observes that negative factors affecting global strategic stability are on the rise worldwide.
For example, some countries and alliances refuse to discuss reducing or curbing weapons that guarantee their decisive military advantages and unilaterally develop and deploy strategic anti-missile systems around the world. In addition, non-state actors pose an increasing threat as they attempt to access chemical and biological weapons for terror attacks and violent activities. The threat posed by the weaponization of space, and a looming arms race there, are growing as well.
In their statement, China and Russia called on all members of the international community to act in line with principles that contribute to world peace, security and stability and that enhance dialogue, cooperation and exchanges.
On Dec. 19, Putin said in his annual news conference that Russia is helping China build a missile attack warning system, a topic that has drawn intensive attention worldwide.
Second, on Dec. 2, after 18 years of negotiations, the eastern route of the China-Russia natural gas pipeline began operations. This cross-border pipeline extends more than 8,000 kilometers, and is the world's largest in diameter, thickness and length. Originally, it pumped 5 billion cubic meters of natural gas from Russia to China annually, and it's expected to reach 38 billion cubic meters when it reaches full capacity. That accounts for 14 percent of China's natural gas consumption and 28 percent of imports in 2018.
This project delivers tangible benefits to both sides. It not only supplies a growing supply of clean energy to China but also helps the country upgrade its energy mix and enhance its environmental stewardship. Meanwhile, it injects fresh momentum into the development of the Russian Far East, especially infrastructure construction in Irkutsk Oblast, the Republic of Sakha and Amur Oblast. It also helps boost industrial production, the labor market and new businesses at the local level.
Now the two countries are discussing the possibility of supplying 30 billion cubic meters annually through the western route. When agreements are signed, the total gas delivery of the two routes is expected to surpass 80 billion cubic meters per year. That will make Russia the largest supplier of natural gas to China.
Third, the Belt and Road Initiative has been integrated into the development of the Eurasian Economic Union. In May 2018, an agreement on trade and economic cooperation was signed between the economic union and China, and in late October, Chinese Premier Li Keqiang announced that the agreement had officially taken effect. A joint statement to that effect was signed by the prime ministers of member countries.
Under the framework of the BRI, and thanks to its alignment with economic union's development strategies, China-Russia trade for 2019 is expected to hit a record high of $125 billion. In addition to increasing cooperation in energy, nuclear energy, aerospace, aviation and infrastructure, the two countries will foster new sources of growth by expanding cooperation in science and innovation, agricultural products, e-commerce and finance.
Take agriculture as an example. In 2019, Russia sold 1 million metric tons of soybeans to China. It's expected to reach 3.7 million tons annually by 2025. In fact, Russian exports of soybeans have the potential to reach 10 to 20 million tons. In 2018, China imported more than 80 million tons of soybeans, meaning that, going forward, Russia could account for more than one-eighth of the country's total imports of soybeans.
Bilateral trade in livestock and poultry has also increased notably. As of September, Russia had sold 18,700 tons of poultry worth $41 million to China, and it's on track to surpass $100 million for 2019.
After more than two decades of negotiations and preparations, the first highway bridge connecting Blagoveshchensk, Russia, and Heihe, China, opened late last year. This project is one of the many cooperative projects between China and the Eurasian Economic Union under the BRI framework.
Of course, some problems emerged in 2019 as well, although they make little difference in overall relations. For example, a China-backed project to bottle water from Lake Baikal was canceled early last year because of strong local pressure. In another case, Russia rejected the plan for the first section of the Moscow-Kazan high-speed railway, a joint project between China and Russia. It means the entire project could be cancelled.
These stories show that the two countries continue to be affected by differences and a lack of mutual trust on historical, environmental and investment issues.
Overall, China-Russia relations are growing in depth and breadth, in stark contrast with the unstable relations between China and the United States. In fact, China takes the same attitude toward both Russia and the U.S.: It hopes to live in peace with them and expand bilateral cooperation to achieve mutual benefits. It has no intention to combine with Russia to counter America. But here is reality: As America applies pressure, the two countries will steadily move toward closer cooperation. And who can blame them?