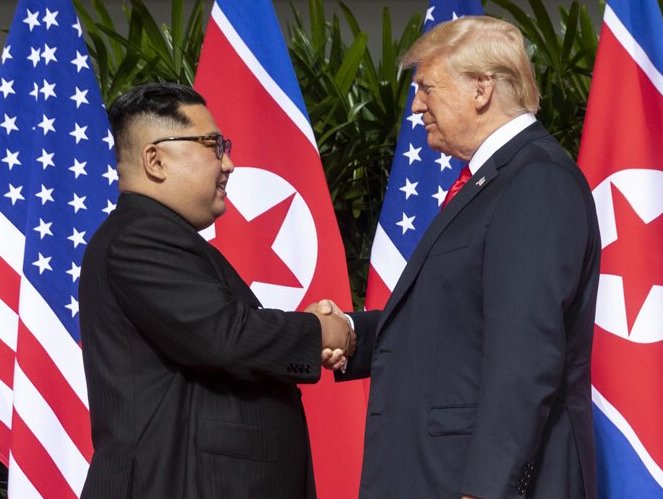 President Trump and Chairman Kim flew a long way across the Pacific Ocean to meet, talk, and dine with each other in Singapore early this week, and the two-page joint statement was the outcome of this historic summit. Some were thrilled at the summit which no one could have imagined three months ago, while some were very disappointed at and critical of it because President Trump was unable to deliver on his boasts before the summit. Though many observers may quibble about the Singapore Summit, let us be fair. Just think about it, about ten months ago, the Korean People's Army Strategic Force was examining a plan to attack areas around Guam with ballistic missiles, while President Trump warned that North Korea would "be met with fire and fury like the world has never seen". Suppose the summit was called off finally, it would be very likely that the rapprochement between two Koreas will lose momentum, and tension in the Korean Peninsula will continue and even further escalate, and no country will be better off.
Therefore, President Trump and Chairman Kim deserve a fair share of credit for making it possible. First, the summit itself is a worthwhile effort by both countries. By trading insults and threats last year, both President Trump and Chairman Kim risked a nuclear war which would bring catastrophe to this region. By arranging this summit, both leaders could better their understanding of the other side, and explore the opportunity for a diplomatic solution. After the summit, President Trump said that he has developed very good personal relationship with Chairman Kim, which might be conducive for future talks. Second, by signing the joint statement, both countries confirmed their commitments at the highest level. That is, President Trump committed to provide security guarantees to North Korea, and Chairman Kim reaffirmed his commitment to complete denuclearization of the Korean peninsula. This framework could lay down a good basis for following negotiations. Thirdly, both have committed to "implement the stipulation in this joint statement fully and expeditiously." A roadmap and timetable for denuclearization is desirable, but the long lasting mistrust cannot be dispelled overnight.
Ice has been broken, but many questions remain to be answered. The first question is how the abstract statement can be translated into an action plan for both sides. Usually it takes quite a lot of time and quite a few rounds of negotiations to prepare for a successful summit, but the Singapore Summit was made possible at short notice. Even though the United States and North Korea engaged in secret and direct talks before the summit, there were no substantial achievements from those talks. So far, the commitment from both sides is vague, and the next step is unclear.
The second question is how both sides close the huge gap between their expectations. President Trump and his team have made it very clear that they prefer Complete, Verifiable and Irreversible Dismantlement (CVID, in short form) of the North Korea nuclear program, and that is why Libya Model was frequently referred to. For North Korea, the Libya Model is the last thing they want. Before the bilateral relationship substantially improves, North Korea will be very hesitant to make any significant concessions in denuclearization other than those unilateral restraints in its nuclear and missile program. From shifting his father's military first strategy to his strategic line on simultaneously carrying out economic construction and building a nuclear force, Mr Kim has tried very hard from 2013 to 2017 to finally realize "the great historic cause of completing the state nuclear force, the cause of building rocket power". Then, Chairman Kim declared in the Third Plenary Meeting of the 7th Central Committee of the Workers' Party of Korea that North Korea would "orientate the overall party and state affairs into the socialist economic construction and concentrate all efforts on it". By declaring a moratorium on nuclear and missile tests and destroying nuclear test tunnels, North Korea wants to "create an international environment favorable to socialist economic construction", but that does not mean North Korea will give up its nuclear capability. How the United States and North Korea can narrow the huge gap is a big question mark.
The third question is about sequence and reciprocity in the process of denuclearization. The three decades of negotiations between the United States and North Korea show that the devil is always in the details. There is no way to know what Chairman Kim told Secretary of State Mike Pompeo in Pyongyang, or what was written in the letter to President Trump from Mr. Kim Yong Chol in June 1, nor what President Trump and Chairman Kim discussed in Singapore, but it is safe to say that the process will be very challenging. So far North Korea has demonstrated restraint and made quite a lot of unilateral commitments on nonproliferation, but President Trump and his team insisted North Korea will receive relief only when it demonstrates verifiable and irreversible steps to denuclearization. Which country should take the first step? What should be reciprocated by the other side? There will be tough hurdles to cross.
Talk is cheap. By meeting briefly in Singapore, certainly both could declare diplomatic victory, but the coming months will put words to the test. When thinking about the future of the U.S.-North Korea relationship, and the prospect of denuclearization, it is important to keep in mind what happened between late May and early June when both sides were preparing for the summit, and that President Trump is not a patient person. If both are to turn fire and fury into friendship, it will be up to the two unconventional leaders to do business in an unusual way.