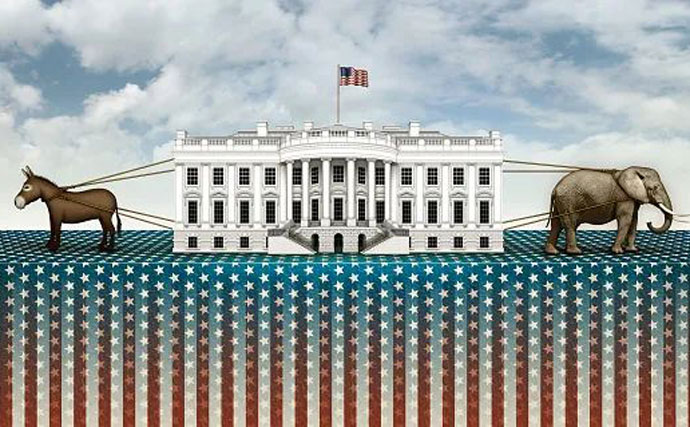 The dust has finally settled on the new U.S. House speakership after prolonged days of chaos and 15 rounds of voting by members of Congress. The enormous divisions within the Republican Party, as this tug-of-war reflected, fully exposed the political turbulence in the country and its deep polarization.
Although polarization is nothing new in American politics and society, its influence nowadays is too substantial to be ignored. It will cause ripple effects in U.S. diplomacy in the near future — and especially to its China policy — as Washington continues intensifying its rivalry against Beijing.
President Joe Biden, a Democrat, is now entering his third year in power, and Republicans and Democrats are preparing to wrestle over the 2024 election. The polarization within U.S. politics will certainly influence Biden's China policy. The divisions between the government and Congress, and between the House of Representatives and Senate, will probably mute the Biden administration's tone on China. It is expected that in 2023 the Biden administration will focus on implementing its China strategy formulated over the past two years. It involves not only aspects of competition and confrontation but also cooperation to avoid a major conflict, which will definitely face resistance and constraints from Republicans and a few Democratic hawks.
The situation will likely dilute the Biden administration's policy measures to balance the China-U.S. relationship at a time when he's seeking to engage Beijing, hence losing the option to cool down current bilateral tensions and augmenting the difficulty in resuming cooperation. Biden's hesitation and inaction regarding tariffs on Chinese goods is one such consequence. A steady escalation of competition with China is another.
Meanwhile, as the U.S. is about to enter a new election cycle, the country's political forces are unlikely to send any signals that could be characterized as weak on China. Under thee circumstances, it is expected that Biden's China policy will not be outdone by his "five nos" — no pursuit of a new Cold War; no effort to change China's system; no revitalization of alliances against China; no support for Taiwan independence; and no looking for conflict.
While there are U.S. strategists and business people calling for relief in the competition with China, they will barely make a ripple in decision-making circles. By any measure, the U.S. administration will face enormous obstacles in controlling matters related to China, a situation that will last at least until the 2024 election.
As America's China policy will remain subject to the country's political polarization over the next two years, we should understand that in the long run being "tough-on-China" can serve as a lubricant, however limited, with which Washington can heal its internal ruptures. A viewpoint that has increasingly gained momentum in recent years is that the parties in Washington have no real differences in dealing with China, despite their deep polarization and vehement partisan fighting in many areas. Biden's China policy measures over the past two years have actually been tougher than those of his Republican predecessor.
What should be noted — as Washington's polarization and antagonism further splinter American society — is that it's highly likely that both Republicans and Democrats will use the "China issue" to ease their conflicts, as both are averse to the political predicaments arising from their wide divisions on other issues. The two parties, or various political forces and interest groups, may present their "tough-on-China" agenda without controversy or restriction to shape and reinforce the so-called "consensus" that Republicans and Democrats are unified on China, as is American society.
And so a lurking danger has emerged. When Kevin McCarthy was elected speaker of the House after multiple days of stiff political hardball, he pledged to focus his agenda on China. Soon afterward, members of the House set aside other divisions and passed his resolution to create a China Select Committee by an overwhelming 365-65 bipartisan vote. They said they will reassess America's China policy.
In another move, ranking members of the armed services committees of both the Senate and House announced the formation of a bipartisan commission to examine Biden's 2022 National Defense Strategy — and in particular the "China threat." In addition, it's likely that both parties will put forward their own anti-China agenda with regard to Taiwan, technology and military issues.
As internal polarization and antagonism have become the new normal in American politics, it will be difficult for the Biden administration to control the China policy. Further, both parties will manipulate the China issue to show their supposed unity. This will become a long-term scenario affecting China-U.S. relations in the future and will inevitably jeopardize the effort to bring frayed bilateral ties back on track. Crises in the Taiwan Strait, like the one in 2022, may appear repeatedly. Confronted with an extremely polarized U.S., a Congress with no self-control and a government subject to more control, China must refine and enrich its policies toward the United States.