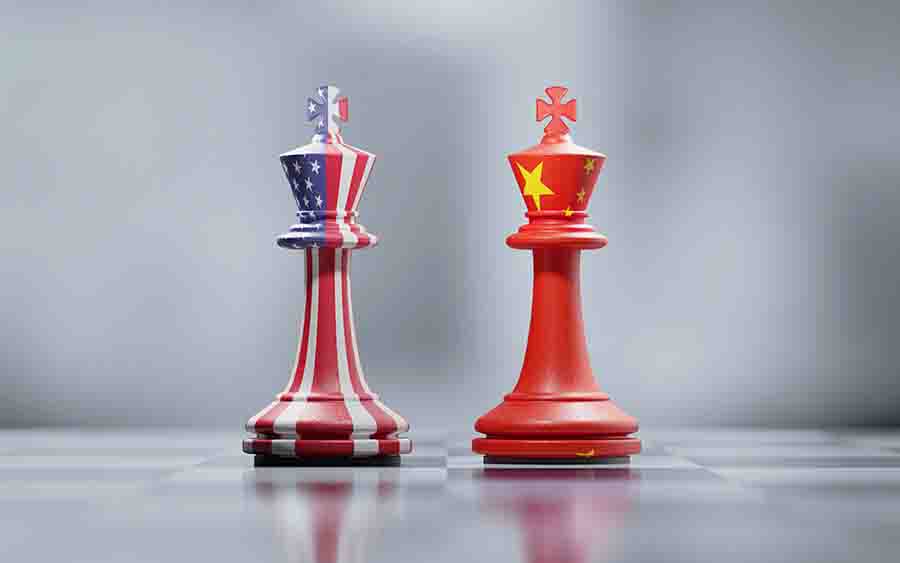 In 2018 the Trump administration released a number of papers on national security policy, such as its National Defense Strategy, Nuclear Posture Review, and National Intelligence Strategy. All these papers shared a common feature: defining China as a strategic competitor of the United States, a characterization that the administration has since tried hard to prove, even calling for a "whole-of-government" response. We have heard the word "decoupling" mentioned repeatedly in the discussion of economic relations with China — in particular, we have witnessed the coming of a tech cold war between the two countries.
With Vice President Pence calling for actions to rid America of "Chinese influence," some in strategic circles began to whip up a "whole-of-society" hysteria against China, which raised serious concerns about a sort of "neo-McCarthyism." According to Kevin Rudd, former Australian prime minister and long-time China hand, the era of strategic engagement that characterized China-US relations since President Nixon's 1972 visit has come to an end.
The two countries are now faced with their biggest challenge in decades, accompanied by an increasingly shaky international order destabilized by powerful tides of anti-globalization populism. Such developments have made it even more difficult for Beijing and Washington to manage their relations. What is more, each country is confronted by a formidable agenda domestically. China's growth slowdown has reached unprecedented levels, while political, social and racial disunity in the US has never been more deeply felt. In truth, neither country can bear the huge costs of letting their relations slide into outright confrontation.
In February this year, the Asia Society published a report by its US-China Policy Task Force entitled "Course Correction: Towards an Effective and Sustainable China Policy." This document constitutes an important intellectual effort to address the imminent crisis facing China-US relations. The task force, composed of high-caliber scholars and experienced policy practitioners headed by Susan Shirk and Orville Schell, is well versed in China's government and society at large. Their findings can help extricate the ongoing policy debate from an "anger, fear and arrogance-charged" mood so that policymakers can concentrate on finding a workable model to manage the strategic competition between China and the United States.
"Smart competition" is the heart of the report's proposed new China policy. That concept calls on the US to "avoid adopting exclusionary policies that irreversibly delink the two economies and societies." While cautioning against US overreaction to the so-called China threat, the report does not see countermeasures taken by the Trump administration so far as feasible or strategically effective. Waging a tech cold war on China, for example, may hurt the interests of the United States by undermining its own innovation ecosystem.
The report also points out that China and the US share extensive common interests in global governance, stressing that the US should continue to work collaboratively with China to address global and regional issues. The US should not reject, out of mere spite, such Chinese initiatives as the Asian Infrastructure Investment Bank or the Belt and Road Initiative. With respect to China-US competition in ideology, the report suggest that American leaders "must take care not to manufacture or overinflate the perceived China threat in a manner that ends up harming our own values and institutions."
This Asia Society report is being followed closely inside China's policy circles. In fact, many Chinese observers and policy elites have pondered and debated ways to address the strategic competition between China and the US, a challenge that seems to get worse with each passing day. To begin with, most of them believe that China remains the underdog in this competition, lagging considerably behind the US in aggregate national strength. Every effort should be made to avoid a "decoupling" of the two economies. At the same time, China must be prepared for a possible dwindling of the interdependence between the two countries. China must move quickly to put in place needed "reform and opening up" measures, such as the recent adoption of its new Foreign Investment Law. On the other hand, Washington must not underestimate China's influence in the global economy, as neither Europe nor Japan will support Trump's efforts to paralyze the WTO and weaken multilateralism. What is more, China and the US must work hard to reach a mutually beneficial trade deal before the Osaka G20 Summit in June.
Secondly, many Chinese analysts have expressed concerns about a possible collision between China and the US in the western Pacific, particularly stressing the risk of a serious miscalculation on the Taiwan question. Activities by US naval vessels and warplanes in the South China Sea have increased noticeably. What China is concerned about is not so much an accidental encounter between the two militaries but rather a small-scale conflict deliberately engineered by US military. It is necessary to come up with more effective crisis-management and confidence-building measures if both sides want to prevent drastic escalation if a conflict does occur. What is more, China and the US should step up communication and coordination on ways to keep the western Pacific secure and orderly. Designs to turn the Quad (US, Japan, Australia, and India) into an "Asian NATO" is both harmful and unworkable. At the same time, Beijing must be sober enough to see that the region's countries are not likely to accept its "domination."
Thirdly, China's economic and security interests have made significant headway around the world thanks in part to the "Belt and Road Initiative" (BRI), which makes Beijing even more determined to play a bigger role in global governance. Washington, meanwhile, is doing everything possible to snarl China's efforts at international cooperation, unleashing a new set of countermeasures across the South Pacific, Europe, Latin America, and Africa. Its recent expression of disapproval of Italy's participation in BRI is just a case in point. Such US behavior will do nothing to enhance its competitiveness. If anything, it will effectively shut off potential opportunities for China-US cooperation. It is high time for the two countries to open up dialogue on how to manage the global ramifications of their bilateral ties, focusing first and foremost on ways to avoid a vicious rivalry in the realm of international development and a possible scenario of forcing third parties to "pick sides."
Last but not least, China and the US must not let ideological competition become a new defining feature of their relationship. Michel Oksenberg, who worked in the Carter administration on the normalization of US-China relations, once said, "America has periodically sought to produce a China more to its liking. The efforts have always ended in massive failure." Trying to shape China in America's image or according to American values is obviously unrealistic — a reality that America should clearly recognize. When it comes to ideology, China is on the defensive, hoping for nothing more than to keep its system stable while promoting greater international understanding about Chinese governance. President Xi Jinping has made it amply clear that China's model is not for export. Of course, Beijing needs to be more sensitive about the international influence of its rhetoric and policy behavior.
Debates across the Pacific Ocean on how to manage China-US strategic competition will continue for the foreseeable future. By increasing pressure on China without letup, the Trump administration has greatly disturbed many strategic analysts. After all, the interests of the two countries are not completely incompatible — engagement and competition are not mutually exclusive choices.
As RAND Corporation senior research fellow James Dobbins said, "US observers increasingly depict engagement and competition as alternative policy approaches to China. Yet both remain essential instruments… it (the US) should aim not to 'out-China' China but instead become a more dynamic version of its best self." David Dollar, a senior research fellow at Brookings, does not see US engagement with China over the decades as a failure. Joseph Nye, the Harvard professor who coined the concept of "cooperative rivalry," believes that "some aspects of the relationship will involve a positive-sum game," and "US national security will require power with China, not just over China."
As a matter of fact, behind the challenges that we face day-to-day, a new type of China-US relationship, or a new equilibrium, is taking shape. The notion of "smart competition," after all, is aimed at re-stabilizing the relationship. There is an urgent need now for China and the United States to stay strategically restrained, demonstrate greater resourcefulness, and begin their "re-engagement" process — both to manage their bilateral competition and to fulfill their shared duties of global governance, providing our world with fundamental stability.