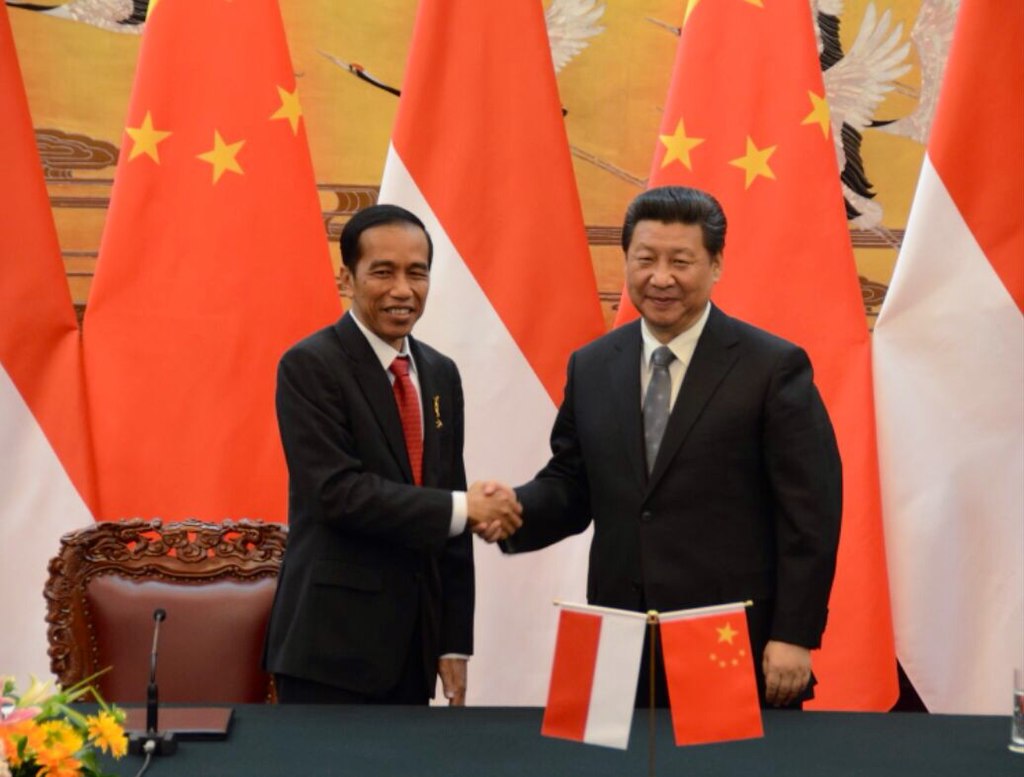 Indonesia, the world's largest archipelagic nation, stands at the heart of the Indo-Pacific region. Spanning 4,700km (3,000 miles), from Aceh at the western tip of Southeast Asia to Papua in the South Pacific, the nation of 17,000 islands is perched at the intersection of the South China Sea, and the Pacific and Indian oceans.
And with Indonesia's growing geopolitical heft, the Southeast Asian nation has positioned itself at the vortex of the emerging security architecture in the Indo-Pacific.
As a sign of its growing strategic ambitions, Indonesia has been hosting several high-profile conferences in recent months aimed at charting the future of the region, while putting forward its own unique vision for the Indo-Pacific.
In particular, Indonesia has called for an inclusive regional order, where the Association of Southeast Asian Nations' (ASEAN) pacifist norms undergird relations among great powers, particularly the United States and China. From Indonesia's point of view, China is an indispensable regional stakeholder that has to be fully engaged.
But as Jakarta begins to more proactively protect its interests, and exert influence commensurate to its size and power, it has increasingly found itself at loggerheads with an assertive China, which is challenging the maritime status quo in the region.
Competing Visions of the Indo-Pacific
As early as 2013, Indonesia's then Foreign Minister Marty Natalegawa advocated for an Indo-Pacific order anchored by the ASEAN's core principles of non-aggression, dialogue-based management of disputes, osmotic economic integration, and multilateral resolution of common challenges across the region.
At the same time, however, Japanese Prime Minister Shinzo Abe began advocating for an alternative vision of the Indo-Pacific, where a 'democratic security diamond' of likeminded powers, namely the Quadrilateral Alliance (Quad) of Australia, Japan, India, and the United States, collectively manage emerging challenges to the liberal international order.
China's rising geopolitical assertiveness and expanding economic influence, in particular, was atop the Abe concern. When the Trump administration came into power, it largely embraced Japan's vision, where Washington, in concert with key allies, keeps Beijing's ambitions in check and upholds a "Free and Open Indo-Pacific" (FOIP).
Defining the Indo-Pacific as a geographical theatre that stretches from "the United States to India, from Japan to Australia, and everywhere in between", U.S. Vice-President Mike Pence warned, in a Washington Post Op-Ed, that Washington and is allies "will stand up to anyone who threatens our interests and our values."
Perturbed by the seeming Quad-centered, anti-Chinese conception of the Indo-Pacific, Indonesia has advocated for a more inclusive security architecture, which isn't directed against any specific power or group of nations. To this end, it has hosted a series of major multilateral fora to chart an alternative vision of the Indo-Pacific.
During the Second Jakarta Geopolitical Forum (JGF) in late-October, Foreign Minister Retno Marsudi emphasized Indonesia's role as a bridge among competing powers and an anchor for the creation of an inclusive order in the Indo-Pacific.
"Indonesia`s humanitarian and peace diplomacy has become one of the cornerstones of foreign policy that is appreciated globally. We will continue to use this spirit to turn geopolitical competition into collaboration," Marsudi said.
"Indonesia always sees cooperation [as] better than rivalry by promoting a mutually beneficial approach," the Indonesian diplomatic chief added. Her comments came against the backdrop of growing Sino-American tensions, which have raised concerns across the region over potential armed conflict and a festering trade war between the world's two largest economies.
Earlier that month, during International Monetary-World Bank Annual Meeting in Bali (Oct 12), which was also attended by Southeast Asian heads of state and the United Nations Secretary General António Guterres, Indonesian President Joko Widodo (Jokowi) warned against Sino-American trade wars and called for greater coordination among states and international organizations to maintain a free, open, and dynamic global economic order.
An Alternative Vision
The Jokowi administration is currently exploring its own version of FOIP, which will be more inclusive, particularly towards China, and centered on the Association of Southeast Asian Nations (ASEAN) and its values.
Only two weeks after his speech at the IMF-WB meeting, Jokowi returned to Bali for the 2018 Our Ocean Conference (OOC), which brought together the world's leading marine scientists and security experts.
"In the future, Indonesia would also like to enhance maritime cooperation in the Indo-Pacific region. Together with [Association of Southeast Asian Countries] and ASEAN partners, Indonesia is developing the Indo-Pacific cooperation concept by reiterating the habit of dialogue and cooperation, inclusivity and respect for international law," the Indonesian president said.
Advocating a "mental revolution", Jokowi called for greater trans-regional cooperation to address "challenges facing our oceans and to manage them in a sustainable" manner, where the OOC must serve as "the driving engine" for protection of marine space and species.
Jokowi, however, couldn't conceal Indonesia's growing concerns over China's maritime assertiveness and its implications for regional security. "Overlapping maritime claims, if not resolved through negotiations based on international law, may pose a threat to stability. International law must be a guide in the settlement of maritime affairs," the Indonesian leader warned.
It was a thinly-veiled reference to the South China Sea disputes, where China has muscled its way through massive reclamation activities and militarization of disputed land features in defiance of international law.
In broader terms, Indonesia, the only country that identifies the ASEAN as a cornerstone of its foreign policy, is worried about China's defiance of regional pacifist norms, particularly on conflict-prevention and dispute-settlement.
Back in March, during the Australia-ASEAN summit in Sydney, Indonesia called for joint patrols by littoral states across the South China Sea to help de-escalate tensions and peacefully resolve overlapping maritime claims.
Aiming to the turn his country into a 'global maritime nexus', Jokowi has repeatedly reiterated Indonesia's longstanding position as a neutral arbiter among disputing parties. Yet, Jakarta is also worried about China's growing intrusion into Indonesian waters. In 2014, former Vice-Admiral Desi Albert Mamahit bluntly portrayed Beijing's growing para-military presence in energy-rich waters off the Natuna islands as 'clearly a real threat for Indonesia'.
In response to a growing threat from China, the Indonesian government has augmented its military presence in the area. That year (2014) saw Indonesia increasing its defense
spending by a staggering 14%, while exploring the deployment of an F16 as well as Apache helicopter squadron to support defensive fortifications, particularly in Pekanbaru, in the Riau islands, which host one of the Asia's largest offshore gas filed exploration sites. It also stepped up joint naval exercises with the US in the area.
Buoyed by a booming economy, Indonesia has been steadily increasing its defense spending. As a share of the country's Gross Domestic Product (GDP), Indonesian defense spending is still modest (1.1%), but it's experiencing a dramatic increase, especially in absolute terms, compared to the 2005-2014 (0.82%) and the 2000-2004 (0.78%) periods when the economy and defense spending share was much smaller.
Jokowi has promised to increase defense spending from $7.2 billion in 2014 to $20 billion in 2019, and raise defense spending to 1.5% of GDP if annual growth hits the 6% threshold.
Dealing with China
Troubled by China's growing paramilitary presence in its northern waters, Indonesia went so far as renaming waters off the Natuna Islands as the North Natuna Sea in 2017, reiterating its exclusive fishing and energy exploration rights amid Chinese claims of having "traditional fishing grounds" in the area.
A year earlier, a Chinese coast guard vessel aggressively foiled an attempt by Indonesian authorities to impound a Chinese vessel engaged in illegal fishing activities in the Natuna area. Later that year, in June, Jakarta dispatched a warship to apprehend Chinese vessels that were fishing illegally.
Jakarta is particularly concerned with illegal, unregulated and unreported (IUU) fishing, which has hit the country's 2.4 million-strong fishing community pretty hard. Close to half of them (45%) have been driven out of their jobs due to declining fisheries stockpiles over the past decade. According to the UN, IUU costs the country at least $1 billion in foregone marine resources every year.
To address the crisis, Jokowi appointed a no-nonsense Minister of Maritime Affairs and Fisheries, Susi Pudjiastuti, who has adopted an uncompromising "Sink the Vessels" policy, which saw hundreds of impounded illegal fishing vessels blown up by Indonesian authorities. This marked a dramatic departure from Indonesia's historical policy of not reporting the confiscation of foreign fishing vessels in order to maintain stable ties with neighboring countries.
According to Indonesian authorities, the policy, while controversial, has led to a dramatic decline in the number of foreign illegally fishing vessels, mostly from China and Vietnam, as well as the doubling of fisheries stock in Indonesian waters.
As a result of her tough policy, fishing stocks have more than doubled, while most of the 10,000 foreign illegally fishing boats, mostly from Chinese and Vietnam have disappeared.
Despite its best efforts to enjoy 'pragmatic equidistance' with all major powers and maintain a 'quiet diplomacy' vis-à-vis the South China Sea disputes, the Jokowi administration has gradually found itself on a collision course with an expansionist China. It remains to be seen how Indonesia's more inclusive conception of the Indo-Pacific will be reconciled with growing Sino-Indonesian maritime tensions, which, if left unresolved, could upend bilateral relations in coming years.