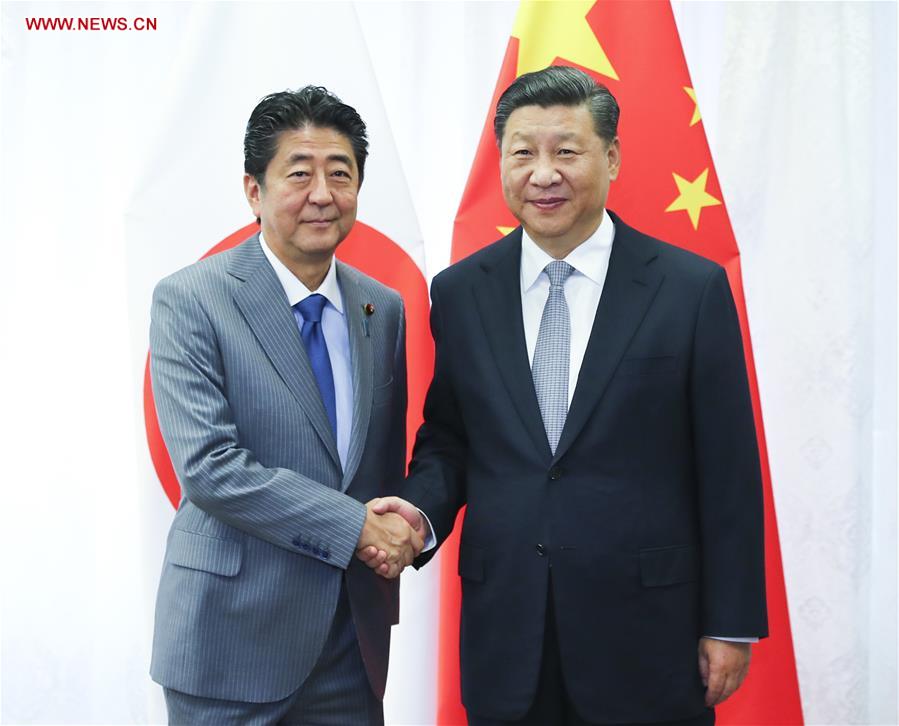 A version of this article originally appeared in The National Interest, 26 October, 2018.
Over the past year Sino-Japanese relations have been experiencing a thaw. In September 2017, Prime Minister Abe made a surprise visit to the Chinese Embassy in Tokyo to mark China's upcoming National Day and the 45th anniversary of the normalization of Japan-China relations at the Chinese Embassy. President Xi reciprocated Abe's gesture by refraining from criticizing Japan at the Nanjing Massacre commemorative events in December 2017.
The thaw in relations is being driven by uncertainty emanating out of the Trump White House's unpredictable policies towards allies and its increasingly hawkish policies on China. The Trump administration's withdrawal from the TPP sent shock waves through Kasumigaseki as Tokyo saw the TPP as the economic equivalent of the US's extensive network of alliances and security partnerships that can be found throughout North and Southeast Asia. With the US withdrawal and Trump's perceived transactional approach to foreign policy, Tokyo was left perplexed about how best to secure its interests in the region and to ensure that the region did not return to a Sino-centric regional order.
Concerns deepened when the Trump administration slapped steel tariffs on Japan, pressed for a bilateral free trade agreement and stopped joint training with the South Korean military on the peninsula without prior consultation with Tokyo.
Washington's ire has also unnerved Beijing as the Trump administration has vacillated on issues that are meant to be the cornerstone of Sino-US relations such as questioning the one China policy in the wake of President Trump's election. While pressure on Beijing to induce North Korea to stop nuclearizing and to damp down on its belligerence in the region was understandable by leaders in China, President Trump's 180° turn on China policy to include prosecuting a damaging trade war, labelling China as a strategic competitor and, most recently, Vice President Pence's speech at the Hudson Institute about Chinese influence in the mid-term elections, has sent ripples through the halls of Zhongnanhai.
Beijing and Tokyo have responded to the Trump administration's provocations by trying to resurrect their troubled relationship, resulting in their first bilateral meeting on October 26th, 2018, in Beijing. For Tokyo, this was an opportunity to showcase to Japan's commitment to diplomacy, to deepen economic engagement with China, and invest in multilateral trade by accelerating both RCEP and trilateral negotiations for a South Korea, Japan and China free trade agreement (FTA).
These discussions might also be an opportunity for Tokyo to act as a bridge between the US and China.
For Beijing, the Summit is an attempt to bring some stability to the region after spending considerable political capital attempting to isolate and demonize Japan since the nationalization of the Senkaku Islands in September 2012.
In the same vein, the recent warming of Sino-South Korean relations after Beijing imposed sanctions on Seoul as punishment for deploying America's Terminal High Altitude Area Defense missile system is an effort by China to mend fences so that it can concentrate its diplomatic energies on rapidly deteriorating Sino-US relations.
In short, the Trump administration's eschewing of the American built liberal world order for a realpolitik, transactional approach to foreign policy has inadvertently provided the foundation for Japan and China to move past historical grievances and return to their normal post-normalization nature of hot economics/ cold politics also known as Seikei Bunri/ 政経分離 in Japanese.
This characterization is important. Returning to the normal track of development by holding a summit suggests a return to the seikei bunri dynamic.
Optimists are predicting an incremental path towards a "Pax Sinae-Nipponica". They have highlighted that Prime Minister Abe and President Xi's dominant positions within their polities places them in a unique position to advance their national interests through economic cooperation on the BRI, trade pacts, and developing co-dependence as the Germans and French did to make war a thing of the past.
This vision is enticing, but unrealistic. Whilst a real warming of relations would be welcome in the region, the reality is that the difficult security, economic, and political issues that have divided the two Asia giants remain and they cannot be easily resolved.
Focusing on security, lawfare tactics in the East China Sea to erode Japanese sovereignty over the Senkaku Islands are a sign of bad faith in any warming of relations. The same could be said for the militarization of man-made islands in the SCS and the rejection of the Permanent Court of Arbitration's July 2016 decision against all of China's claims in the South China Sea.
Japan does not help its own case against China's artificial island claims when it is engaging in its own artificial island building in the case of Okinotorishima. This inconsistent position sends the message to Beijing that Japan's position is hypocritical and not wedded to any legal interpretation, and is merely based on national interests.
Beijing's concerns also stem from Prime Minister Abe's leadership on the Free and Open Indo-Pacific (FOIP) Strategy, and its sponsoring of counter initiatives to the BRI like the Asian-Africa Growth Corridor. Both initiatives push back against President Xi's signature BRI and show the leaders have different visions of the region's future integration. It suggests that Xi's proposals are neither free nor open and thus inimical to states that China is promoting its keynote diplomatic initiatives such as Community of Common Destiny for Mankind to.
Whilst Trump's realpolitik foreign policy has created political space for their top leadership to reengage, security remains a major stumbling block between the two neighbours that cannot be address in a single summit. Both leaders will need to inculcate more trust into their relationship.
Judging by the recent USMECA trade agreement's Article 32.10 that limits Canada, Mexico, and the US from entering into a free trade agreement with a "non-market" economy (read China), the Sino-Japanese thaw is likely to be ephemeral as any bilateral FTA between Japan and the US is likely to contain a similar provision.
Lastly, the intensifying security competition between China and the US will also place greater political, economic, and military demands on Japan. This will complicate the transient warming of Sino-Japanese relations and compel Japan to choose between their US ally or their Chinese neighbour. Security imperatives will trump trade, and as a result, Sino-Japanese relations will recalibrate to face the new realities of great power politics and a return of realpolitik-based foreign policy.