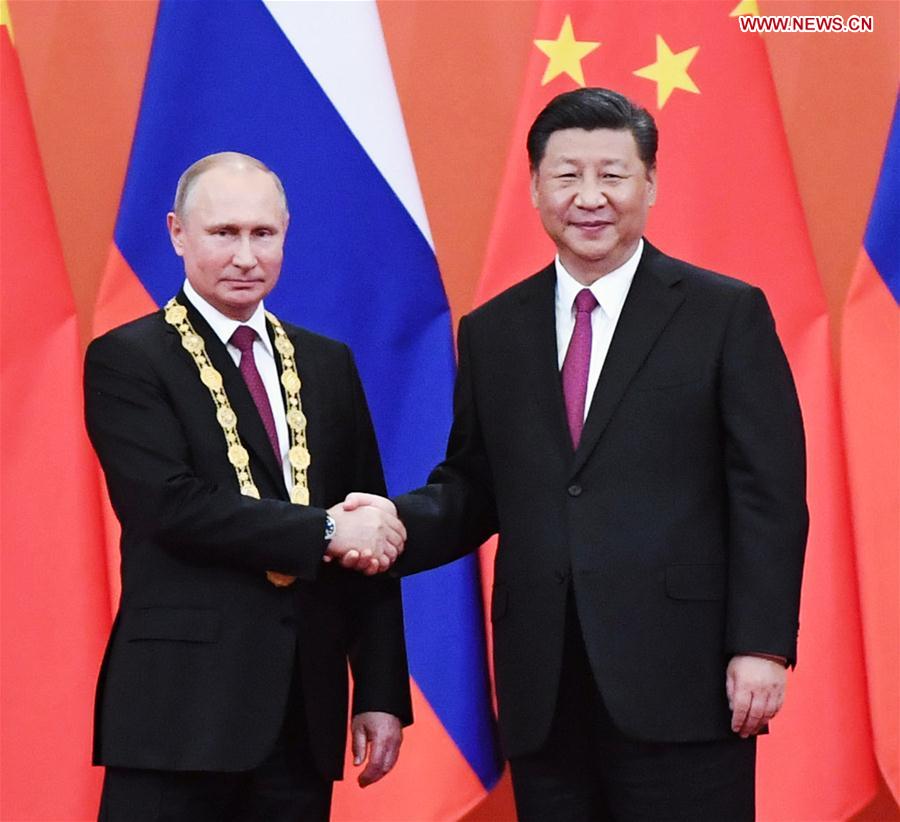 On June 8, Chinese President Xi Jinping awarded visiting Russian President Vladimir Putin the first Chinese Friendship Medal, not only as a response to the latter's presenting Xi with the Saint Andrew Medal, but a sign that present-day China-Russia relations have reached an unprecedented level. Some scholars in China even observed the two have already formed a de facto political alliance in international affairs.
Following the collapse of the Soviet Union and birth of present-day Russia, the two countries only intended to maintain good neighborly ties and develop economic cooperation. But in the Western-dominated uni-polar world, the two soon found more consensus on global and regional issues. Both are against monopoly over international rights by major Western countries and blocs; both oppose outside interference in sovereign countries' handling of issues of domestic unification. Hence they established a partnership for strategic coordination in 1996, under which their scope of cooperation goes far beyond bilateral good neighborly economic cooperation.
Over the past two decades, China-Russia strategic cooperation has been greatly enriched. Both emphasize that the domestic political system and path of development are domestic affairs that brook no outside interference, jointly resisting various forms of color revolutions; offer mutual support on such core matters of sovereignty, security and development; jointly advocate the democratization of international relations and promote multi-polarity; jointly established the Shanghai Cooperation Organization and BRICS mechanism; advocate global strategic stability and oppose unilateral development and deployment of anti-missile systems; firmly oppose weaponization of outer space; call for the elimination of double standards in the fight against terror; and adhere to the UN's dominant role in handling international crises.
Presently China-Russia strategic cooperation has the following international effects.
First, Russia's leaning toward the East has not only reduced its own loneliness, but also added to China's bargaining chips. Though, with its rapidly declining strength, Russia can hardly deliver direct benefits to China in the current fierce China-US wrangling, close China-Russia ties have offered a stable security guarantee in China's North and West, making it possible to focus on security concerns to its East, Southeast, South and even Southwest.
Second, the BRICS mechanism, dominated by China and Russia, has gained greater say and impact in the post-financial crisis era, weakened and narrowed the influence of Western nations, especially the G7 nations, in the fields of international economy and finance. This is also why the G7 has to take the G20 seriously.
Third, the SCO, dominated by China and Russia, and its expansion in recent years have evidently squeezed US influence and rule-making power in the heartland of Eurasia and South Asia. As the US rapidly reduces its presence in Afghanistan and Central Asia, the SCO has rapidly grown into a regional organization of 3 billion people with great market and growth potential through membership expansion. Though the expansion brought new problems, India's efforts to ask for US assistance in its disputes with China have been restrained by Russia. Pakistan finds more room to maneuver in its relations with the US thanks to its all-weather Chinese support. Recent strategic conditions in Eurasia indicate that, thanks to the SCO, US influence is largely confined to coastal and island nations on the Pacific Rim, and have difficulty reaching the heart of Eurasia.
Meanwhile, it should be recognized that some distinctions between Chinese and Russian strategic ideas and orientations have often been neglected.
First, reading between the lines of the Chinese Communist Party's most important strategic document, the report of its National Congress, the emphasis is on promoting democratization of international relations. In joint declarations following summit meetings, however, one can frequently find statements on facilitating multi-polarity, which obviously was the outcome of Russian proposals. Russian international strategy usually tends to be aggressive, Chinese strategy, on the other hand, tends to be more defensive.
Second, in international security or regional economic organizations it participates in or dominates, China tends to emphasize collaboration or complementarity with other existing international mechanisms; Russia puts more emphasis on transforming international mechanisms and world order.
Third, China advocates and believes in the possibility of building a community of shared future for humanity; Russia usually sees strategic rivalry with the West as a zero-sum game.