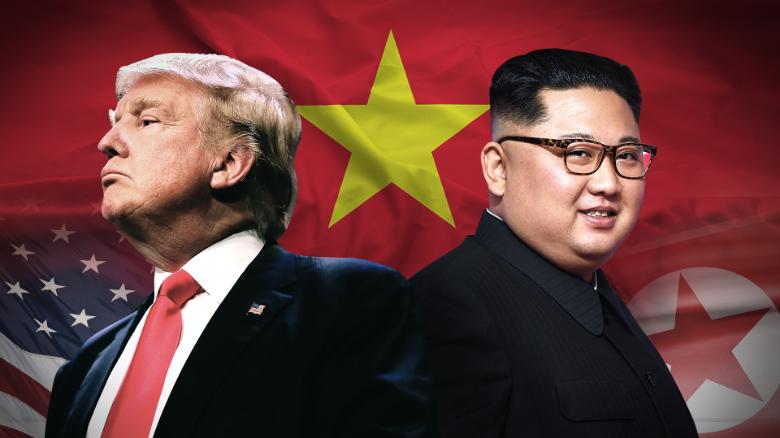 (Photo: CNN)
The second summit between US President Donald Trump and North Korean Supreme Leader Kim Jong Un, held on February 27-28, 2019 in Hanoi, Vietnam concluded without any written statements. The two leaders departed the meeting site early without sitting for a planned lunch or participating in the signing ceremony scheduled for February 28.
Various sources suggested that this was a good start to the second Trump-Kim summit. The two countries reiterated their commitments made at the North Korea–US Singapore summit in June 2018 and welcomed the idea of establishing liaison offices in each country's capitals, while North Korea pledged to keep the promise of stopping nuclear tests and missile launches. Meanwhile, the US also expressed its pleasure to see North Korea grow into a "great economic power." However, during their meeting on February 28, both leaders walked away without an agreement regarding North Korea's partial denuclearization and its counterpart's end-of-war declaration.
President Trump, US Secretary of State Mike Pompeo, and US media disclosed how the most dramatic scenes took place. At the beginning, the working-level negotiations between the two countries had yielded a joint statement to be signed by the two heads of state, which included the release of an end-of-war declaration at an appropriate time. The small group meeting held on the morning of February 28 also went quite smoothly and were fruitful. Kim expressed his willingness to shut down the Yongbyon facilities while accepting international supervision and verification, and Trump told Kim that both the US and South Korea would soon conclude their series of joint military exercises. Furthermore, the US expressed willingness to work with other UN Security Council members on the issue of facilitating sanctions relief for North Korea.
However, as the large group meeting started, Trump, after consulting his National Security Advisor John Bolton, abruptly challenged Kim by saying that US intelligence services have detected larger-scale development and storage of nuclear weapons outside of Yongbyon, which seemingly "surprised" the North Korean delegation. Obviously at this moment, only closing Yongbyon facilities is not enough to satisfy Trump. Kim then apparently raised North Korea's asking price on the lifting of sanctions, but North Korea's Foreign Minister Ri Yong Ho told the media in his midnight news conference following the summit that Kim had asked for the lifting of five of the 11 sanctions under UN Security Council resolutions. Kim's demand led Trump to cut the meeting short. They left on good terms without a joint statement.
What happened between the small and large group meeting still remains a mystery. The question of which came first does as well: Kim's higher demand on sanction lifting, or Trump's tabling of a list of North Korea's secret venues. The departure of the two leaders from the negotiation table in Hanoi sends waves of surprise throughout the international community, but it still makes sense. For Kim, it is unacceptable to give up even a fraction of nuclear facilities or weapons for very little US sanctions relief, because he stands up for the Korean People's Army, the Workers' Party of Korea, and North Korean people. And for Trump, he would rather continue controlling the pace of negotiations to extract more concessions from Pyongyang than hasten an empty, face-saving agreement which would be lambasted by Democrats and burden his political career. For both Trump and Kim, no deal is much better than a bad deal.
Since July 2018, several US think tanks and media outlets have unfolded in succession that North Korea keeps secretly enriching uranium in nuclear facilities at Yongbyon, Kangson (a site near Pyongyang), as well as other sites. Nevertheless, such reports were immediately denied by Trump who claimed that they "fully know about the sites being discussed, nothing new — and nothing happening out of the normal." As it stands now, Trump was purposefully calming down the public opinion so as to avoid losing control of the then ongoing talks with North Korea. The move got Pyongyang to lower its guard and succeeded in getting Kim to underestimate his US counterpart.
When Trump brought up North Korea's so-called secret nuclear and missile development and storage venues in Hanoi, everything changed. By revealing such information at a crucial point, Trump foiled North Korea's attempt to repeat what they did in 2008, which was to get out of trouble with a symbolic denuclearization deal. It also demonstrated that the US currently lacks strategic vision or political sincerity to address the North Korean nuclear issue. Additionally, the hardliners involved in this issue have never been idle in looking for opportunities to disrupt the relaxation process. All the Trump administration wants is to secure visible results they can show off within the US and press the North Korean regime to surrender by giving up their nuclear arsenals at an early date and eliminating North Korea's long-range missile threats. However, the Trump Administration lacks sufficient aspirations, motivations, and considerations with regard to Pyongyang's security concerns and development needs.
The crux of the problem lies in what North Korea is willing to give up and what the US can offer in return. It seems that both sides harbor certain illusions and misjudgments about the other's views on the issue, and neither is fully prepared for the responsibilities involved in denuclearizing. Thus, it will take more time for further communication. Fortunately, the second Trump-Kim summit did not return to "fire and fury." Despite the absence of a written agreement, the two countries agreed upon certain issues at the rhetorical level. Trump acknowledged that the meeting was "positive" and "constructive" and that his personal relationship with Kim is "good".
The most significant progress made at the summit may be that Kim finally saw Trump's true colors: Trump has no problem abruptly walk away from a meeting with the supreme leader of another country — though politely — when the two sides cannot come to terms. As for the issue of denuclearization, it is urgent that Pyongyang not only develops more ideas but also sharpen its negotiation strategies and goals. North Korea must also comprehensively understand the benefits that North Korea and the world can reap from denuclearizing the Korean Peninsula, and make adjustments accordingly. It is not hard to imagine that China will also take the opportunity to continue facilitating its engagement with both North Korea and the US, in a bid to play a reasonable role in the issue and prompt them to harbor more realistic expectations. In this sense, the statement that Washington and Pyongyang "deepened their understandings of each other" is not simply rhetoric, but words with a concrete meaning. North Korea also needs to acknowledge its problem of the shortage of professional negotiating personnel.
After Kim and Trump returned to their own countries, both of them had emergencies to attend to. Kim needs to deliver explanations to his Army and Party members, develop new strategies to get rid of sanctions, and reassess the timing of and priorities for his visit to Seoul. Trump, on the other side, must cope with the Democrats' campaign to "tarnish" him on Capitol Hill and deal with China-US trade disputes.
Hopefully North Korea and the US will not suspend negotiations or resume vicious confrontations because of abrupt changes at the Hanoi summit. Although Trump stated at the Hanoi press conference that there is no plan for the third summit yet, he has repeatedly pointed out that he is "in no rush" to address the North Korean nuclear issue as it needs to be incrementally proceeded, followed by a series of summits. Another encouraging news story is that on March 3, the US and South Korea declared that they have made an alliance decision to conclude the Key Resolve and Foal Eagle series of joint military exercises.
The setback at the second Trump-Kim summit will not take away the hope for denuclearization and normalization of relations on the Korean Peninsula. Nonetheless, it prompts people to see how fundamental and acute North Korea-US differences are and seriously consider the possibility of a new downward spiral, reversing the game. Besides that, all relevant parties need to note that, since the domestic situation of both the US and two Koreas are being changed, the window of time left for further negotiations is narrowing.