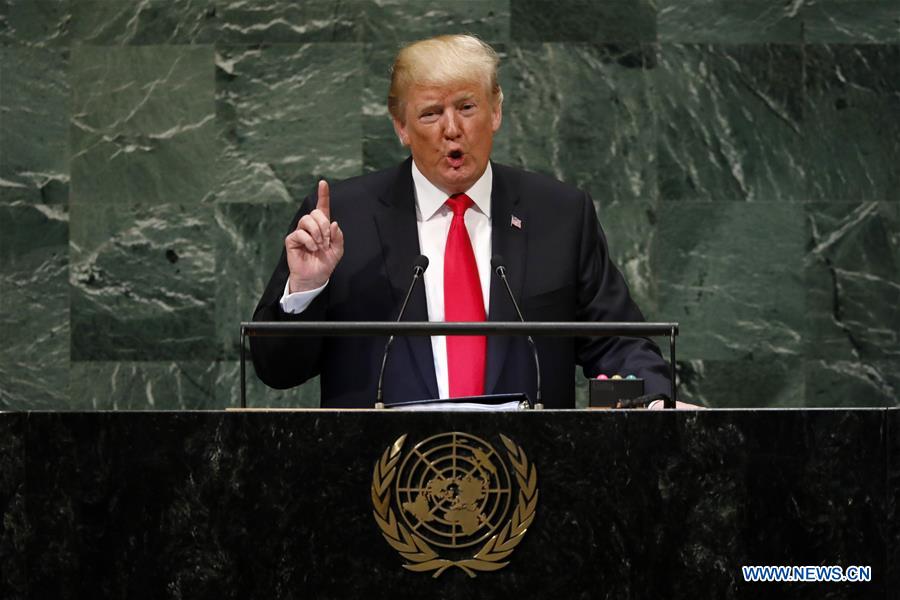 In his first speech before the United Nations General Assembly last year, President Trump commanded global attention. Calling out states like Iran and North Korea that he labeled as threats to the international order, he laid out a new, combative approach to foreign affairs that left much of the world uncertain of how to respond.
Trump's confrontational style of diplomacy and uncompromising rhetoric were shocking, but the new diplomatic stance he laid out was taken seriously. Just months after a speech in which he vowed to "totally destroy" North Korea if it threatened the United States, Trump met Kim Jong-Un at a summit to discuss peace and denuclearization of the Korean peninsula. In what may have been the high point of his administration's foreign policy efforts, Trump's strategy of unpredictability and hard-nosed negotiation appeared to be getting results. For his diplomatic work with Korean officials, he was even formally nominated for the Nobel Peace Prize.
This year, however, as Trump returned to address world leaders again, his remarks were nothing if not predictable. Rather than using his time to address transnational threats and avenues for cooperation, Trump turned to another familiar target: globalism. Ridiculing multinational bodies like the International Criminal Court and celebrating the United States' withdrawal in June from the UN Human Rights Council, he reaffirmed the United States' commitment to a path toward isolationism and nativism.
Washington's sudden hostility to its former role as a guardian of global stability has raised questions about how the international order will evolve. Since 2016, many have turned to China to pick up the slack, and analysts have closely monitored countless areas in which Beijing is quietly, and sometimes reluctantly, adopting a more active leadership role.
While Trump slammed multilateral diplomacy and global cooperation at the UN, President Xi Jinping of China (who was absent from the UN meetings) has continued to embrace these ideals. Earlier in September, Xi hosted the leaders of 53 African nations in Beijing to announce a new, $60 billion round of financing for development across the continent. This accelerates China's support for projects large and small across Africa, and builds upon the One Belt One Road initiative that will finance projects across South Asia and Eastern Europe.
Yet the United States' sudden, ideologically-driven retreat from world affairs has proved to be a destabilizing shock to the global system that even Beijing may be unequipped to compensate for. Even after two years of the Trump administration's miserly "America First" approach to foreign aid and state building, it remains to be seen how serious the impact will be on global security and development.
While Beijing has stepped in to a degree to fill the void left by Washington in certain struggling regions of Africa, Latin America, and the Middle East, research suggests that the policies articulated by Trump at the UN are likely to set some of these regions back in ways that could hamper long-term security. Given that two of the Trump administration's biggest foreign policy priorities are counterterrorism and security, these isolationist tactics appear to be exceptionally counterproductive.
Back in 2017, after the Trump administration announced steep cuts to USAID and other development agencies, more than 100 retired generals and admirals signed a letter to Congress stressing the clear relationship between U.S. development aid and global security. The letter echoed a familiar argument from top ranking military officials that development aid, when used thoughtfully, is often a critical tool for countering extremism and buttressing government institutions in unstable parts of the world. An empirical analysis by the Brookings Institution in March 2017 found evidence supporting this belief, showing that a combination of poor education and unemployment in a number of Arab countries could drive support for violent and radical ideologies.
Yet in its sweeping rejection of this philosophy, the Trump administration has continued to whittle away at its channels for engaging with the world and preempting hotbeds of extremism and instability. Just in September, Washington slashed $10 million in aid for Israel-Palestine conflict resolution, and another $300 million in military aid for Pakistan. Somewhat counterintuitively, the latter cuts were described as a way to motivate Pakistan to be more effective and proactive in its counterinsurgency efforts.
While Washington turns its back on states like Pakistan and ostracizes other traditional "rogue states" like Iran, Beijing has taken the opposite approach, funding a host of flagship development projects in both countries. As much as Beijing may be interested in supporting Tehran and Islamabad for geopolitical reasons, since both have sparred with Western powers in the past, Chinese support is also creating increasingly safe and stable countries that are more open to Chinese policy demands.
Even so, it is clear that Washington's withdrawal will not be without consequence. China's resources are vast, but certainly not infinite. The sort of aid China has historically made available for developing countries is also qualitatively different than that Washington offers. Where Beijing often supports foreign projects with loans from state-owned banks, Washington has traditionally given direct aid, contingent on certain political concessions like democratic reforms and human rights obligations. And with countries in places like Africa becoming overloaded with an alarming level of debt, China's loan-based model may not be enough to keep these emerging economies growing.
Given the Trump administration's professed interest in security and counterterrorism, the policies laid out at the UN appear to be myopic at best. China and the United States have always operated with competing goals in certain regions, sometimes even coming into direct confrontation. However, especially over the past decade, the two have routinely managed to cooperate toward shared goals related to global development and security, and have effectively invested alongside one another in developing corners of the world. By leaving China to do the heavy lifting now, Washington is not only abandoning countries it has supported in the past, but may well be undermining its own stated aims when it comes to international security.