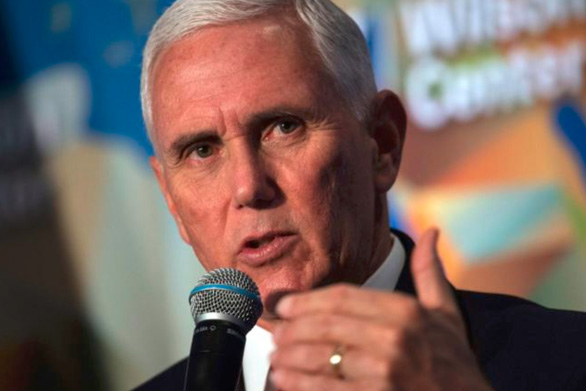 As China and the United States continued phase one of their consultations aiming for a trade deal, U.S. Vice President Mike Pence delivered a speech at the Wilson Center on China policy in which he said the U.S. is seeking "a fundamental restructuring of our relationship with China." About a year ago, his speech on the same topic at the Hudson Institute was widely seen as a declaration of a new U.S. cold war with China.
Pence's fierce criticism of Chinese domestic and foreign policies continues unabated, as he plays the role of "bad cop" for American policymakers. Pence did make some statements that were apparently meant to ease tensions with China, unlike the Hudson Institute speech. He said the Trump administration does not seek to contain China's development but hopes to work with the Chinese side and "share a peaceful and prosperous future together."
In particular, on the idea of the U.S. wanting to "decouple" from China, Pence gave a resounding "No." He said that while U.S.-China relations face various severe challenges, the U.S. doesn't want such challenges to "foreclose practical cooperation with China." He expressed optimism that the U.S. and China would sign a trade deal — phase one, with more talks to come — and said there is room for the two countries to cooperate on such things as people-to-people exchange and the Korea and Iran nuclear issues.
But Pence's speech failed to communicate goodwill from Washington toward the Chinese side. At best, it sent confusing signals about U.S.-China policy.
First, Pence reiterated the idea that the U.S. had "rebuilt" China over the decades, a statement that had offended and angered Beijing before, as the words seemed intended to humiliate China. It's true that American companies have invested heavily in the country, but not for altruistic or philanthropic reasons. Beijing insists that the Chinese people's diligence and hard work are the fundamental drivers of the country's rapid progress.
Pence characterized mutually beneficial economic and trade ties as a one-sided gift to China from the U.S., underestimating the potential of the word "rebuilt" to irritate the Chinese side. He selectively ignored the tremendous benefits American businesses and public have received from trade with and investment, and failed to show due respect for China as an economic partner.
According to a survey of its members released in August by the U.S.-China Business Council, 97 percent of American companies in China are making a profit. Their success in China is important for their global competitiveness, and profits made in China support jobs in the U.S.
Second, Pence made even harsher remarks against China on such sensitive topics as Taiwan, Hong Kong and the Xinjiang Uygur autonomous region. Though the Trump administration has displayed naked realism in various policies, it put itself in a morally condescending position in its criticism of China. Ideological factors are assuming an increasingly prominent place in U.S. offensives in its strategic competition with China. Pence attempted to base his narrative of U.S.-China relations on the dichotomy of democratic and authoritarian regimes, as well as on freedom vs. suppression.
His incendiary statements were overly simplistic. Taiwan involves U.S. geopolitical interests. The Hong Kong issue is closely related to Chinese sovereignty. In Xinjiang, Muslims were not, as Pence said, put into prisons. Many measures adopted there are meant to de-radicalize people and curtail terrorism. Pence presented an extremely negative image of China to the American public, which will prove harmful to U.S. interests in the long run. Moreover, Pence lambasted Nike and the NBA, accusing them of "kowtowing" to the Chinese government for economic gain. Dragging American businesses into the U.S.-China political wrangling may be another serious mistake the White House is making.
Third, Pence failed to come up with a constructive solution to the domestic and international concerns about the two countries' economic and technological decoupling. He mentioned Chinese companies such as Huawei and ZTE, claiming their participation in the 5G business will threaten U.S. infrastructure, individual privacy and national security. Licenses for selling products to Huawei will expire in mid-November, and American tech companies have been lobbying the White House and U.S. Commerce Department to loosen restrictions. The U.S. business community worries that decoupling is difficult to accomplish and will harm America's own ecosystem for innovation.
By contrast, Germany and Britain are trying to find better, more realistic solutions. Germany, for example, published draft guidelines for the safety of next-generation wireless networks and set detailed standards for 5G network suppliers, rather than arbitrarily prohibiting Huawei from taking part. British Prime Minister Boris Johnson also presided over an internal discussion recently about a plan to allow Huawei to take part in the "non-contentious" parts of Britain's 5G development. As stated by Elizabeth Economy, a veteran fellow with the Council on Foreign Relations, the Trump administration had mistaken economic security for national security, which will only heighten countries' worries about a U.S.-China decoupling.
In his speech Pence denied that the U.S. wants to decouple from China and said there are many fields in which the two countries can cooperate. This actually indicates that the White House intends to respond to broad outsider suspicions about the Trump administration's competitive strategy regarding China. Former U.S. Undersecretary of State Kurt Campbell said competition should not become the goal of American China policy, nor is it a strategy. Adam Posen, director of the Institute for International Economics, holds that the U.S. has responded inappropriately to technological competition, and Washington is being driven by a "tech Red scare."
More important, the American public is not willing to support the sort of strategic competition with China that the Trump administration and policy elites in Washington intend to promote. According to a recent poll by the Chicago Council on Global Affairs, more than 60 percent of Americans surveyed expressed the hope that China's rise can be handled through cooperation and engagement.
Richard Fontaine, CEO of the Center for a New American Security pointed out that when it comes to dealing with challenges from China, there is a conspicuous gap between policy elites and American public opinion, as the majority of Americans don't want major power competition. Pence and White House decision-makers should face that reality and stabilize U.S.-China relations through more action, rather than rhetoric.