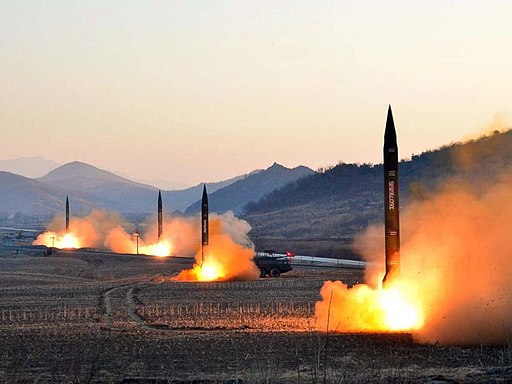 The 2018 Winter Olympic Games have brought a reconciliatory atmosphere and temporary détente in the Korean Peninsula. All countries concerned wish for the Northeast Asian security environment to improve. Just before the Olympics closing ceremony on February 25, North Korean envoy Kim Yong Chol, Vice Chairman of the Korean Workers Party Central Committee, informed President Moon Jae-in that his country was willing to open talks with the U.S., which was a rare step toward diplomacy between Pyongyang and Washington and a good sign for denuclearization. The parties concerned should seize the opportunity to resume dialogue on denuclearization.
Before and during the Winter Olympics, South Korea, North Korea, the U.S., and China interacted closely. After Moon Jae-in proposed postponing joint military drills on December 19, 2017, Kim Jong-un offered to start talks on sending a North Korean delegation to the Winter Olympics. Donald Trump agreed to postpone the joint military exercises on January 4, and China immediately welcomed, supported and encouraged these interactions. North Korea, China and the U.S. all sent high-level delegations to attend the opening and closing ceremonies of the Winter Olympics. All these interactions de-escalated tensions with North Korea and ensured the success of the Winter Olympics.
Now the Winter Olympics is over and North Korea wants to improve its relations with South Korea and the U.S. All parties concerned should respond positively. South Korea should articulate its deep concern about the North Korean nuclear program and propose dialogue on denuclearization. North Korea should realize the root of its insecurity is its nuclear program, and that it is wrong to violate UNSC Resolutions, and agree to negotiate on denuclearization. The U.S. should further delay joint military exercises or even cancel some of them to create the atmosphere for denuclearization talks. China should do whatever it can to facilitate dialogue on denuclearization. If the four parties interact as they did before and during the Winter Olympics, it is possible for them to resume dialogue on denuclearization.
1+1 and 2+2 Dialogues
While the Six Party Talks remains an option, 1+1 and 2+2 dialogues might be better ones. 1+1 dialogues include three parallel bilateral dialogues, that is, South Korea + North Korea, China + the U.S., and the U.S. + North Korea. The two Koreas are of one nation and it is easier for them to communicate and understand each other, sort out their differences, and finally see the benefits in resuming dialogue. Both China and the U.S. are deeply concerned about the North Korean nuclear issue and should come together to coordinate their efforts to denuclearize North Korea, and discuss what they should do once the diplomatic effort fails. The U.S. and North Korea should have direct dialogue without preconditions, through which they might understand each other better and agree upon possible solutions.
2 + 2 dialogue is in fact a Four Party Dialogue, including South Korea, the U.S., North Korea, and China. The U.S. and South Korea are allies and their national security interests are interrelated and interdependent. Although China and North Korea are not allies, they have the Sino-North Korean Mutual Aid and Cooperation Friendship Treaty and their national security interests are also interrelated. Besides, the four parties are all participants of the Korean War, with the U.S. and South Korea on one side and China and North Korea on the other. Therefore it is the four parties' obligation to denuclearize the Korean Peninsula and replace the Armistice Agreement with a peace treaty.
A Three-phase Scenario
As Kim Jong-un declared his plans to mass-produce nuclear warheads and ballistic missiles in his New Year's Day address, the parties concerned should not give North Korea the time to miniaturize its nuclear weapons. To achieve that goal, a three-phased scenario might be workable (also see Setting a Timetable for Denuclearization of North Korea).
Phase One (2018) Taking the advantage of the reconciliatory atmosphere in the wake of the Winter Olympics, the U.S. announces a further delay of joint military exercises and in return North Korea announces a suspension of nuclear and missile tests. Then South Korea, North Korea, the U.S. and China begin to interact with each other by holding 1 + 1 dialogue first and 2 + 2 dialogue later, resulting in a timetable for negotiations on denuclearization and a peace treaty and humanitarian aid to encourage North Korea to abandon its nuclear program.
Phase Two (2019) North Korea announces a freeze on nuclear facilities, the international community lifts sanctions on North Korea, and the four parties agree upon the provisions of the denuclearization agreement and a peace treaty. Then North Korea closes all nuclear facilities and accepts international verification, and the international community sends aid to North Korea.
Phase Three (2020) North Korea dismantles its nuclear facilities and accepts international verification. The denuclearization agreement and peace treaty are finalized and signed to replace the Armistice Agreement and permanent peace returns to the Korean Peninsula.
Of course, this scenario is based on the assumption that North Korea is willing to give up its nuclear program peacefully through negotiations. If the assumption turns out to be false or if the talks are only North Korea's tactic to buy time to build up its nuclear capabilities, the international community should impose much tougher sanctions upon North Korea and a military strike might be unavoidable.