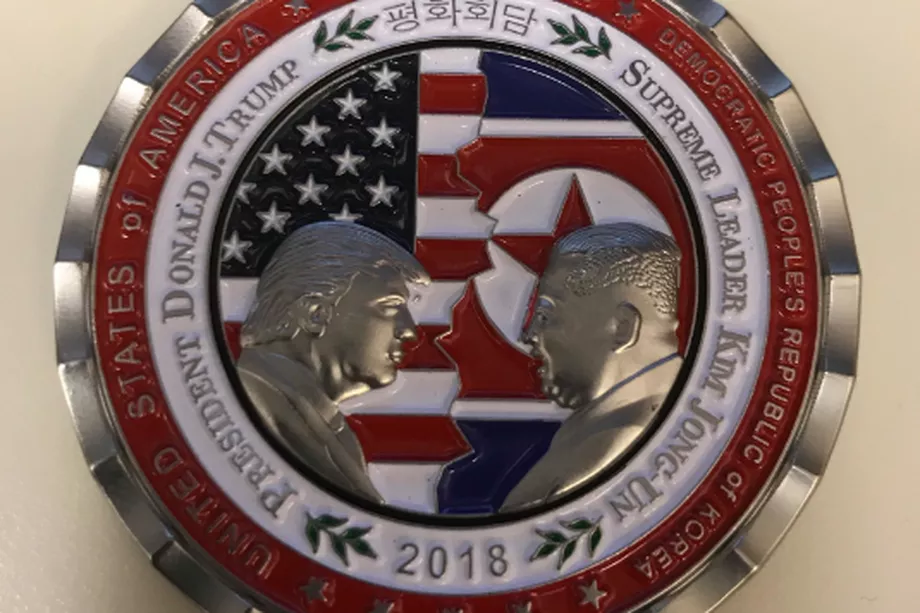 Various hurdles to Donald Trump and Kim Jong-un's meeting in Singapore next month have surfaced in recent days. On May 16, North Korea voiced its displeasure over the "unjust" demands and pressure being placed on it by the US and announced that it was reconsidering its participation in the DPRK-US summit scheduled on June 12. According to media reports, Trump has also suggested his meeting with Kim Jong-un might be postponed. On May 24, Trump pulled out of this highly anticipated summit meeting with Kim Jong-un.
Nevertheless, to enable the two sides to meet and achieve results, the US and DPRK need to meet in the middle and display mutual goodwill and sincerity. I have three suggestions for the US before and during the possible summit.
First, do not attempt to apply the "Libya model" to North Korea. North Korea has strong disdain for the Libya model. In December 2003, under pressure from the US, Colonel Gaddafi announced that his country would "abandon weapons of mass destruction", allow inspectors from the International Atomic Energy Agency into Libya to conduct checks and surrender its nuclear research results dating back to the 1970s. In return, the US removed Libya from its list of state sponsors of terrorism, cancelled sanctions against the country and established diplomatic relations. In early 2011, however, anti-Gaddafi demonstrations, which had US and European support, began. On March 19 of that year, the US, Britain and France launched air strikes on Libya, killing several of Gaddafi's relatives. Colonel Gaddafi eventually also died at the hands of opposition forces. North Korea believes that if Gaddafi had possessed atomic weapons, the US and others would not have dared to use force against Libya. The so-called "Libya model", therefore, led to the death of Gaddafi.
John Bolton, US National Security Advisor, has repeatedly claimed that the US government is considering adopting the Libya model of "abandoning nuclear weapons first, compensating afterwards" to get North Korea to quickly disarm. North Korea is furious about this. It considers the US comparison of DPRK with Libya to be an insult and a sign that the US is harboring sinister intentions. North Korea is not willing to accept the same miserable fate as Libya. Moreover, it is absurd to compare North Korea to Libya, which was still at the initial stage of nuclear development.
In response, Trump said that Libyan nuclear disarmament is not a model that the US is considering. He did concede, however, that, "If you look at that model with Qaddafi, that was a total decimation. We went in there to beat him. Now that model would take place [in North Korea] if we don't make a deal, most likely." In the eyes of the rest of the world, it seems clear that US politicians are, in fact, applying the Libya model to the North Korean nuclear issue. Trump should restrain himself and his subordinates and completely dispel the notion of applying the Libya model to North Korea.
My second suggestion: Do not keep putting pressure on North Korea. It is absolutely just for the UN Security Council to adopt resolutions to impose sanctions on North Korea when it defies the international community by carrying out nuclear tests and firing long-range missiles. But the North Korean position has changed considerably recently, and many of its overtures have been commendable. At the end of April, for example, Kim Jong-un clearly stated during talks with South Korean President Moon Jae-in that North Korea is open to nuclear disarmament if the US commits to ending the Korean War and guarantees that North Korea will not be attacked. Kim subsequently announced plans to demolish the Punggye-ri Nuclear Test Site, where it has conducted six nuclear tests in the past, in front of international observers.
The US should acknowledge North Korea's changed attitude and realize that its intention to abandon nuclear weapons is genuine and a manifestation of its strategic shift from military politics to economic development.
My third suggestion is that the US should not issue unilateral demands to North Korea while refusing to make any concessions itself. The US media has reported that North Korea is courting the US without the US having to concede anything to North Korea, other than to agree to a meeting. The key to diplomacy is reciprocity. Negotiation involves the courteous exchange of favors between parties. The US has not taken this into account. Although President Trump has said that the US will ensure Kim Jong-un remains in power and improve the lives of the North Korean people, the general consensus is that these are empty promises. What is worrying North Korea is how Trump will honor these promises, be it through legislation or by other means, and whether a change in leadership will invalidate such promises. Trump's attempted obliteration of his predecessor's political legacy has taught the world that, even in the US, the old saying that "every change of emperor brings a change of ministers" rings true, with national policies lacking any continuity. The US cannot simply set out conditions to North Korea, it needs to review its past mistakes and work out how to honor its promises.
The US is the more powerful of the two countries. Whether the Trump-Kim summit is held on time and how fruitful it is depends largely on its actions. The ball is in its court.