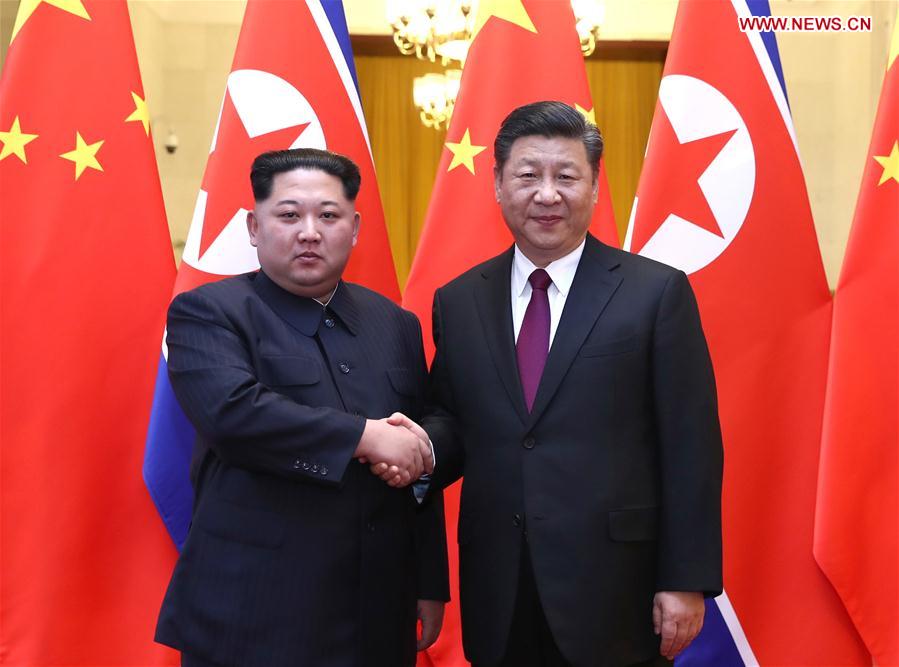 LONDON – US President Donald Trump's abrupt decision to cancel his planned June 12 summit with Kim Jong-un represents a diplomatic coup for the North Korean leader, and an even bigger victory for China. In the space of just a few months, Kim's image has gone from that of international pariah to that of thwarted peacemaker.
Kim could hardly have dreamed of a greater success. In the face of threatened US airstrikes and tight economic sanctions – even from its neighbor and supposed ally China – North Korea has achieved the status of a nuclear-weapons state. And now it can even claim a kind of moral high ground. Kim, after all, was the first to raise the idea of a historic bilateral summit with the United States, and he has now had his overture rejected – after first being accepted – by Trump.
To be sure, no one in East Asia harbors any illusions that Kim has changed. He is still a brutal dictator and a potential menace to regional peace. But so far all of North Korea's neighbors – Japan, South Korea, China, and Russia – have found his diplomatic strategy to be more predictable, and even more credible, than that of the US.
Since the idea of talks was first raised, Kim's promise to put "denuclearization" on the table always called for a pinch of salt. After so much time and effort developing a nuclear deterrent, he was never going to give it up easily. Still, proposals to de-escalate military tensions – perhaps accompanied by a peace treaty and a broader framework for managing relations in the region – represented a welcome development, especially in the eyes of the South Koreans and the Chinese.
The same could not be said of America's apparent negotiating position. The Trump administration's demand for the complete and verifiable dismantling of North Korea's nuclear and missile forces was never realistic. And, making matters worse, US credibility has been thoroughly eroded by Trump's decision to abandon the Iran nuclear deal, and by comments from his national security adviser, John Bolton, and Vice President, Mike Pence, both likening North Korea's situation to that of Libya under Muammar el-Qaddafi.
It should have been obvious that lumping Kim together with Qaddafi – who was overthrown and murdered by rebels in 2011 – would cause North Korea to respond with "anger and open hostility," as Trump put it in his letter canceling the summit. That is a fair description of the Kim regime's statements; but it doesn't change the fact that the North Koreans now look like the victims of American intimidation.
Regardless of whether Trump's plan was actually to start with a demand for full denuclearization and then retreat to something more credible, the question now is what the administration might do to achieve denuclearization – or even regime change – in the absence of a summit. It remains to be seen how America's core strategic partners in the region will respond. Japan and South Korea both feel buffeted, bypassed, and ignored by Trump's impulsive decision-making. Japan, in particular, has come to fear US actions more than North Korean moves. It doesn't help that the Trump administration has refused to grant Japanese steelmakers exemptions from its threatened tariffs.
Where does this all lead? In response to Trump's cancellation of the summit, North Korea, sensing that it controls the moral high ground, has expressed its continued openness to talks, leading Trump to muse confusingly about re-instating the meeting. But the real question is how China will respond.
Last year, China acceded to US pressure to tighten economic controls on its North Korean client, proving that it is willing to do its part to preserve regional stability. More recently, it hosted Kim twice in the space of less than two months. These were Kim's first trips abroad as North Korean leader, and they showed that he was willing to pay obeisance to Chinese President Xi Jinping, and to seek Xi's diplomatic backing.
Now that Trump has canceled the summit, the Chinese will see little reason to maintain pressure on North Korea. In fact, Trump has given China an enviable choice: it can use its leverage with North Korea as a bargaining chip in ongoing trade negotiations with the US, or it can restore trade and other economic relations with North Korea to remind Kim that he is wholly dependent on China.
Either way, with both the European Union and Japan bristling at the Trump administration's aggressive moves on trade, North Korea, and the Iran nuclear deal, there is not much global pressure on China to bend to US demands. China's biggest worry now is that the US will pursue military strikes against North Korea — though, as things stand, that remains a remote possibility.
Anything short of a military confrontation on the Korean Peninsula counts as a strategic win for China. In addition to regaining a tributary ally, the country has shown that it can be a force for peace and stability. Now, anything it does in the region will look reasonable compared to US actions. The decline of US influence, and the strengthening of China's strategic clout, continues unabated. Thanks to Trump, that process has just been accelerated.
Copyright: Project Syndicate, 2018.
www.project-syndicate.org