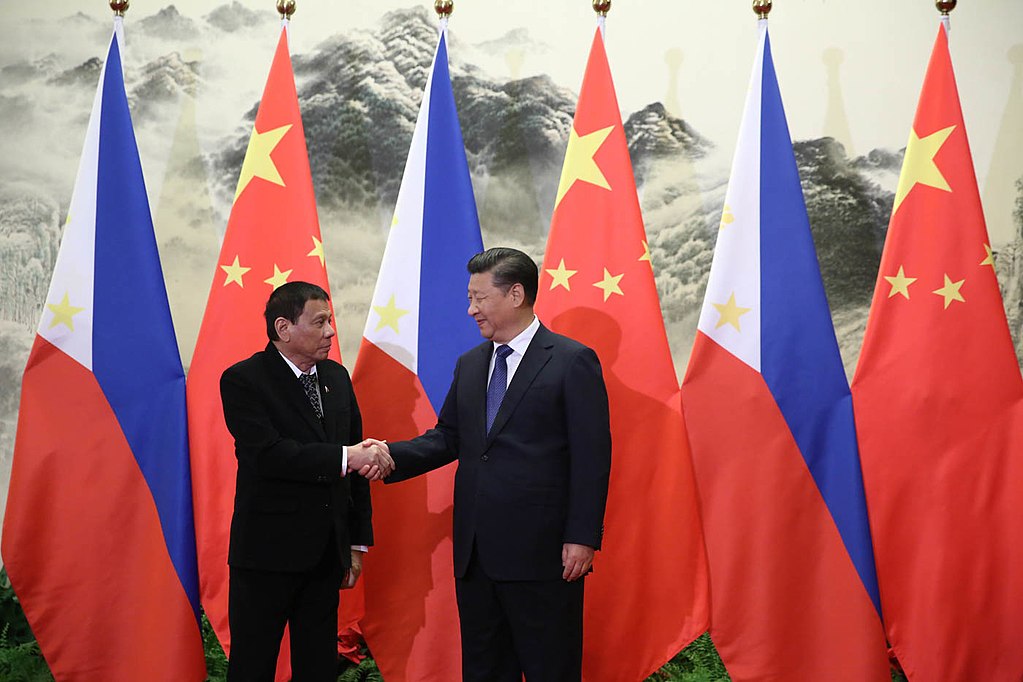 President Xi Jinping's visit to Manila this month marks another turning point in Philippines-China relations. The Chinese leader will be coming from Papua New Guinea where he will attend the Asia-Pacific Economic Cooperation Summit. The visit is expected to raise bilateral relations to a new high and caps two years of warming ties oriented towards dispute management, confidence-building, and expansion of economic, security and people-to-people connections. Signaling the importance attached to the visit, Beijing dispatched Foreign Minister Wang Yi to meet high-level Philippine officials in late October, ahead of Xi's arrival. China recently extended grants for infrastructure, law enforcement and humanitarian aid projects and inaugurated a new consulate in President Duterte's hometown in Davao. Bolstering cooperation in areas of convergence, astute handling of disputes, and broadening security cooperation will be key for a successful visit.
Expanding Economic Convergence
China became the Philippines' largest trade partner in 2016, second biggest foreign tourism market with the fastest growth in 2018 and was the biggest driver behind the Philippine construction boom in the past two years. China's purchases of local agricultural products have also increased as it works to address the trade deficit and become the country's largest goods importer. At the upcoming meeting, Duterte may push for greater market access for Philippine agricultural and electronic goods in China.
To sustain tourist arrivals, both sides are expected to open more direct flights and establish new routes to less subscribed Philippine tourist destinations. The fact that tourism figures continued to surge despite the six-month closure of the country's most famous tourist island, Boracay, suggests that other destinations are rapidly becoming attractive to outsiders, including Chinese tourists, too.
As China sheds its industrial overcapacity and emerges as a major outbound investor, the Philippines can position itself to absorb Chinese capital. Sound political relations can serve as a good platform for this. Rebuilding its aging infrastructure and reforming its tax policy may provide the Philippines with a competitive edge in attracting outgoing Chinese enterprises reeling from the effects of increasing wages in the mainland and an intensifying trade war with the U.S. In turn, Chinese investment, trade and tourism can deliver jobs, more affordable consumer goods, knowledge and technology transfer – a beneficial multiplier effect for local economies.
As China celebrates its 40th year of reform and opening up, the Philippines could also take inspiration from China's success in lifting over 800 million people out of poverty in a generation and the attainment of its United Nations Millennium Development Goals as early as 2015. Addressing the socioeconomic divide is important as the second most populous Southeast Asian nation is set to barge into upper middle income country status next year. Manila may also look to China's contribution in addressing climate change by becoming the world's largest producer of renewable energy as a model. As the Philippines continues to fight poverty and the adverse effects of climate change, lessons from a fellow developing country like China will be valuable. Cooperation in harnessing the country's hydro, wind and solar power potential can provide green, sustainable forms of energy to meet the country's growing demand.
Prospects for synergy in connectivity are also bright: China's Belt and Road Initiative and the Philippines' Build, Build, Build program have complementary goals. Several billion dollars' worth of infrastructure projects were signed during Duterte's 2016 state visit to Beijing; the Philippine leader also participated in the 2017 Belt and Road Forum. However, delays and setbacks continue to haunt local projects. Hence, both sides are expected to hold frank discussions on the problems confronting project implementation. Key measures for success will be boosting capacity to conduct project preparation and feasibility studies, enhancing due diligence and risk mitigation, increasing Philippine local content (e.g. labor, supplies), vetting contractors from both sides and improving the regulatory and oversight environment to ensure adherence to agreed standards and compliance with relevant Philippine laws. Duterte understands the transformative impact of greater connectivity in terms of addressing traffic and logistical bottlenecks, spurring countryside development and bolstering inter-island linkages, given the Philippines' archipelagic geography. This provides much of the context for his friendlier attitude towards his big, northern neighbor.
Keeping the Sea Calm
In the contested South China Sea, Duterte and Xi are expected to affirm their shared position – that territorial and maritime disputes do not constitute the sum total of their two countries' relations and need not be a defining feature. Likewise, both leaders are expected to emphasize the importance of good neighborly relations and the maintenance of regional stability. To this end, both leaders will continue to give full play to established bilateral and regional dispute management mechanisms and confidence building measures. These include the Bilateral Consultation Mechanism, Joint Coast Guard Committee for Maritime Cooperation, MFA hotline communications, Code for Unplanned Encounters at Sea and ASEAN-China Code of Conduct negotiations. This said, both sides may reiterate their respective "red lines."
Moreover, while a joint petroleum exploration project may not begin before the year ends, a framework could possibly be agreed upon by both leaders during the visit. The controversy generated by the proposed undertaking is likely to push the Philippine side to bargain hard for a 60/40 revenue-sharing framework. A clause saying that a deal shall not jeopardize the position and claims of contracting parties is also likely.
Duterte is also expected to touch on the issue of fishing access in the West Philippine Sea to allow for regular fishing activities unhampered by threat or intimidation. Both sides may also agree to provide assistance or refuge to fishers in distress, such as during inclement weather. The two sides may also commit to work with other littoral states to promote sustainable fishing and the conservation of marine biodiversity, prohibit destructive fishing techniques and practices and agree on seasonal fishing bans to allow the natural replenishment cycle of the sea's dwindling fishing stocks.
Broadening Security Cooperation
Other functional areas of cooperation, including security, could also be raised. China's support in the fight against militants in Marawi and in the city's post-conflict reconstruction is appreciated. China's donation for drug rehabilitation facilities, drug detection equipment and information-sharing, which led to the biggest drug bust in Philippine history last May, was also received well in the Philippines. Counter-terrorism, anti-piracy, search and rescue, humanitarian assistance, disaster relief and efforts to combat trafficking, cyber and financial crimes represent new frontiers for non-traditional security cooperation. Information sharing and cooperation in busting financial and logistical networks of international terrorism provides a good platform for cross-border cooperation. Organized criminal groups can exploit relaxed immigration policies, such as visa upon arrival arrangements aimed to attract more tourists and investors, as well as a more open gaming environment to migrate or expand their operations in the Philippines. This raises the salience of bilateral police and law enforcement coordination.
Overtures to enhance defense ties started with the 2017 goodwill visit of Chinese naval vessels, and continued this year with stops by a Chinese research ship and an aircraft for refurbishment and refueling. Nevertheless, China remains a latecomer in the Philippines already long-running security cooperation with the U.S. and like-minded partners Australia and Japan. Such decades-old cooperation is anchored on familiarity and increasing inter-operability. China's increasing visibility is also raising some eyebrows. Longstanding cooperation with the U.S. and disputes in the West Philippine Sea will continue to constrain cooperation with China, especially in the realm of traditional security.