China's diplomacy in its neighboring areas represents the most important part of its foreign policy. As Chinese President Xi Jinping argued at his address in Singapore National University in November 2015, China always puts neighboring diplomacy at the top of the agenda for its whole external relationship, a statement reflecting China's consistent pursuit of a sustainable and peaceful periphery. As a rising power in Asia, China's pursuit of that goal has faced various challenges, and the most serious one does not even come from Asia but an outside power.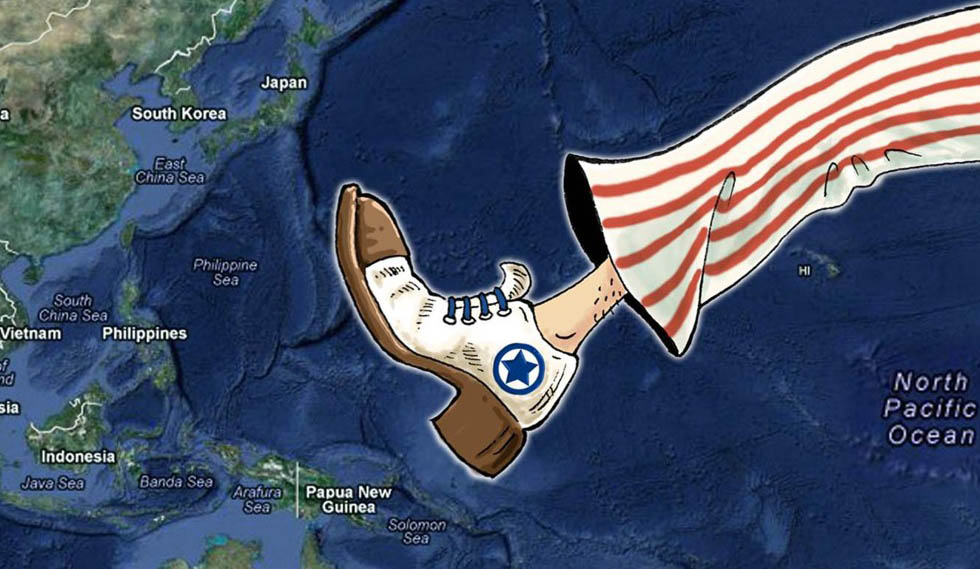 (Picture source: VCG)
The United States has been engaged in Asia for decades and regarded itself as the leader in the region. Being a leader, the U.S. believes that it has to maintain the position as long as possible. When President Obama addressed the US Military Academy at West Point in 2009, he said that the U.S. would lead the world for another one hundred years. Apparently, Asia is the region where the U.S. wants to assume leadership in particular, because Asia seems to be taking the lead in development, becoming the center of global growth. Precisely because of that growth, the American leadership in Asia may be more uncertain, as China, the engine of Asian growth, presents the prospect of a new geopolitical landscape. That has caused suspicion and uncertainty in Washington about whether China will challenge American leadership in Asia. While relevant debates are still developing, the Obama administration has already determined its strategy, labeled the Asia-Pacific rebalancing that aims at that uncertainty.
Seeing China as a potential challenger, the US has tried to build up a new partner network in Asia by consolidating old allies and making more new partners. Nearly all of them are China's neighbors, including not only old US allies like Japan and South Korea but also some ASEAN member states and South Asian nations.
This is a new geopolitical game in China's periphery directed and conducted in Washington, but the real stage is in Asia, where there are historic legacies still evolving and also newly surfacing disputes, such as South China Sea sovereignty claims. Despite the fact that the U.S. is neither a claimant nor a direct stake-holder in those disputes, they are useful to the U.S. in the ongoing game. For instance, by declaring its "international responsibilities", the U.S. successfully redeployed its navy and marines in the Philippines, a fierce claimant against China in the South China Sea.
That is why the U.S. worries about the new Philippines President Duterte's moves to adjust the previous government policy toward China. Apparently, reconciliation and new consensus between China and the Philippines on South China Sea has been reached during the president's state visit to China on October 18-21. President Duterte even believes that the country will not need any foreign troops on its soil, and he vows to ask them to leave completely in a few years. The message: Let Asians to solve their own problems through peaceful negotiation. Intervention from outside forces only complicates situations to the benefit of no one.
The latest example is another irritant to China. Recently, Richard Verma, US ambassador to India, visited one of the disputed areas between China and India. In what is known in India as Arunachal Pradesh and in China as Southern Tibet, he arrived and attended a local festival. China and India have disputed the sovereignty of the area for more than half a century, but the two sides recently have been working hard to solve their disputed claims by peaceful negotiation. In the meantime, the two sides have promised to maintain and promote peace and stability of the area before a final settlement.
Common sense indicates that this is a purely bilateral dispute, and the best approach for any third party is to let the two affected parties do their jobs. But the American envoy's visit to the area suggests a different intention. The visit is no accidental arrangement. Not long ago, the American consul general in Kolkata claimed that the U.S. officially recognized Arunachal (Southern Tibet) as part of India. The U.S., as a third party on this issue, seems once again to be seeking leverage for the game on China's periphery.
Why? The US clearly sees a benefit in making China uncomfortable as much as possible. By touching China's sensitivities, Washington tries to put more pressure on China and consolidate U.S. dominance further in Asia. But the result could also be disastrous, easily leading to a strong response from China. Even worse, it would dramatically reduce relevant parties' desires to look for peaceful solutions, leading to more instabilities and even conflicts in the region. The U.S. has to ask whether that is really what it wants.
As Chinese leaders reiterate, the Pacific is wide enough to contain both China and the U.S. to develop. Over the decades, China's huge development has never relied on challenging American leadership in the international system, and Chinese achievements have contributed to global economy and prosperity. China would like to continue to work with the U.S. for peace and development, and China does not see any reason for the American game in China's periphery. Yet, if the U.S. sticks to its vision about China and plays the game to an even larger extent, China may not have any other options but get ready.