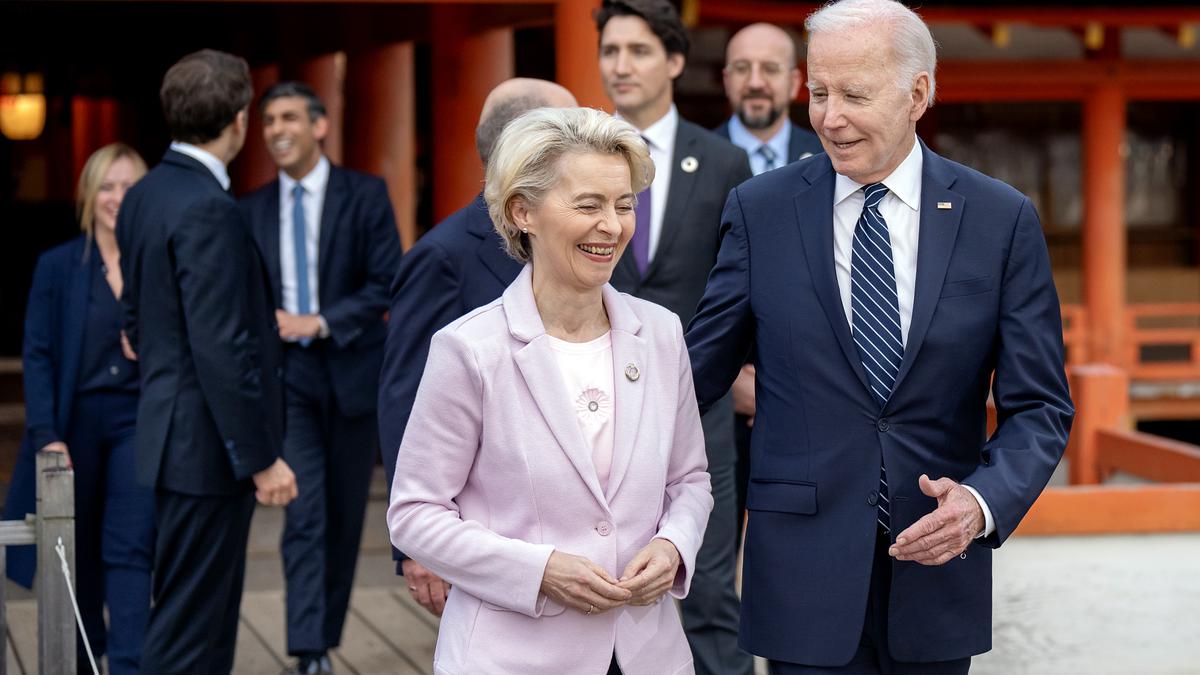 The U.S: President Joe Biden with European Commission Ursula von der Leyen during the G-7 Summit in Japan. | Photo Credit: ANI
Recently, European and American politicians have been talking about "de-risking," which seems poised to replace "decoupling" as their basic China strategy. The change may have been the result of reflection and adjustment on the part of the West. At the recently concluded G7 summit in Hiroshima, Japan, Western countries reiterated that they will de-risk rather than decouple from China.
Ursula von der Leyen, president of the European Commission, is the initiator and flag-waver of the new construct. At the Davos Forum in January, she talked about the Green Deal Industrial Plan, which is designed to strengthen Europe's leading edge and security in clean energy. To that end, she demanded "open and fair" trade with China as she criticized the latter's "massive subsidies" to the new-energy industry. She then proposed de-risking instead of decouping. At the time, the concept had only been used in reference to trade relations.
Then just before her visit to China with French President Emmanuel Macron, Von der Leyen made a speech at the Mercator Institute for China Studies and the European Policy Centre on March 30, setting the de-risking tone:
"It is neither viable — nor in Europe's interest — to decouple from China. Our relations are not black or white... . This is why we need to focus on de-risk — not de-couple." Von der Leyen identified the two strands of Europe's China strategy. The first is de-risking through diplomacy — that is, to ensure diplomatic stability and communication with China, control EU-China competition and continue working together on global challenges such as climate change. The second is economic de-risking in four pillar sectors:
• Making the European economy and industry more competitive and resilient by remaining a front-runner in clean technology and diversifying and securing the supply of critical raw materials;
• Using the existing toolbox of trade instruments more effectively and tightening security measures in 5G, foreign direct investment and export controls;
• Developing new defense tools for some critical sectors to prevent the outflow of sensitive high-tech in microelectronics, quantum computing, robotics, artificial intelligence and biotechnology;
• Alignment with partners and drawing upon the practice of G7 members.
The speech marked the rise of de-risking as the new symbolic concept guiding the EU's relations with China, which has then gradually been officially recognized by major European countries — France and Germany.
After weighing the pros and cons and coordinating with high-level European officials, the United States gradually accepted the de-risking argument. Recently, U.S. Treasury Secretary Janet Yellen, National Security Adviser Jake Sullivan, Ambassador to China Nicholas Burns, and the Democratic ranking member of the House Select Committee on China Raja Krishnamoorthi and other political figures have made public statements echoing the new proposition. The U.S. announced that it seeks to de-risk rather than decouple from China and that despite competition in multiple economic sectors the America "does not seek confrontation or conflict" but rather "responsible management of the competition" and "cooperation where possible." The American edition of de-risking is similar to the European one in advocating economic and industrial security, the diversification of the supply chain, the protection of basic technologies and sensitive high tech via a "small courtyard with high walls" and collaboration with allies and partners.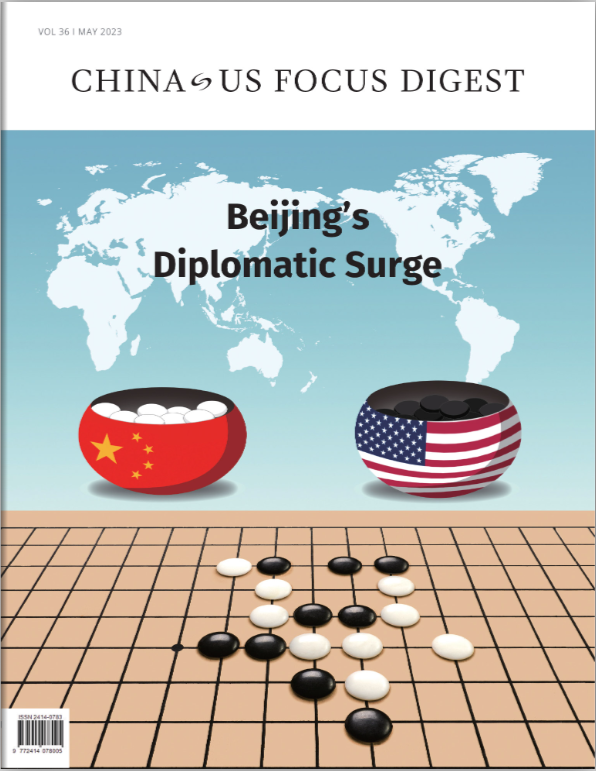 Click to read the latest issue of China-US Focus Digest
What drove the change?
There are arguably multiple drivers behind the de-risking strategy proposed in Europe and the United States.
First, decoupling is not achievable. Although the voice for decoupling has been loud in recent years and relations between China and the West have been challenged in many fields, their economic and trade ties are complementary, mutually beneficial and hard to sever. Last year, China's two-way trade with Europe and the U.S. both reached record highs. According to the Chinese Ministry of Commerce, in 2022, trade with Europe reached $847.3 billion and European investment in China increased by 70 percent to $12.1 billion. The two are each other's second-largest trading partners.
According to China's General Administration of Customs, trade between China and the U.S. was close to $760 billion in 2022, and the economic and trade connections between the world's top two economies are extensive and profound. Yellen admitted that a full separation of the two economies would be "disastrous" for both. U.S. Trade Representative Katherine Tai also said that decoupling from the Chinese economy is "not a goal or achievable."
Second, China is very much needed. As the international situation is poised to make a historic turn, Europe and the U.S. want to use China's strength in addressing major regional hot spots such as the Ukraine crisis. French President Macron called for engagement of China in that connection.
China plays an important role in global governance. Europe and the U.S. cannot bypass China in dealing with global challenges such as climate change, infectious diseases, nuclear non-proliferation, debt or food and energy security. Recently, British Foreign Minister James Cleverly said it would be a mistake to isolate China in a new cold war and that "no significant global problem ... can be solved without China."
The third element is China's remarkable achievements in diplomatic good offices. It has published a position paper on the conflict between Russia and Ukraine, set up a phone conversation between its President and Ukrainian President Volodymyr Zelenskyy, and sent the special representative for Eurasian affairs on a European tour.
It has also actively brokered the resumption of diplomatic relations between Saudi Arabia and Iran and championed a series of initiatives such as the trilateral dialogue between China, Afghanistan and Pakistan, giving a steady push to international and regional peace and stability.
All of these things have forced Europe and the United States to face up to China's role as a responsible and constructive major country.
The shift from decoupling to de-risking reflects some positive adjustments in the European and American attitudes toward China. First, they have realized the need to avoid over-simplification in handling relations with China. Von der Leyen, Yellen, Cleverly, Sullivan and other American and European politicians all have acknowledged the importance of China and the complexity of relations with China. Von der Leyen rejected the "black or white" dichotomy. For Yellen, "the world is big enough for both" China and the U.S. These perceptions are conducive to bringing Europe's and America's China policies back on track.
Furthermore, Europe and the U.S. have demonstrated an inclination to engage and have dialogue with China. Recently, Macron, Von der Leyen, Spain's Prime Minister Pedro Sanchez, German Foreign Minister Annalena Baerbock and other dignitaries visited China one after another. U.S. Secretary of State Antony Blinken, Yellen, Tai and Secretary of Commerce Gina Raimondo have all signaled their desire to have a dialogue with or a visit to China. Sullivan met with Politburo member and former foreign minister Wang Yi in Vienna. America and Europe are both increasing communication and dialogue with China and shifting their emphasis from competition and confrontation to dialogue and cooperation.
Additionally, Europe and the U.S. have released some goodwill. The European side indicated that it did not want to cut off its economic, social, political or scientific ties with China. The U.S. explained that it did not intend to stifle the Chinese economy. At a news conference after the G7 summit, U.S. President Joe Biden said, "We are not looking to decouple from China. We're looking to de-risk and diversify our relationship with China."
Given the high level of tension in China-U.S. relations not long ago, the series of statements by American politicians indicated their intention to prevent bilateral relations from spiraling downward. However, we must also see that de-risking does not mean any fundamental change in the European and American China strategies. The EU still sees China as a partner, a competitor and a systemic rival, with increased competitiveness in their relations. It continues to regard China as its No. 1 competitor and has not changed its strategy to contain, encircle and suppress China. The EU and U.S. continue to escalate their tech war on China, with an extensive blockade and intensified export controls and investment reviews. The EU is also stepping up its attacks on China, discrediting China's system and image and demanding to redress trade "imbalances" and safeguard supply chain security vis-a-vis China. Some countries and politicians are still playing the Taiwan card, increasing networking attempts in the Indo-Pacific and weaving an alliance network to encircle China.
The de-risking proposition in Europe and the U.S. represents the latest development in their strategic adjustment and is an improvement. Reflection provides a clearer view of the situation. It is, however, not enough. In particular, the continued practice of saying one thing while doing another is by no means conducive to the improvement of relations with China. As State Councilor and Foreign Minister Qin Gang pointed out, to shut out China in the name of "de-risking" is to throw away opportunities, cooperation, stability and development.
Europe and the United States should conform to the trend of the times, effectively change their political prejudices against China, take care of the common security of the world trying to remove risks for themselves and truly cooperate with China.