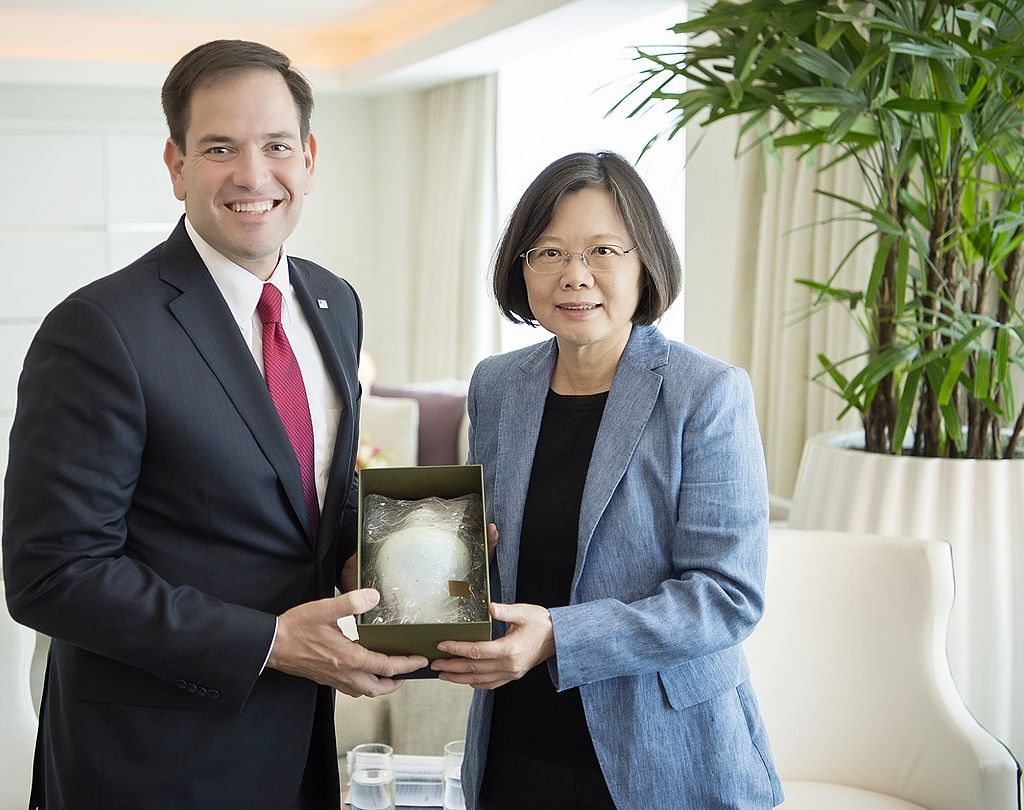 Taiwanese President Tsai Ing-wen meeting with U.S. Senator Marco Rubio in Miami in June 2016
Since Trump became president, the U.S. government has taken concrete steps to bolster ties with Taiwan and deter China from its pressure campaign against the Democratic Progressive Party-led government. As evident from the recent news that the U.S. is set to approve a $330 million arms sale to Taiwan, U.S. arms sales to Taiwan have spiked under Trump. President Trump has appointed key policymakers sympathetic to Taipei: Secretary of State Mike Pompeo, National Security Adviser John Bolton, and Assistant Secretary of Defense for Asian and Pacific Security Affairs, Randall Schriver. All three are known for being friendly towards Taiwan and tough on China.
A signal of the U.S. government's increasing willingness to speak out on the Taiwan issue is the U.S.' response to El Salvador's switch of official diplomatic recognition in favour of Beijing. This move was met with a strongly-worded statement by the White House and the decision to recall U.S. ambassadors from three Central American states that had recently cut diplomatic ties with Taiwan – a surprising condemnation on the part of the United States, which has enjoyed formal diplomatic relations with the People's Republic of China since 1979.
Washington's new Taiwan policy is the result of a widening domestic consensus to get tough on China, but Beijing is partly to blame for the increase of tensions with the U.S. on this issue.
Along with a more risk-prone maritime posture in the surrounding seas, the Xi Jinping government has advanced a more confrontational approach towards Taiwan. In the past two years, China has levied informal economic sanctions against the island's tourism sector, ratcheted up the number of cyberattacks on Taiwanese government agencies, intensified rhetoric on Taiwanese independence and, along with that, used military signalling to attempt to coerce Tsai into abandoning her posture on the 1992 Consensus. At the same time, Beijing has aimed to further isolate Taiwan by eliciting a downgrade in the status of foreign representative offices in Taiwan and pressuring air companies and multinational enterprises into listing Taiwan as part of China.
However, China's "maximum pressure" stance on the Taiwan issue is backfiring. In fact, Beijing has kindled strong popular opposition to the mainland in the neighbouring island, thus reifying Taiwan's independence movement. More importantly, China's tactics have elicited a strong U.S. backlash, which in turn feeds into Chinese anxieties over America's role in Cross-Strait relations. In 2018, the U.S. Congress has passed the National Defense Authorization Act and the Taiwan Travel Act, both readily signed into law by Trump. The former legislation aims at bolstering U.S.-Taiwan military ties and strengthening Taiwan's military readiness, while the latter permits and in fact, advocates for, high-level visits by Taiwanese and U.S. officials in both states. More recently, the Taiwan Allies International Protection and Enhancement Initiative (TAIPEI) Act – currently under discussion – would allow the Secretary of State to induce countries who recognize Taiwan diplomatically counterparts to stick with Taipei by allowing the use of "economic carrots and sticks." The U.S. would not automatically take action under this legislation, but there will be increased expectation of some form of response from the U.S. administration when faced with further instances of countries switching diplomatic recognition.
Last month, President Tsai made a historic visit to the NASA headquarters in Houston, which is generally off limits to PRC officials. Moreover, prior to the opening of the new compound hosting the American Institute in Taiwan – unveiled with little fanfare in June – rumours circulated that President Trump may send high-level officials to the opening ceremony. In the end, only lower-level officials were present. As things stand, it seems that the U.S. executive has made the conscious decision to avoid further rocking the boat of U.S.-China relations. However, we can never say never with Trump, who might be using the threat of a visit to Taiwan by high-ranking U.S. officials as a bargaining chip to extract Chinese concessions elsewhere.
At first glance, Taiwan-U.S. relations are at a historic high, but is Taiwan's president actually benefitting from tensions between the U.S. and China, which have spurred closer U.S.-Taiwan ties? Trump's focus on rectifying the U.S.' current account deficit is not going to help Taiwan; after all, the island has already been targeted by the U.S. president's steel and aluminium tariffs. The real worry is of a prolonged and deepening U.S.-China trade war. The Taiwanese economy depends heavily on trade with the mainland: 40% of Taiwan's exports go to mainland China and China is Taiwan's largest trading partner. The U.S.-China trade war will have a substantial impact on Taiwanese industries, such as IT giant Foxconn, which relies on regional production networks and assembles its final products on the mainland.
The DPP government is planning to diversify both its export markets and production chains away from the mainland through a New Southbound Policy, which seeks to enhance economic links with major economies in Southeast Asia, Australasia, and South Asia. Moreover, the DPP government unveiled an ambitious industrial policy, which also aims to bolster Taiwan's military apparatus, including by building an indigenous submarine fleet. In the short run, however, Taiwan will have to revise its growth estimates downward if the U.S.-China trade war is protracted. One thing is also clear: given geographic proximity, cultural, linguistic and historical links, and China's continued economic growth, the economic umbilical cord connecting the island to the world's second largest economy will only become more pronounced in the future. The United States can do little to stop that trend.