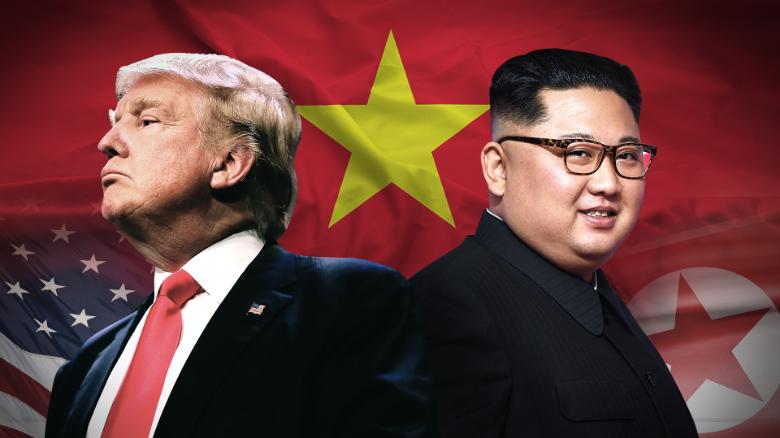 (Photo: CNN)
When President Trump and Chairman Kim first met in Singapore last June, a vague joint statement on bilateral relations and denuclearization was the only outcome. In the following summit, diplomatic engagement did not go as well as expected, and the working-level negotiations were scheduled only after both sides indicated they wanted to meet for a second time. Thus great expectations were put on the Hanoi Summit, and analysts are searching for the silver lining from the two leaders' engagement in Vietnam. President Trump and Chairman Kim were supposed to deliver something big in their second summit held February 27-28th. However, this summit was surprisingly cut short and ended without any deal being agreed upon.
What happened behind closed doors? Both sides have offered their own explanations. According to President Trump and his team, real progress was made, and they parted ways on positive terms only because North Korea "wanted sanctions lifted [in their entirety], but they weren't willing to do an area [of denuclearization] that we wanted." In the midnight press conference, North Korea Foreign Minister Ri Yong-ho disputed President Trump's explanation by saying that North Korea asked for only partial sanction relief, instead of total removal of all sanctions. Whatever the story truly is, the Hanoi Summit, even without a deal, is not necessarily a bad thing for both sides.
First, the Hanoi Summit ended without a deal but its conclusion also struck a positive tone for a possible deal in the future. It is only natural that both parties were trying to frame the no-deal Hanoi Summit in their own favor. However, it is worth noting that this time neither the United States nor North Korea portrayed themselves as the winner and the other side as the loser. There was no more finger-pointing, naming-and-blaming tricks as in the past, and both sides were trying to explain what they had offered and asked for in the negotiation, all in a positive tone. They talked about the progress that was made, how their positions got closer, the potential for future breakthroughs, and how both sides are looking forward to further talks with the hope of "get[ting] a really good outcome," as Secretary Pompeo said. Considering the long history of negotiation between the United States and North Korea, the relatively positive reaction to the no-deal summit from both sides stands out as quite unusual.
Second, after this summit, President Trump may be able to gain more domestic support in his diplomatic adventure with North Korea. Unlike his predecessors, he did not set any preconditions for sitting down with the North Koreans, but the Singapore Summit yielded nothing substantial on denuclearization. He was criticized as being outplayed by Chairman Kim. When talks got stuck, President Trump decided to meet Kim again. Many observers worried that he might give away too much for too little at the next summit. After the Hanoi Summit ended without a deal, President Trump received a slew of positive comments across the political spectrum, from both Democrats and Republicans. Many agreed with President Trump that no deal is better than a bad deal, and he earned some credit in his engagement with North Korea. That could be a plus for future talks.
Third, while President Trump and Chairman Kim favored the same executive-led approach used at last June's summit, this strategy is not comprehensive enough for such a complicated issue as Korean denuclearization. This top-down approach could save time and reduce the burden of bureaucratic politics, but the challenge of denuclearization is not only about the political process, but also about a range of technical, financial, legal, and economic processes. Therefore, working-level negotiations are far too important to skip. When a summit is scheduled, it is more of a ceremony to sign agreements, a glorified photo-op, and less of a grueling negotiation process. It is the diplomats rather than the top leaders who are supposed to negotiate 90 percent of a possible deal's details — in the Hanoi Summit, we saw the reverse.
Fourth, pragmatism remains very important for both the United States and North Korea when dealing with each other. Haste makes waste, as we can learn from the no-deal Hanoi Summit. The North Korean nuclear issue has existed for almost three decades, and you just can't thaw three feet of ice in one day. In fact, just before the Hanoi Summit, both sides had developed tentative agreements to lay down a good, fair basis for further progress in denuclearization — but when the two sides attempted to use the summit to extract more than what had been agreed upon, each got nothing more than unilateral political gestures such as North Korea's nuclear test moratorium and the temporary halt of U.S.-South Korean joint military drills. If they want to move forward in future talks, both parties need to start from the easiest issue and then move on to the more difficult ones. Preferably, on the political front, the United States could work with North Korea to officially end the Korean War, the two could establish liaison offices in both capitals, and negotiate so that an armistice agreement could transform into a peace treaty with other countries. On the nuclear front, they ought to move from demolishing test sites to actually freezing and dismantling the plutonium program in Yongbyon. From there, they should work towards dismantling the uranium program, and then other possible fissile material production, and finally deal with fissile material stockpiles, warheads, and delivery means. All these daunting challenges should be dealt with one by one, and each move should be matched by an improvement of political relations, and proportional sanction relief.
Some may say that the no-deal Hanoi Summit was a failure, but when analyzed in detail, this summit could be considered as a partial success. The positive tone and the political gestures made on both sides lay down a good foundation for progress in future talks and, more importantly, a possible deal. Considering the current state of North Korea's nuclear program and American policy toward North Korea back in 2017, there is no viable alternative other than a diplomatic solution for the nuclear issue. Let's keep our fingers crossed and hope for the best!