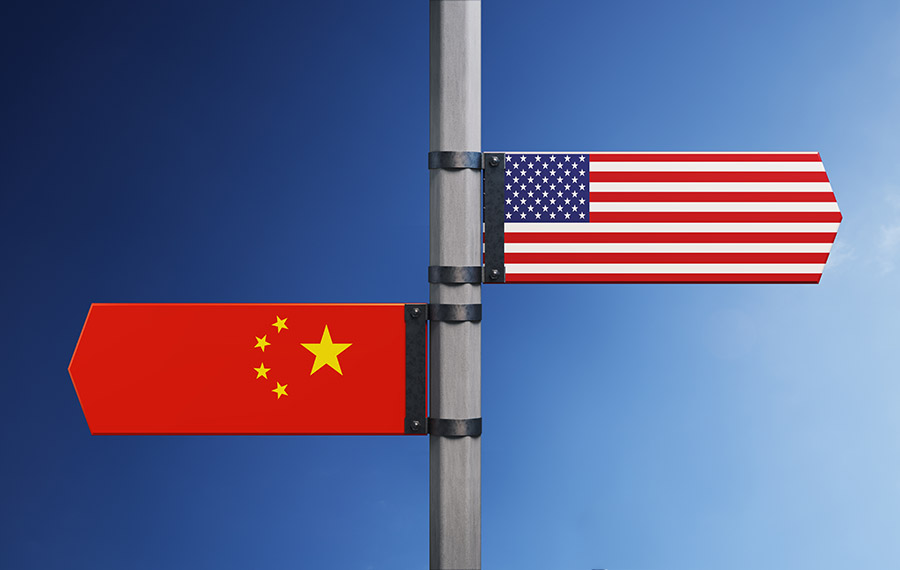 The Sino-U.S. relationship has come to a crossroads. There is something wrong with the operating system that is animating the most important bilateral relationship in the twenty-first century. Economic and trade bonds that in the past have served as ballast have now become major sources of tension. Although President Xi and President Trump agreed during their recent G20 summit meeting in Osaka to restart the stalled trade talks, fending off a near head-on collision, the overall diplomatic dynamic in the past few years has been defined by growing distrust and sometimes open hostility.
In Washington, a fundamental shift in mainstream view has it that China is the leading revisionist power challenging the U.S.-led international order. Quite a number of American observers believe that a policy of "engagement" has failed miserably and that Washington needs to change course before it is too late. Some extreme, but not unwelcome, views even call for full decoupling with China.
Although Beijing has no new official strategy vis-à-vis the U.S. except for some general statements urging strategic patience and perseverance amid growing tensions, a prevailing view is that Beijing has to prepare for a hostile U.S. standing in the way of China's peaceful rise. Some Chinese strategists believe that the recent U.S. policy shift is the product of the superpower's long-standing inclination to either divert attention to or overstate external threats during times of growing internal problems such as economic stress and social unrest. These strategists argue against tit-for-tat responses. Other Chinese strategists, who call for more forceful countermeasures, have no illusions about the U.S. abandoning its containment policy and see a reigning power challenging a rising power as something inevitable.
Indeed, the Sino-U.S. relationship has come to a point of no return. Yet we still don't know where the growing strategic competition will take us. A hot war between China and the U.S. is inconceivable. But in an atmosphere of growing suspicion and anxiety, competition in trade, science, and technology has risen to new heights, feeding the speculation that Beijing and Washington are already locked into a new cold war.
It would be a serious misreading of our times if we looked at the current bilateral relationship through the prism of hegemonic contest or ideological rivalry. We would be equally misguided if we started from the fatalistic thesis of clash of civilizations. Mega-trends such as increasing globalization and multi-polarization mean that China and the U.S. are immersed in a highly interdependent, interconnected, and at the same time increasingly vulnerable, world economic system. While partial separation in trade and technology may be possible, outright decoupling would be catastrophic not only for both nations but also for the global economy.
Offering some comfort, however, is the just-concluded G20 summit in Osaka, which has sent some positive signals. Leaders of major economies have pledged to increase cooperation to promote global economic growth and have agreed to join hands in an effort to build a free, fair, non-discriminatory, transparent, stable, and predictable environment for trade and investment. They have also reaffirmed their commitments to innovation in the digital economy to achieve sustainable growth for the world economy. As for the world's two largest economies, China and the U.S., policy coordination in at least three areas is needed to ensure that they can work with other stakeholders in an effort to protect the global economy from a variety of risks and disruptive forces.
First, they must mitigate the huge emerging impacts resulting from digital innovations in international financial and monetary systems. The G20 Osaka Leaders' Declaration calls for monitoring developments related to crypto-assets and urges vigilance against existing and emerging risks. For example, as Chris Hughes, co-founder of Facebook, pointed out in a recent article in the Financial Times, if Libra -- a new digital currency that could be used to send money around the world -- is successful, it may shift power from developing world central banks toward multinational corporations. This would undermine their authority over national finance and economy and potentially disrupt the whole global financial system. Major economies, including the U.S. and China, cannot afford to adopt a wait-and-see approach. Central banks and international financial institutions like the IMF must take action now to strengthen regulation and monitoring to fend off systemic crises brought about by such technological innovations.
Second, the two powers must strike a balance between science and technology cooperation and national security concerns. The history of advances in science and technology demonstrates that human capacity for information generation determines our ability to harness various forms of energy and is one of the most important driving forces behind civilization's progress. The sum of human knowledge accumulated since the beginning of modern history has exceeded that of preceding times because scientists and technicians have been able to engage in worldwide exchange and communication more than at any other time in human history. According to statistics released by the Chinese government, Sino-U.S. science and technology cooperation has produced 55,000 academic papers in 2014, up from 5,000 in 2000, and Sino-U.S. joint science and technology programs have increased by more than 80 percent between 2012 and 2015. A major theme of the Osaka G20 Summit was how to promote rule-making efforts to ensure the free and orderly flow of data, especially amid growing attention toward the balance between information freedom and national security. As two leading forces propelling global advances in science and technology, China and Washington share the responsibility of helping foster international consensus on a redefined balance between advancing human scientific and technological knowledge through cooperation on the one hand, and safeguarding national security on the other. It is also in their common interest to prevent unjustified disruptions in the flow of information and ideas that may halt science and technology progress and reduce human welfare.
Third, China and the U.S. must manage the risks associated with the weaponization of international finance and trade. At present, concerns are growing about excessive unilateralism: economic sanctions, punitive tariffs, and trade restrictions. Frequent exercises of long-arm jurisdiction over third-party economic activities are additionally troubling. A growing tendency toward weaponizing financial and monetary tools will undermine the public confidence in the stability and predictability of international financial and trade systems. How can governments reduce the risks and prevent the abuse of this new financial weapon of mass disruption? International leaders need to take these issues seriously and constrain this growing tendency by strengthening regulation and oversight.
At this critical juncture in the bilateral relationship between China and the U.S., we can overcome the zero-sum model of competition only by re-identifying our common interests and challenges and redefining our shared responsibilities for a stable world economy.