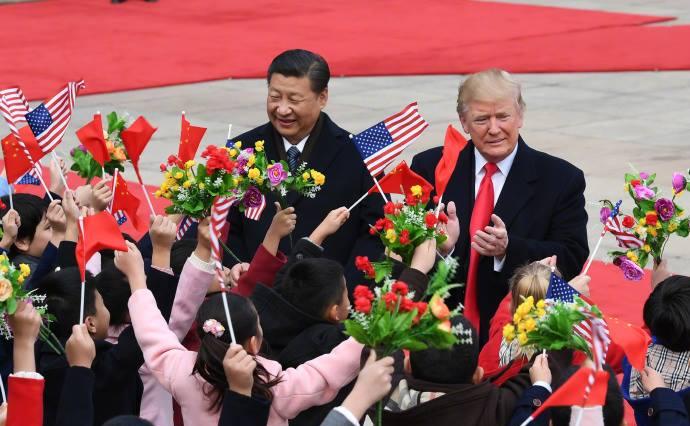 On November 10, U.S. President Donald Trump concluded his first state visit to China. The timing of the visit is significant because Trump is the first head of state to visit China after the 19th CCP National Congress and the date also marked the anniversary of his electoral victory.
Chinese culture played a role in the visit too. President Trump is sure to leave with fond and lasting memories of touring the Forbidden City and watching traditional Peking opera.
The two countries reached some consensus during this summit. Chinese and U.S. companies signed deals worth more than $250 billion, which will benefit both peoples. President Trump also softened his rhetoric on North Korea, showing a willingness to talk with it. The two countries reaffirmed their shared goals including denuclearizing the peninsula and resolving the crisis through dialogue and negotiation.
As President Xi said, China-U.S. relations are at a new stage. The question is what will characterize this new stage. After President Trump's inauguration, some believed he would adopt a harsh policy towards China and undermine the foundation of China-U.S. relations. Bilateral relations underwent some turbulence due to Trump's casual remarks on the one-China principle. But after his "learning curve", bilateral relations have returned to the right track and are now entering a new era of strategic confidence and stability. Neither China nor the U.S. intends to dramatically change their overall policy towards each other.
One reason for this is that China desires stability. In his report at the 19th CCP National Congress, President Xi Jinping highlighted peace and development. The Chinese Dream can only be realized in a peaceful international environment and under a stable international order. This requires a stable China-U.S. relationship.
Domestic needs impel both countries to cooperate in the international arena and forge a strategic relationship. The Third Plenary Session of the CCP's 11th Central Committee in 1978 set China on a path of reform and opening up to the outside world, changing the dynamic of China-U.S. relations. No longer was it based solely on countering the Soviet Union, it now also included "domestic-oriented" cooperation to meet the needs of China's economic growth. This proved a solid foundation for a relationship that would withstand numerous challenges.
China and the U.S. now have a similar opportunity to renew their relationship. Although many people in U.S. strategic circles are debating whether the U.S. should revise its grand strategy towards China, the two countries need each other more than ever.
The 19th CCP National Congress report identified the next three years as decisive in meeting the goal of building a moderately prosperous society. Interestingly, this time period basically overlaps with Trump's first term. Both countries need achievements at home and a peaceful environment abroad. In addition, the Chinese Dream and the American Dream have in common the goal of "making the country great again" in Trump's words, or "satisfying the people's ever-growing needs for a better life," in Xi's words. Connecting both dreams will stabilize the relationship and benefit the two peoples.
Both leaders are confident they can achieve their goals. This is good. Confidence brings peace and cooperation while fear brings conflict and war. In his History of the Peloponnesian War, the ancient historian Thucydides identifies fear as one of the main causes of war. Whether one is an established or rising power, the fear of being surpassed or lagging behind in power can lead to disastrous conflicts. Only confidence can dispel misunderstandings, thus reducing the risk of security dilemmas.
After the summit, the next step China and U.S. should take is to build on their tangible achievements to reach a higher level of confidence in each other. Otherwise their relationship will remain vulnerable to shocks from certain sensitive issues. With different political values and systems, it will be unrealistic for China and the U.S. to completely trust each other like allies, but this does not mean they can't enjoy a high degree of confidence. Confidence in themselves and in each other should become the cornerstone of relations between the two countries.