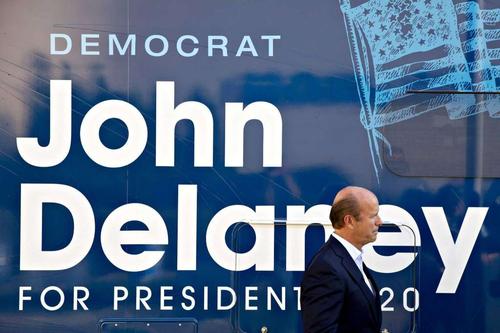 President Trump's recent successes in US-China trade negotiations and the passing of the US-Mexico-Canada Agreement (USMCA) require democratic candidates to develop coherent foreign policy positions on China. Aside from a few outliers, most discussions about China focus on perceived human rights violations and trade. However, candidates with a more developed foreign policy strategy on China discussed geopolitics, nuclear disarmament, artificial intelligence, and business. On Twitter, we can assess how each candidate focuses on Beijing and how often he or she mention China.
John Delaney – 50+ Times
On the fringes of the Presidential race, attorney and businessperson, John Delaney presents the most expansive foreign policy plan on China. Delaney supports the Trans-Pacific Partnership (TPP) and believes it is the best trade option for American farmers. Delaney also recognizes the lack of US investment in infrastructure relative to China's spending. Delaney labels China an international 'pirate' that steals intellectual property, and criticizes China for building islands in the South China Sea and engaging in alleged disinformation campaigns in the US. For John Delaney, an obvious China hawk, Beijing is the greatest threat to the United States. While Delaney is knowledgeable and outspoken about China, he holds minority views among the democratic candidates.
Joe Biden - 27 times
Since January 2016, Biden tweeted about China 27 times with intense focus on human rights and President Trump's trade war. However, even Biden, a career politician with ample foreign policy experience, repeats surface-level talking points inherited from former Secretary of State Hillary Clinton and former President Barack Obama.
While Biden's statements respectfully acknowledge China as a formidable competitor, he emphasizes that Beijing does not respect the American-led international order and expresses concern about China 'writing the rules' for international trade and cyber conduct. He warns that Beijing does not share fundamental 'American values.'
The former Vice President promises to hold China accountable for lack of pressure on North Korea, and criticizes Beijing for alleged human rights abuses in Xinjiang and Hong Kong. Biden referred to the internment of Uighur Muslims as the "worst abuse of human rights in the world today."
Biden argues that America and her allies should utilize their collective GDP to pressure China, which ultimately affirms the Chinese Communist Party's view that the US wishes to contain Chinese economic growth.
Bernie Sanders - 16 times
While Vermont Senator Bernie Sanders tweeted about China 16 times since January 2016, he focused almost entirely on presenting his voting record on trade deals and attacking the President for producing Trump merchandise abroad.
While Bernie's tweets lack consistent geopolitical insight, he articulates his view on China when stating, "It's wrong to pretend that China isn't one of our major economic competitors. When we are in the White House, we will win that competition by fixing our trade policies." Bernie is a materialist in his criticisms of China, who like President Trump, is overly focused on trade. Bernie also illuminates corporate complicity in trade and labor imbalances between the US and China. "If anyone thinks that corporate America gives a damn about the average American you are mistaken. If they can save 5 cents they will ship jobs to China," he writes. Few politicians, including President Trump, will openly discuss corporate betrayal of American workers.
Elizabeth Warren - 15 times (Two Twitter accounts – @ewarren and @SenWarren)
Similar to Bernie, Senator Elizabeth Warren's statements about China are typically buried in criticisms of the President. Warren acknowledges that the US must be 'tough on China' but rejects Trump's 'tariff by tweet' approach. However, Warren does not present a solid foreign policy strategy for China on Twitter.
Her concerns are that the economy is vulnerable and that external shocks will send markets into a downturn if Congress does not eliminate the debt ceiling. She repeatedly calls on the Trump administration to develop a 'coherent strategy' on China.
Michael Bennet – 15 times
Like Delaney, Michael Bennet openly states that Trump was right to attack China, but wrong to use 'farmers as bargaining chips.' Bennet is most concerned about China's rise and its increasing global influence. He repeats the statistic that between 2011 and 2013, China poured more concrete than we did in the entire 20th century. Bennet clearly views China as a global competitor and wants the US to strengthen its competitiveness.
Michael Bloomberg - 14 Times
Entrepreneur and former New York City mayor Michael Bloomberg has not mentioned China in the context of geopolitics or the global economy since gearing up his campaign. Since 2016, Bloomberg mentions China during meetings with global leaders on climate, technology, politics, and finance, and has established relations with Chinese leaders and businesspeople. Bloomberg met with Minister Xie of the China Global Climate Initiative, former executive of Alibaba Jack Ma, Vice Premier Wang Yang, and Chief Rep. Song of the People's Bank of China.
Andrew Yang - 14 Times
Aside from Delaney, businessperson Andrew Yang seems to be the most nuanced candidate in his China-analysis. Yang speaks of the specific challenges related to 5G and the need for increased federal investment in research and development. Yang also proposes to create apprenticeship programs to compete with China's impressive talent development strategies deployed in universities and schools throughout the country.
Yang is also aware of the importance of current supply chains in keeping China dependent on the US, rather than encouraging its technological independence. He tweeted last year that the trade war between Beijing and Washington is a "massive setback for Chinese providers like Huawei in the short term. But if they succeed in building software independent of Google they will have a very different ecosystem. I [prefer] interdependence." Yang also mentions the lack of interest in artificial intelligence competition among other democratic candidates, and pledges to match China's spending on computing resources to ensure US dominance in AI.
Tulsi Gabbard – 13 Times
Representative Tulsi Gabbard of Hawaii most often expresses concern about the growing new Cold War and nuclear arms race between the US, China, and Russia. She considers nuclear weapons the greatest existential threat to humanity and often suggests that the leading nuclear powers should hold denuclearization summits. She, like many others, criticizes Trump for his "destructive tariff war" with China.
Tom Steyer – 11 Times
Hedge fund manager Tom Steyer mentions China often in the context of climate change and the need for countries to commit to carbon reductions. He also criticizes Trump's tariffs on China.
Pete Buttigieg – 10 Times
Most of Mayor Pete's tweets about China are in the context of Trump's trade policy and its harmful effects on American farmers and workers.
Mayor Pete also criticizes China over its human rights record. He criticized President Trump for failing to address "the oppression of millions of Muslim Uighurs and eroding freedoms in Hong Kong." He also tweeted about the imprisonment of Michael Kovrig and Michael Spavor, Canadian citizens who have been detained in China for over a year, stating that these violations "must come to an end." Mayor Pete did not provide a coherent geopolitical strategy for the China-US rivalry via Twitter.
Amy Klobuchar - 7 Times
Amy Klobuchar has not tweeted about China since January 25, 2018. Her few tweets about China address the smuggling of fentanyl into the US through China, along with increased Chinese investment in Africa.
When reviewing the China-related tweets of democratic candidates for president, a majority of statements criticize President Trump for the trade war, for which negotiations are progressing. Due to the phase one agreement and USMCA, Trump touts unprecedented support from the farming community, although it is not entirely certain that agriculture sales will return to pre-trade war levels. However, if Trump delivers on trade, all candidates must formulate stronger strategies on China. So far, only John Delaney, Andrew Yang, and Joe Biden present holistic foreign policy positions. The remaining the candidates focus on narrow, issue-specific topics, ultimately failing to assess China as a global economic and ideological competitor.